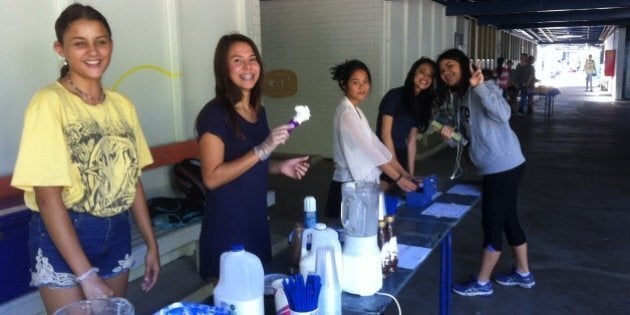 Australia's next generation of entrepreneurs aren't coming from city-based startup labs -- they're in our high schools.
Year 11 students at Darwin High School in the Northern Territory have been setting up small businesses in their schools at lunchtimes -- and turning a profit.
The businesses -- which range from selling food, drinks, printed T-shirts and iPhone covers -- are the practical component of an elective course, Business and Enterprise.
And some have been so successful they've won awards.
The humble milkshake has been well and truly milked by Darwin High students Victoria Soto and Stevie Klose with their small business, Shake Shack Gourmet.
The pair sold milkshakes and thickshakes to their peers and teachers, and their efforts were rewarded by winning the Operating a business gong at the 2015 Northern Territory Youth Business Awards.
"Our business plan was made last minute, but we worked hard on it," Soto said.
"We sold milkshakes, taking out a $99 loan to buy products from the school, and ended up making a profit."
Business teacher Jayant Prakesh said students in the course brainstorm ideas, form partnerships and then nut out business, marketing and financial plans for their business, which is active for four weeks during the school's 45-minute lunch breaks. As part of the process, they apply for a loan from the school.
"They come up with some very bright ideas," Prakesh told The Huffington Post Australia. "The school has an account for Year 11 business students. Just like for going into a real business, when you need finance you have to apply for a loan.
"It gets approved and checked and they pay it back with 10 percent interest -- just like a real business, they have an obligation."
Students then spend time preparing their business, building up their teamwork skills, delegating tasks within their group and nutting out roadblocks. Prakesh says although the students are always "very excited" about their business, sometimes things don't go to plan.
"Initially when they run their business there are so many problems; they encounter errors they never thought of which is a normal process in business," he said. "If their product is no good and people don't buy it then they need to regroup and reflect and discuss it. Maybe it's the price for instance or how they serve people, how fast they are.
"They learn from their mistakes. They have to be well prepared for their business. Organisation skills are so important -- and they learn this."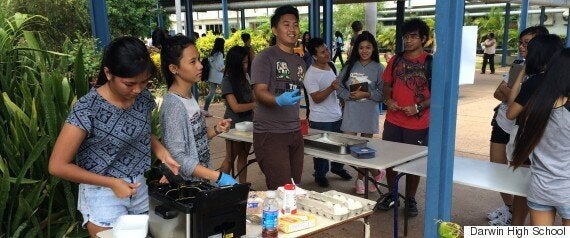 Students learn self-confidence dealing with customers, says teacher Jayant Prakash.
If students want to offer a food product, it can't be something the school canteen already offers, so they learn to be innovative. Prakesh says Soto and her team were deserving winners with their milkshake idea.
"They had a very professional approach -- they were well dressed, they marketed so well with posters and word of mouth and their service was very good; there were no long queues. Victoria was very motivated."
Prakesh says the course has existed in several forms at Darwin High for 20 years, and is an important way to instil an entrepreneurial spirit in students -- as well as valuable life skills. He says it gives students the confidence to deal with customers, talk about their product, to take money, be organised.
"It's very important to know entrepreneurial skills because every day we get up in the morning and we are dealing in the world of business, we want our young people to be innovative in nature and this subject gives them the chance to develop ideas."
And, he insists, it's not always about the money.
"A lot of students initially say 'how are we going to make a lot of money quickly?' But we tell them money isn't important. We want them to run a business and learn the skills and have that experience.
"Sometimes the students say to me, 'it's so hard' but then I see them come back in the class and they count their money then they bank their money and it's great. It's a lovely program."
Other Youth Business Award winners included:
Operating a business – Runner up: Kathleen Brigden and Madison Rigby from Good Shepherd Lutheran College for their business "Brewed Awakening".
Developing an operational plan – Winner: Niamh Marah from The Essington School for a prospective business to be called "Partners in Grime".
Developing an operational plan – Runner up: Charlotte Nheu from Darwin High School for a prospective business to be called "Dolce & Acido".
Overall winner - Darwin High School