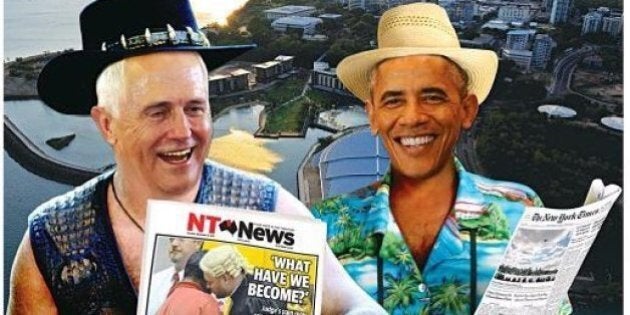 Malcolm Turnbull and Barack Obama are fast becoming best bros, cracking jokes like old mates on their first meeting at the APEC summit in the Philippines -- but after the Northern Territory News got mentioned yesterday, you just knew those guys were going to join the party too.
Obama was reportedly a little miffed after the U.S. was not consulted on the sale of the Port of Darwin -- close to US military assets in the region -- to a Chinese company, with the U.S. President saying he had only heard of the deal in the New York Times and asked Turnbull to "Let us know next time".
Turnbull responded by telling Obama to read a paper a little closer to the source.
"Seeking to encourage the circulation of great Australian newspapers, I suggested they should invest in a subscription to the Northern Territory News because it was not a secret," he joked.
Of course, The NT News was bloody loving it.
Well, the NT News has obliged with a classic front page.
Yes, that's Turnbull as Crocodile Dundee (holding the paper's classic front page, "Rich Dude Becomes PM," as Turnbull dethroned Tony Abbott as Australian prime Minister) and Obama as an American tourist, with the NT News throwing some subtle shade the way of the New York Times.
Of course, it's far from the first amazing NT News cover. The Darwin-based newspaper's front pages have become legend, even spawning their own book, as they cover the crocodiles and craziness of life in the Territory.
For more of the NT News' immortal front pages, click here.