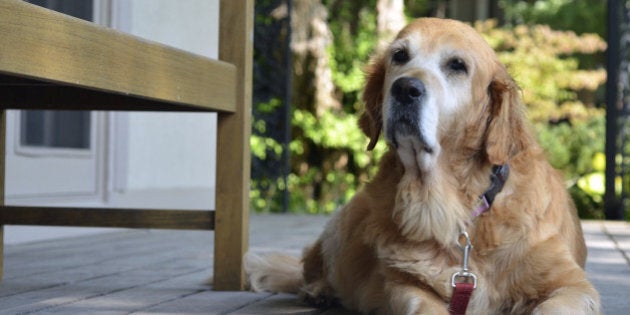 So, you're in the market for a new pet. You've decided to adopt rather than shop (which is absolutely the better option, in this reporter's humble opinion) and now the time has come to pick your new furry friend.
But before you get distracted by the wriggly puppies and fluffy kittens -- spare a thought for the older guys, who might have less of a chance of finding a new home.
Also think about what's better for you -- do you really have time to train a puppy? Really? Or are you just looking for a companion to chill with on the couch?
According to Kelly Walton from RSPCA Australia, there are a lot of advantages to adopting older dogs and cats which should be taken into account before choosing your new pet.
"There are definitely some benefits to adopting a senior pet," Walton told The Huffington Post Australia.
"The first thing I think of, is, behaviour wise, they have grown out of their silly puppy or kitten hood. They are less destructive and as such they may not need quite as much supervision initially in terms of what they are going to chew on or get into.
"They have a bit more manners, the older pets."
Walton also dismissed the saying "you can't teach an old dog new tricks" -- which she lists as one of the reasons potential pet owners tend to be attracted to younger animals.
"The more senior pets are a little bit harder to re-home," Walton said. "People see the cute puppies and they think 'I'm going to train it' and 'I'm going to have train it up from scratch' but you can definitely still train older pets.
"They love to learn right throughout their lives, and that goes for cats as well."
Another benefit to getting an older pet is there are less surprises waiting for you down the road. A puppy might grow to be a much bigger dog than you expected, for instance, whereas a mature pet has already done all its growing.
"With a mature pet, what you see is what you get," Walton said. "There are no surprises in terms of size or coat colour, which might change as they get older."
Walton also advises people to take a realistic look at their lifestyle when they start researching their future pet. If you don't lead an active lifestyle, for instance, a hyperactive puppy might not be the best option for you.
"Senior pets are going to suit people who aren't as active as they used to be," Walton said. " If you're not up for going for a run every single day with your active dog, a senior pet a great idea.
"It really depends on what you want. If you want someone who is going to laze around with them, watch TV and are happy to snuggle up on the couch, a senior pet would be perfect.
"I think people forget when they get a puppy just how high their energy levels are, particularly if they haven't done their breed research. Puppies are going to grow up and some will need three walks a day.
"With a senior pet -- you know how much energy they've got, you can see it when you meet them."
Interested in becoming a mature pet owner? Check out some of the dogs and cats currently available for adoption in our slideshow below, or head to RSPCA Adopt a Pet to have a look for yourself.