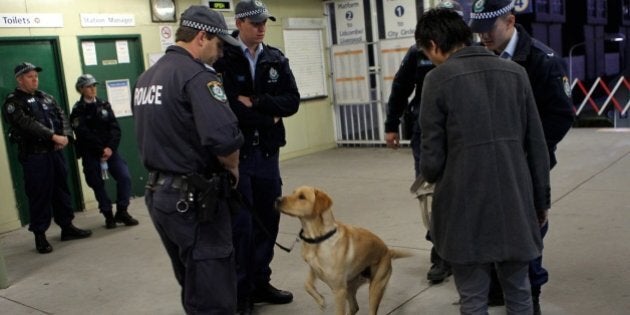 "The evidence shows they're a comprehensive policy failure and an affront to civil rights... it is routine gross public humiliation, based on such flawed evidence."
It's safe to say NSW Greens MP David Shoebridge doesn't like drug detection dogs. The otherwise adorable labradors are routinely deployed by NSW Police in licensed venues, at sporting or entertainment events and along public transport routes, looking to sniff out traces of illicit drugs -- amphetamines, cannabis, cocaine, ecstasy, heroin and methamphetamines -- in crowds before officers search the people indicated by the dogs' keen sense of smell.
Shoebridge, with his Sniff Off campaign, is doing his best to thwart them -- and is enlisting the public to help.
"These dogs are getting it wrong between 60 and 80 per cent of the time.
"We don't accept it. When you're routinely humiliating people, forcibly searching them in public on the basis of data that is wrong eight times out of 10, it's a program that should end," he told The Huffington Post Australia.
Sniff Off's Facebook page regularly warns followers of the location of sniffer dog operations. More than 4600 people follow the page, with fans encouraged to send in alerts when they spot police dogs on the beat.
"We think it's important people know where the dogs are operating.
"They're such an affront to civil liberties. People have a right to be able to avoid this error-ridden humiliation. As more people become aware of the failure rates of drug dogs, we have more people supporting the page," Shoebridge said.
In questions on notice to the NSW government earlier this year, Shoebridge asked for statistics on the total number of drug dog detections and searches, compared to the number of searches where drugs were found.
In a statement to HuffPost Australia, NSW Police claimed "Over 70% of [indications from a drug dog] result in either drugs being located or the person admitting recent contact with illegal drugs, which proves the effectiveness of those indications."
Shoebridge said the high failure rate of the tests justified giving public warnings of drug dog operations.
"These searches might escalate into a strip search, where they take you into a office at the train station or a demountable at a music festival. They get you to squat down over a mirror and they peer up your backside. It is absolute humiliation, and two-thirds of the time they find nothing. How is the NSW government letting this continue?" he asked.
"We haven't had the police raise any issues with us [about the page's operations]."
Shoebridge said inner-Sydney stations like Redfern, Sydenham and Marrickville were often targeted by police dog operations, claiming officers targeted areas with high populations of indigenous people and students.
"This destroys public trust in policing. It has its biggest impact on destroying trust in communities police most need to re-engage with, those being young people, aboriginal people and homeless people," he said.
"Redfern in particular is a clear target. You are six times more likely to be searched at Redfern than at Kings Cross," Shoebridge claimed, citing analysis of data conducted by his office.
"Why is Redfern targeted? The only explanation we can see is it has a large student and aboriginal population, traditional targets."
HuffPost Australia asked NSW Police whether it was legal to warn someone about the location of drug detection dogs. In a statement, Police replied "it depends on the circumstances, however Drug Detection Dogs are an important facet of harm minimisation strategies of the [Police force]."
When asked how locations for drug dog operations are selected, police answered "NSWPF Drug Detection Dogs are deployed on a daily basis in order to support Local Area Commands and Specialist Policing Units throughout NSW."
"Drug detection dogs are effective at assisting police to detect these types of offences."
Shoebridge said he and fellow Sydney Green MP Jenny Leong would next year introduce a bill into parliament to outlaw the use of drug dogs, but did not have high hopes for the legislation's success.
"We will be progressing with legislation to repeal the drug dogs program next year, but it will not succeed. Both Labor and the government love drug dog programs, which is actively supporting the frittering away of public money and police time," he claimed.