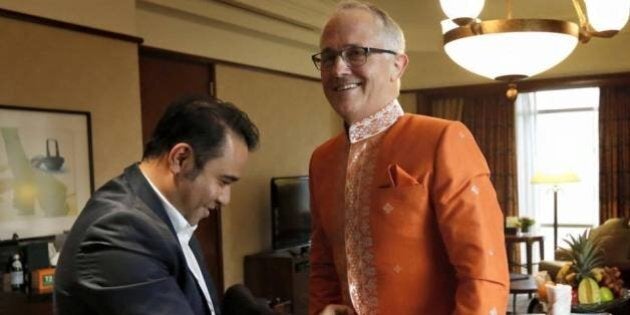 Dancing like a dad and/or like nobody's watching is the latest craze sweeping those occupying our halls of power, with Malcolm Turnbull capping off his first big overseas jaunt as prime minister by really getting into a bit of flag-waving in Kuala Lumpur.
Turnbull, in Malaysia for the ASEAN leaders summit, seemed pretty stoked to be in front of cameras and waving a novelty Australian flag.
Decked out in the traditional ASEAN garish shirt -- this time, a orange songket -- Turnbull was up on stage having a lovely time standing next to Indonesian president Joko Widodo. Malcolm, it must be said, appeared far more cheerful and spritely than his fellow leaders.
Maybe it was the songket, which he was seemingly pretty chuffed to wear, that imbued him with moves to burn.
The PM's enthusiasm for dance brought immediately to mind the now-infamous and immortal moves displayed by Opposition leader Bill Shorten, who carved up the d-floor while on an Asian odyssey of his own earlier this month:
It wasn't long before the comparisons were made.