Fairfax/ Alex Ellinghausen
CANBERRA -- Prime Minister Malcolm Turnbull has announced a new five-pier terror alert system and declared Islamic State "weak" and puffed by hype, as he outlined Australia's response to the recent spate of global terror attacks.
Addressing Federal Parliament Tuesday, Turnbull said there are "no quick fixes" in the fight against ISIL jihadists, but he revealed Australian intelligence and security agencies will "redouble efforts" in "seeing off these thugs and tyrants."
The Prime Minister again expressed Australia's condolences for the Paris attack, which left 130 people dead and many more injured just over a week ago, but he said neither grief nor anger should cloud anyone's judgment.
"Calm, clinical, professional, effective. That's how we defeat this menace," Turnbull told Parliament.
"Our response must be as clear-eyed and strategic as it is determined."
"This is not a time for gestures or machismo."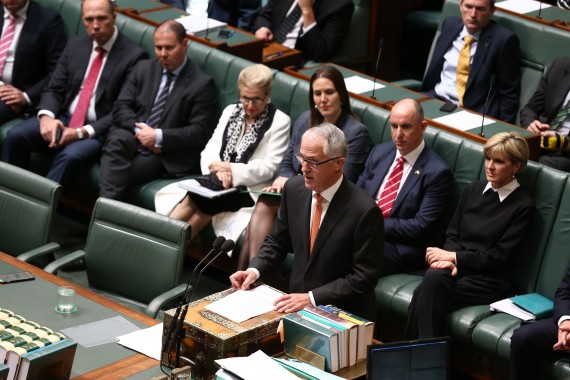 In a stark difference from former Prime Minister Tony Abbott, Turnbull did not mention "death cult" or "apocalypse" once, rather he advised Australians to look again at the self-described Islamic caliphate and not be afraid.
"ISIL is in a fundamentally weak position. We must not be fooled by its hype," he declared.
"ISIL has many more smartphones than guns, many more Twitter accounts than soldiers."
"It does not command broad-based legitimacy even in those areas under its direct control. It is encircled by hostile forces and it is under military pressure."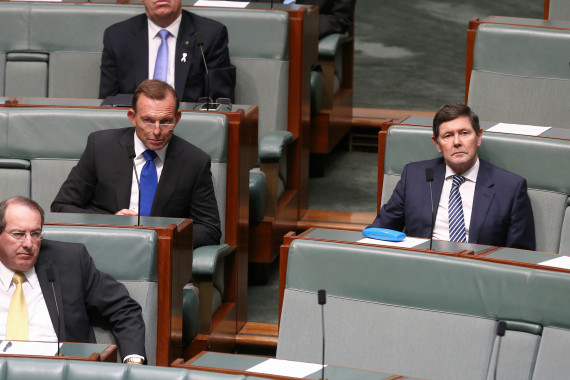 Abbott and his former Defence Minister Kevin Andrews, who have both recently called for Australian combat troops in Syria, were in the chamber for the national security statement.
Just back from a 10 day international tour including talks with world leaders, the Prime Minister again rejected the calls.
"I have to report to the House that the consensus of the leaders I met at the G20, at APEC and at the East Asia Summit is that there is no support currently for a large US-led Western army to attempt to conquer and hold ISIL-controlled areas," he said.
"No such change has been sought by our allies. If one were, which would, of course, carefully consider it."
"(But) the current advice to the Government is that the unilateral deployment of Australian combat troops on the ground in Iraq or Syria is neither feasible nor practical."
The Prime Minister has announced that Australia will move this week from a four-tiered national terror public alert system to a new five-tiered advisory system.
"The new system will provide the public with more information on the nature of the threat we are facing" he said.
Australia has been at a "high" state of alert since last September, meaning an attack is likely. To move to "extreme" under the current system would mean that intelligence agencies have assessed that a terror attack is imminent or has occurred.
Turnbull said Australian agencies have been calling for this change.
"The adoption of a five-tiered system will also provide ASIO with greater flexibility in determining threat levels, reflecting the need to adapt to an evolving security environment." he said.
ASIO and the Australian Federal Police had advised the Prime Minister there is "no evidence" that the recent attacks, including Paris "will materially affect the threat level in Australia."
Still, Turnbull has asked ASIO and relevant agencies to better monitor threats with international intelligence partners and he's requested law enforcement agencies to test their responses to mass-casualty attacks.