I'm sitting at a table at Smith Kebabs in Collingwood, Melbourne, and the intoxicating smell of rotisserie lamb, chicken and tabouli is making my mouth water.
I smile as I consider the hundreds who have sat here before me -- but they were here in the wee small hours, drunk and devouring their 1000-calorie feast to satisfy their munchies while dribbling sauce down their chins -- and random conversations from their mouths.
The humble kebab is an Aussie tradition, and our inebriated hunger for them has been laid bare in a new three-part SBS doco, Kebab Kings.
Cameras were set up here and in Sydney take-away, Oz Turk, to capture Aussies behaving badly and showcase the tenacity, patience and wit of the small business owners who serve them.
There are customers who are too wasted to know what they want beyond "kebab", others who get a little pushy, and then there are those telling the world about their drug habits, their sex lives in detail and even rescued birds.
Sitting across from me is Mustafa Akram, who owns and runs Smith Kebabs with his wife Zareena. After starting the business four years ago, he's now well accustomed to this randomness, but initially they weren't sure what they were really in for.
"We decided to put a security guard here at first because we don't know what to do," he told The Huffington Post Australia.
"But afterwards we realised people are nice and we just have to communicate with them very nicely."
Akram and many of his staff are devout Muslims who do not drink or smoke, so while he knew they'd be dealing with liquored-up customers from nearby clubs on Smith St -- some of them popular gay bars -- knowing how to deal with them took a little more time.
And it turns out the best people to help them were the customers themselves.
"When we first opened it was a little bit difficult for us to understand and see what they are thinking," he said.
"But we learn from them, the customers teach us how to deal with them. They come in they don't wanna talk, they just say 'I just wanna have a kebab' and we say 'which kebab?' and they say 'I just wanna have a kebab'. Oh my god. So now we say 'lamb kebab, OK?' And they say yes.
"We try to be very positive and polite and communicate with them properly so it's easy."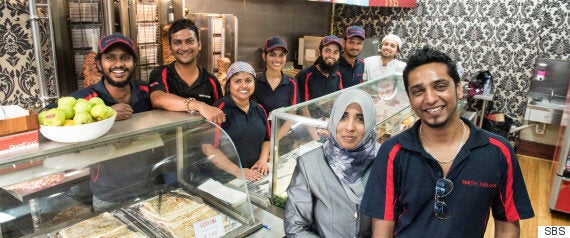 Mustafa and Zareena Akram and their staff at Smith Kebabs.
Customer service is paramount for Akram -- he understands the value of repeat business, a good reputation and having a clean bill of health on social media.
In the TV series he holds regular staff meetings -- his wife says probably too many -- to stress to his staff that the customer comes first, even if they can hardly hold up their own head, or get a bit lippy.
"We don't believe in throwing people out but sometimes people become very arrogant and they don't listen to us so we give them the option -- you want to have a kebab or you don't want to have a kebab and they choose it.
"It gets hard sometimes but because we have been dealing with them for a long time and every day is like this so we are used to it now. Now it's OK."
Akram says he's not sure how customers will feel when they see the series, screening on SBS from Wednesday. During filming in the lead-up to Christmas last year there was a sign in the window of both shops that a series was being filmed, but from some of the conversations that were recorded it's highly likely that not every customer was aware of the cameras -- or the microphones.
"Some of the customers, maybe they will get a shock, you know," Akram said.
"Maybe they don't know -- they are drunk. What can I say. You can't ignore the facts -- if you talk this way you talk it. That's the truth."
There's no business like kebab business
Akram's parents travelled from India and stayed for a month during filming. At first Akram said it took them some time to acclimatise to the Australian way of life -- and our love of a midnight kebab feast -- and they certainly saw it all.
But it's not all bad behaviour. The series highlights the warm relationships owners and staff of both shops have with their customers, including one lovely man who wanted to give Mustafa and Zareena some money to take Mustafa's parents out for a nice meal.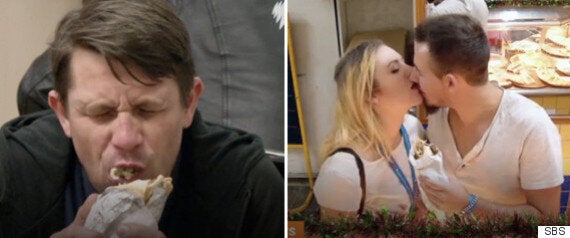 SBS doco Kebab Kings reveals drunken Aussies eating kebabs -- and each other.
Akram owned an Indian restaurant before opening Smiths Kebabs, but saw the potential of a kebab shop on a busy bar-laden street.
He and Zareena knew it would be hard work -- he sometimes works 18-hour days -- but they deliberately found a site that had a room upstairs for his young daughter and son to sleep while they feed the tipsy downstairs until closing time.
Although it's demanding, Akram says working hard is ingrained in his family -- and he really loves his kebab shop.
"It's like a double full time job -- very long hours," he said. "That's OK because my family involved in this business, my wife and kids are here so everyone knows that this is our work. I want to work hard, and when you're in business you have to work hard.
"My background and my parents don't teach us you have to work for just these hours -- you have to work and make yourself comfortable and love your job -- that's what I believe."
The family's dream is to expand and open kebab shops across Melbourne -- he's already scouting for locations and investors -- and he's hoping the SBS series will help them out.
"The thankyou word is very small to SBS and the team working here," he said. "It was so, so positive and they are helping us. It's good promotion for our business and the dream we are thinking.
"We would like to grow more everywhere -- Melbourne, Brisbane, Sydney and maybe in India!"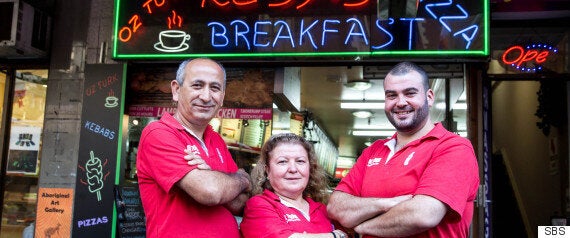 Nafi and Fatima Bozoglu and their son Ufuk own Oz Turk in Sydney.