No stranger to epic spectacles, Sydney Harbour brought its sparkling A-game as five massive cruise ships glided in on Wednesday.
To welcome P&O's two new ships Pacific Aria and Pacific Eden, they formed a flotilla with Pacific Pearl, Pacific Jewel and Pacific Dawn through the harbour in formation as the sun rose before a naming ceremony at Fort Denison.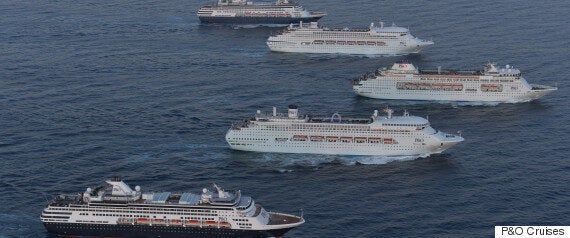 Ann Sherry, CEO of Carnival Australia which operates P&O Cruises, said the event marked a new era for P&O, as more Aussies wanted to spend their holidays wining and dining on an enormous, floating resort.
"P&O Cruises has been sailing from Australia for more than 80 years so we are thrilled to be able to celebrate the expansion of our fleet with so many Sydneysiders today," she said in a statement.
Australian Actress Kate Ritchie and Singer Jessica Mauboy acted as the ships' Godmothers, naming the ships in true maritime tradition -- by smashing bottles of bubbly on the ships' hulls -- but also by live tweeting the event.
P&O said the social media ceremony celebrated "Australians' love of social media and cruising" -- adding a so called "modern twist" to the whole palava.
"Both Jess and Kate are well known and well-loved around the country. They epitomise modern Australia and really embody the new look and feel of P&O Cruises so we are delighted they will be naming these very special ships – and in such a modern way," Sherry told the Armidale Express.
"The addition of Pacific Aria and Pacific Eden represents a 50 per cent expansion in our guest capacity and heralds a new look and feel for our cruise line, inspired by modern Australia," Sherry said.
Joining key cruise industry members at the Fort Denison naming ceremony were the "junior godmothers" -- Sydney sisters 8-year-old Aria and 3-year-old Eden Mulligan who coincidentally share the names of the newly christened ships.
The evening will see a star-studded 'Bianco White Party' on all five ships, complete with fireworks, champagne and performances by Aussie acts including Jessica Mauboy, Samantha Jade, Justice Crew, Stan Walker and The Veronicas.
The five ships will host more than 9000 passengers, and the rest of Sydney will be able to watch the spectacle from specific vantage points around the city.