Jamie Grill via Getty Images
Foodie entrepreneur and celebrity chef, Ching-He Huang's new series, Ching's Restaurant Redemption sees the Taiwanese-born TV cook travel around America giving failing restaurants the kiss of life -- making her the perfect candidate to reveal the do's and don'ts of playing dinner party host.
Huang, who is known for her laid-back approach to Chinese cooking, emigrated to the UK with her family aged 11. She's had six best-selling cookbooks along with a bevy of television shows with her latest series highlighting her experience in the industry as she makes her way across the States, re-working the menus and applying a serious facelift to eateries facing a premature death.
According to Huang, in order for a restaurant -- or dinner party -- to achieve success, it's all about simplicity, quality, honesty and consistency (in the food -- and service).
To tablecloth or not to tablecloth
"It depends what dining table you have! I have a fallen oak wood Babinga table so it's easy to create that traditional-meets-contemporary Chinese feel with a Chinese tablecloth runner -- however, wooden tables for example could make for a contemporary backdrop and it also means you don't spoil your favourite silk brocade tablecloth!"
The tableware
"Choose white plates, you can let the food be the star. I love colourful food -- so white plates are important as it allows you to show it off. I love to accompany this with quite an East meets West tableware setting -- where there are two wine glasses, a water glass, knives and forks but also a pair of dark wood chopsticks on golden chopstick holders depending on your cuisine."
Napkins
"Napkins are important, as are napkin holders, both in red or gold to bring luck and wealth and of course a bit of Chinese glamour! If you want to stick to more of a neutral tone, choose white napkins in golden napkin holders."
The centerpiece
"Perhaps the most important as it is the talking point of the table. Fill a large vase with red gladioli which symbolize 'growth' and 'rising the ranks' or opt for something minimalist -- a large round vase filled with red apples and orange Satsumas."
Candles
"They make for gorgeous soft lighting and without going overboard, candles with red or gold trims to compliment whichever dominant colour theme you have for the tableware."
Drink on arrival
"Choose something sparkling like Prosecco with pomegranate seeds -- or for those who want a long drink, a lychee and raspberry mojito."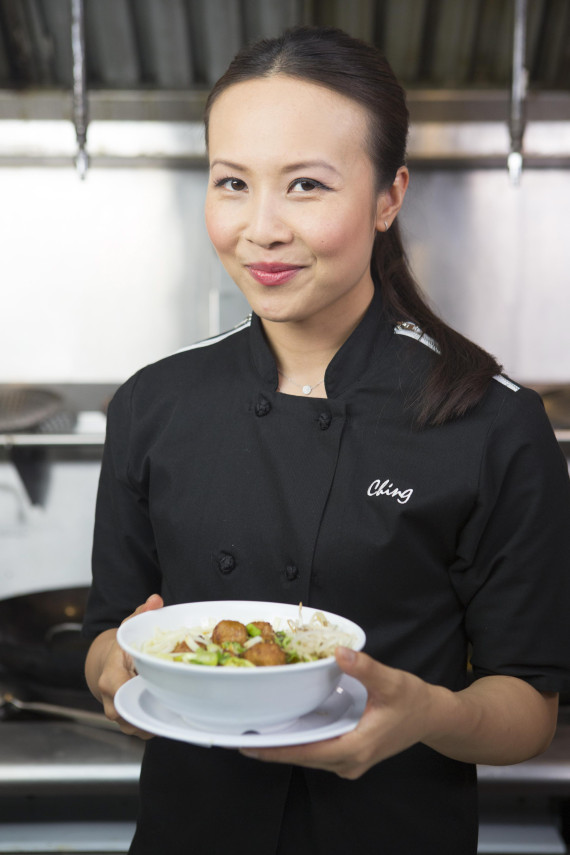 Ching's Restaurant Redemption will air on the SBS Food Network.