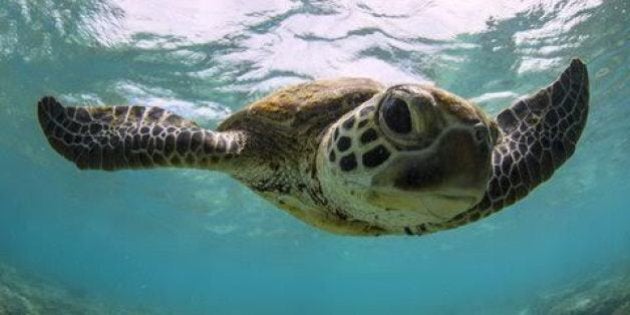 One of nature's greatest spectacles is when an enormous loggerhead turtle makes its way up the beach to lay more than a hundred eggs under the moonlight. It's a sight tens of thousands of people witness every year at Mon Respos beach near Bundaberg, Queensland; home to the largest turtle rookery in Australia.
From November to January the ancient mariners make their way onto the beach to lay their precious eggs under the sand -- an incredible 'National Geographic moment'.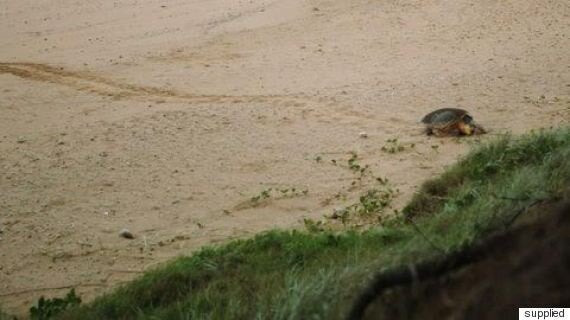 A Loggerhead turtle making its way up the beach before she lays her eggs. Picture supplied
More than 30,000 visitors make the pilgrimage each year to walk along the beach at night on guided tours to see turtles come ashore. Visitors can witness the ancient life cycle of the animal kingdom, as the turtles crawl to the beach.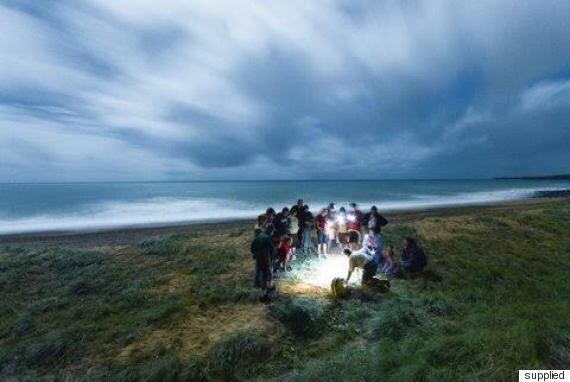 Visitors can get close to the turtles as they lay their eggs on Mon Repos Beach. Picture supplied
Turtles actually have an incredible inbuilt GPS, which allows them to travel tens of thousands of kilometres so they can return to the area they were born, once they're ready to nest. The success of nesting and hatching turtles at Mon Repos is critical for the survival of the endangered loggerhead turtle.
Mon Repos Turtle Centre ranger Cathy Gatley told The Huffington Post Australia that although the average female loggerhead turtle lays hundreds of eggs each season, they're an endangered species.
"The main reason is because they don't reach maturity until they're 30 (years of age). On top of this, they're also at risk thanks to commercial fishing activities, predators destroying their nests -- and human activities too. Only one in one thousand will actually make to the age of maturity," Gatley said.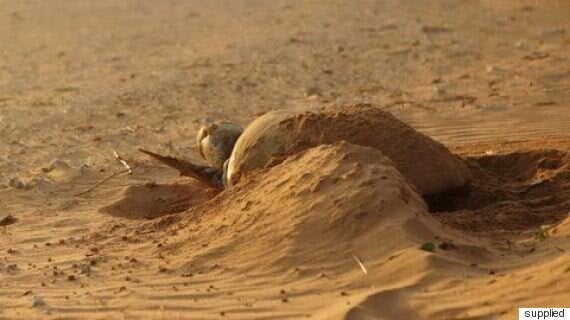 A Loggerhead Turtle preparing to lay her eggs. Picture supplied
"Every season, we get excited about seeing our first turtles ashore. It is so magical and it's something I'd never get tired of seeing. The loggerhead turtle is the main species we get nesting here so, due to it being endangered, it's great to know we're doing important work to help protect the species."
Mon Repos, in the Southern Great Barrier Reef, supports the biggest number of nesting marine turtles on the eastern Australian mainland, with the largest loggerhead turtle nesting population in the South Pacific.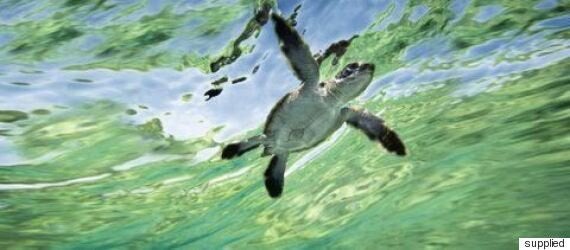 A Loggerhead Turtle swimming near Mon Repos beach. Picture supplied
"When visitors arrive to the Mon Repos turtle centre, they're able to have a nice close experience to a big nesting turtle," Gatley said. "So far, we've had both loggerheads and flatbacks on the beach to lay.
"We watch her as she's digging her egg chamber, using her hind flippers, carving out where she's going to lay her eggs. That takes about fifteen minutes and then she'll start to lay, cover her nest with sand before going back to the ocean. People are able to stand quite close to her as she lays her eggs. It's like she's in a trance and doesn't really notice any humans are watching her.
"It's not very often that a species will let you get quite close while they're nesting. Here at Mon Repos, you have a close encounter but it's closely monitored so it's not impacting on the species. We're here to protect, but to educate as well.
"Each loggerhead will lay, on average, more than 100 eggs each time. She may nest up to four times in one season, but then she'll have a break of a few years before she nests again. It's something many Australians have on their 'bucket list' -- to visit the turtles of Mon Repos and witness Mother Nature in all her glory.
"People love the experience and always seem to take away something special for themselves. I think it's because turtles have been around for such a long time and here they are, swimming back from a feeding ground, back to the area where they were born. And doing it all through instinct. It's that special 'ancient mariner coming ashore' that makes it so magical."