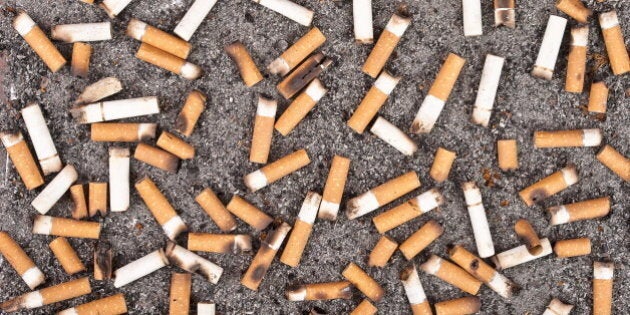 The Australian Border Force has seized another 10 million illegally imported cigarettes on their way into the country, adding to a mountain of black-market tobacco confiscated in recent months.
The ABF announced it had snatched 10.6 million cigarettes and seven tonnes of tobacco molasses -- used in shisha smoking pipes -- on its way into Australia from Singapore. The shipment, said to be the first for the ABF's tobacco strike team, was allegedly declared as masking tape and herbal molasses.
"Our tobacco strike team has seized its first major shipment of illegal tobacco with 10.6 million illegal cigarettes and seven tonnes of tobacco molasses stopped at the border," Border Force announced on Facebook.
"The materials... would have attracted duties of $10.3 million collectively if imported legally."
The major grab comes after a string of other high-yield seizures for the ABF, as tobacco smuggling comes under the microscope for customs officials.
Just last week, the ABF seized another four million cigarettes with an estimated tax evasion value of over $2.25million in Sydney.
"The cigarettes were declared as carpet tiles in an attempt to avoid detection by ABF officers. The container, coming from Singapore, was identified and x-rayed with anomalies immediately noticed before an unpack of the container confirmed officers' suspicions revealing cartons of undeclared 'Modeng' brand cigarettes," Border Force said.
Earlier in November, a man arriving into Melbourne airport from China was found to be carrying 46,000 undeclared cigarettes with a black-market value of $20,000.
In mid-October, the ABF announced the seizure of 71 tonnes of tobacco worth an estimated $40 million. Two shipments were found in Sydney in June, while officials intercepted a third shipment in Indonesia before it could be put in transit. It was said to be the largest tobacco seizure in Australian history.
The ABF also reported discovering 10 tonnes of tobacco products smuggled into Australia from the United Arab Emirates in June.
The tobacco seizures come at a politically-charged moment around the future of cigarettes in Australia. Earlier this week, the Labor party announced plans to increase the tax on cigarettes, which could see a pack of smokes selling for $40 by 2020. Announcing the policy, Labor said the increased tax could net $50 billion extra and claimed the move would nearly double the rate of people quitting smoking.
"Money that we want to put towards budget consolidation but also towards very important health initiatives," said Labor health spokeswoman Catherine King.
The news about recent ABF tobacco seizures has been welcomed by tobacco giant Philip Morris, but the company also took the opportunity to make a case against high tobacco taxes, saying rising excises fuelled the black market and therefore deprived the government of tax revenue.
"Philip Morris Limited spokesman Simon Dowding said the high price of cigarettes in Australia was fuelling the black market in tobacco. A study by KPMG released this month found the tobacco black market in Australia has grown by about 30% in the last three years and accounted for 14.3% of total tobacco consumption in Australia in 2014-15," the company said in a statement to media following news of the Singapore-origin seizure.
"Had that tobacco been sold legally, KPMG estimates the Government would have received an additional $1.42 billion in tobacco excise revenue last year."
Dowding went on to make further comment touching on high taxes as the root of the black market tobacco trade.
"This illicit trade in tobacco not only enriches organised criminal groups, but also hurts law abiding retailers and diminishes government revenues," he said.
"We are committed to working cooperatively with Australia's law enforcement authorities in their fight against the illicit tobacco trade and welcome this latest seizure."