PAUL CROCK via Getty Images
Thousands of Australians are joining global rallies calling for strong climate change action ahead of the Paris climate talks beginning next week.
Protestors gathered on Sunday in Sydney, Canberra, Perth, and Hobart to show support for a strong stance from Australia in Paris and a global compact to deal with climate change.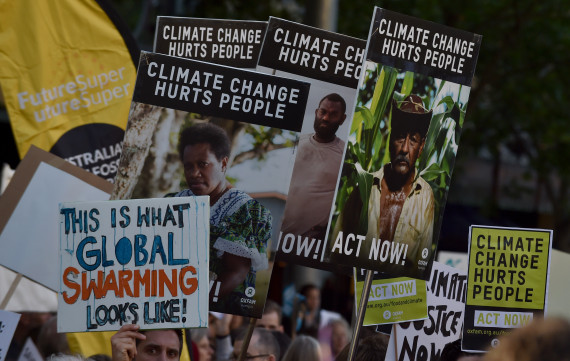 Tens of thousands gathered in Melbourne on Friday
600 other cities around the world, from more than 120 countries, are also playing host to climate rallies over the weekend.
In Canberra, around 5,000 came together to demonstrate at Parliament House.
"Often at these climate marches it can feel like we're protesting something that's so hard to change but the reality is that there is so much climate action already happening right across the world and here in Canberra's a great example of that," ACT Conservation Council's Phoebe Howe told the ABC.
More than 5000 at the #Canberra#PeoplesMarch#peoplesclimate#auspolpic.twitter.com/YQkVH8fEu1

— Canberra Times (@canberratimes) November 29, 2015
"We're excited to celebrate that and to invite everyone participating today to find ways they can stay involved and keep pushing so that together we can find that global solution."
Thousands have gathered in Sydney where protesters will march from the Domain to the Opera House.
1000s and 1000s of people piling in to the Domain. Now almost full #peoplesclimate@abcnewspic.twitter.com/OuFnkjx5Iq

— Jake Sturmer (@JakeSturmer) November 29, 2015
These demonstrations follow previous rallies over the past few days in Melbourne, Brisbane, and Darwin.
Melbourne's rally attracted tens of thousands of people -- crowd organisers put the figure at around 60,000 though police said at least 40,000 people attended.
"This absolutely is the largest climate change rally we have ever seen in Australian history," rally organiser Victoria McKenzie-McHarg told the crowd.
Thousands gather at Melbourne CBD rally to demand action on climate change: https://t.co/taNj8sshJI#ClimateMarchpic.twitter.com/vVej066tU0

— Daily Life (@DailyLifeAu) November 27, 2015
Most Australians want the federal government to push for larger cuts to greenhouse gas emissions at next week's UN Conference on Climate Change in Paris.
A November Lowy Institute poll found 62 percent of Australians want the Turnbull government to take a stronger position to the talks than its current target.
On Saturday Prime Minister Malcolm Turnbull encouraged Commonwealth leaders to signal to other nations that strong climate change action is needed.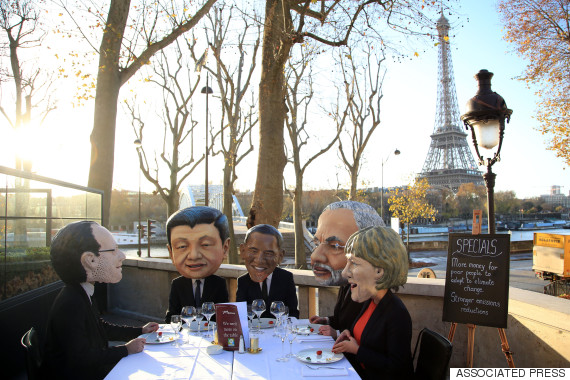 Oxfam protesters dressed as world leaders dine in Paris
On Sunday Mr Turnbull flies to Paris for the COP21 summit.
The Federal Government has committed to a 26 to 28 percent reduction in Australia's greenhouse gas emissions by 2030.
In comparison, Labor has set a target of a 45 percent reduction in emissions by 2030, a goal that's been labelled as "mad" by government frontbenchers and "heroic" but unaffordable by Mr Turnbull.