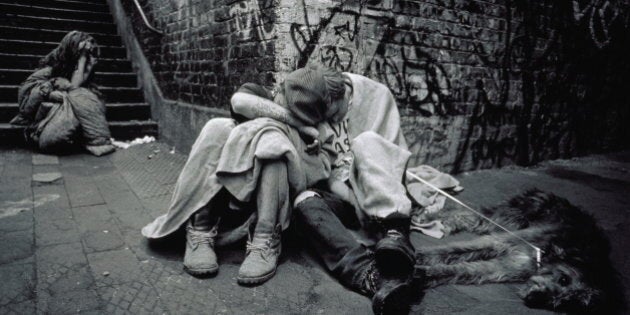 A desperate need for accommodation for homeless women in Brisbane has seen Queensland's oldest charity launch a public plea for help.
The Lady Musgrave Trust, established in 1885, provides support and housing to homeless young women. The charity recently kickstarted its 'Shelter Me' initiative, aiming to to raise funds for eight accommodation units in Brisbane and other support services.
Trust CEO Karen Lyon Reid claimed for every ten beds available for homeless men in Brisbane, there was just one available for homeless women.
"There's a major shortage of accommodation for homeless women. Everyone knows it. There are particular issues with women having to stay long-term in hotels and motels with no cooking facilities. Many women are just not getting the accommodation because it's not there," she told The Huffington Post Australia.
"The women we look after, they're a large proportion of the homeless sector. There has definitely been an increase [in homelessness]. The awareness of domestic violence has certainly got a lot more women looking for assistance. It is a complex issue that is broader than domestic violence, but that is where a significant proportion of our clients come from."
The Trust says 350 women and 1200 children under nine years of age are living in motels with no cooking or laundry facilities in any given calendar quarter in Queensland.
"Our units are for young women in the short term, for three to seven days, or they may stay with us for a month depending on their needs. During that time, we've got specialist case management partners to help clients and provide them with any assistance they need -- where to get government support, any training or education needs, how to rebuild their lives and customise help around what they need," Lyon Reid said.
She said women's specialist homelessness services had been overlooked in the past, but were being recognised better in recent times.
"Historically it has been about providing acommodation for men, and women haven't had that same focus. Women need a different type of housing. Often they come with young children and need a much more secure premises than men do," Lyon Reid said.
"One-third to half of homeless women are coming from family or domestic violence, so they need to be housed in a different way. Also women often don't stay for long periods of time in shelters, they come and go. They're on a different pathway to men. They might stay with friends for a while, then go to a shelter, then go out again. It is a complex path. We're really in catch-up mode now."
The Lady Musgrave Trust is currently in a transition period, having sold some housing stock and currently looking to buy more. The charity is hoping to raise $60,000 through 'Shelter Me,' only a portion of what it will cost to get the charity operating at the capacity it needs to, but a goal Lyon Reid hopes Australia will help them to reach.
"We're raising money to buy more housing, as well as partnering with the private sector to get more accommodation through developers and lower-cost facilities, asking them to give us a break on purchase prices," she said.
As for ideas to stem the issues of homelessness and housing shortages, she flagged concepts of developers giving over space inside newly built properties to homeless agencies.
"Fundamentally, this whole issue is a community issue. It's not just about government doing more, because they are starting to do a lot more, but communities around Brisbane and Australia. Whether it's your sister or my aunt, we've all got to step in and take care of each other more," she said.
"If the property and development sectors could step in and assist us, it could make a huge difference. In Brisbane, there are a lot of cranes in the sky right now. If some of those developers building units could loan us a unit for a year, imagine the difference that could start to make. It's a community issue, taking care of each other. Development and business should be getting involved and partnering with not-for-profits."