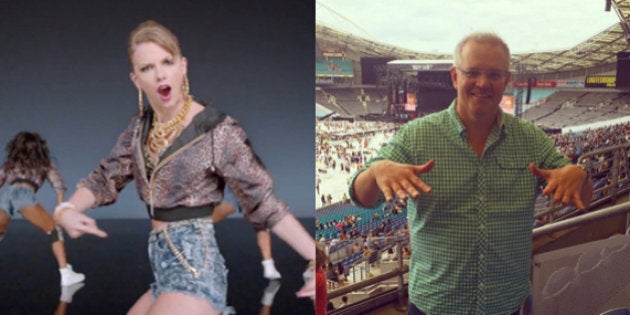 Aussie politicians just bloody love Taylor Swift. They just can't stop. Whether quoting the infinite wisdom of T-Swizzle in media interviews, or snapping a quick selfie at her concerts, the American pop star has suddenly become the cultural reference of choice for pollies trying to seem hip, cool and groovy for the electorate.
The latest is serial offender Sam Dastyari, who made no less than four Taylor Swift references in ten seconds during a TV interview on Monday morning as he took aim at treasurer Scott Morrison.
Morrison responded in kind, fighting fire with fire.
Morrison himself tried the same shtick on his newly-minted Instagram account (just a week old).
Taylor Swift mania is taking over the country with the superstar on tour down under, but of course this spate of madness hasn't been confined to recent days. Despite now living in a world where Taylor Swift references have been consigned to the back of the internet at the expense of Drake and Adele memes, our powers-that-be still keep up the Swifty jabs.
We mentioned above that Dastyari was a "serial offender" -- this is what we meant.
Quoting lyrics from 'Bad Blood,' in having a dig at deputy Liberal leader Julie Bishop, Dastyari said: "I'm quoting a poet here. I notice that other senators are laughing. I just do not think they are treating this with the respect that it deserves".
"I'm a very sensitive person by I turn to the great America philosopher T. Swift: 'Some players are going to play, play, play, play, play. Some others are just going to fake, fake, fake. Well I'm just gonna shake, shake, shake, shake, shake it off'," he said.
"I think we're all a lot smarter," one committee MP said in response.
Mike Baird also gave those lyrics a new lease on life. In February, when doing a "Mike Baird reads mean Tweets" video, he responded to a critic by saying "my daughters are Taylor Swift fans and they say, when you get this sort of stuff, shake it off".
That same month, Nationals MP Andrew Broad became possibly the first Aussie politician to put Taylor Swift into the Hansard record. In making a speech on bullying, he told kids to "shake it off".
"The haters are gonna hate, the players are gonna play," he said, even having a go at the dance moves from the song's film clip.