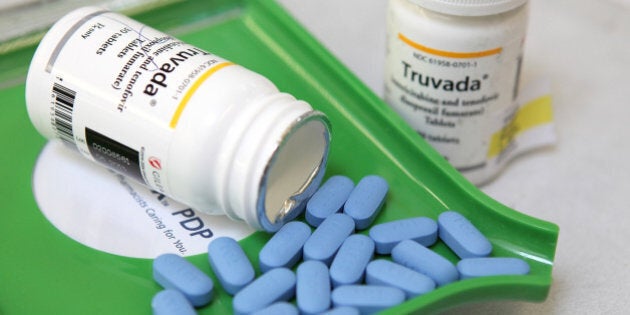 Two Australian federal politicians have called for the government to make a successful HIV prevention treatment more widely available, as a campaign to promote access to the drug gathers steam.
The treatment, known as PrEP (Pre-Exposure Prophylactic), is the use of an anti-viral medication by HIV negative people to avoid contracting the virus. PrEP is currently available in the U.S. under the name Truvada, but while there are several trials currently operating in Australia, the treatment is not currently listed on the Pharmaceutical Benefits Scheme.
Different studies have found PrEP could have an effectiveness rate of stopping HIV infections upwards of 90 per cent.
Labor MP Tim Watts and Greens Senator Robert Simms both spoke on Monday in favour of seeing PrEP approved by the Therapeutic Goods Administration and added to the PBS to give greater access to the treatment.
"PrEP has been achieving positive results overseas. With France and the U.S. making this available, Australians have a right to wonder why we don't also have access," Simms said ahead of moving a motion in the Senate calling on the government "to remove barriers to access PrEP and other HIV prevention tools in the leadup to World AIDS Day."
"Australia is also lagging behind in terms of other prevention tools like rapid HIV tests and home testing. The government should be doing all it can to make these available so that Australians have access to the broadest, most effective range of HIV prevention tools."
PrEP is currently being reviewed by the TGA, with advocacy group PrEP Access Now saying the drug is not likely to be included on the PBS until 2017. PrEP Access Now committee member Philip Joffe said that timeline was far too long.
"It is very encouraging to know discussions are taking place, but there needs to be action. With the utmost respect, we need to get something happening long before 2017," he told The Huffington Post Australia.
"Obviously the more awareness created, the better, but we need action. There are new infections happening in Australia."
Joffe said while the drug was not approved by the TGA, it was available in Australia to those who wanted to find it. His group's website provides links to overseas online marketplaces for the treatment, ranging from $190 to $397 for a three-month supply. If the drug were included on the PBS, the cost of the treatment from Australian sources would be far less.
The links are provided on PrEP Access Now's website below a warning that the group "neither promotes nor endorses any brand or form of prescription medication. We provide this information for your own assessment with your medical practitioner."
Joffe said including PrEP on the PBS would lower costs, promote the treatment to a wider audience and give easier access. He said PEP (Post-Exposure Prophylactic) is widely available and subsidised by state governments, and suggested a similar system could be used to support PrEP.
"There would be more people who would use a preventative measure than those who have possibly had uninentional exposure and need PEP," Joffe said.
"We are embarking on a major education program to ensure knowledge and correct information is available. We're doing community advertising on dating sites. We're going to be holding forums with doctors, information evenings for people to find out more about whether PrEP is right for them."
With World AIDS Day on Tuesday, president of HIV advocacy agency ACON, Dr Justin Koonin, said advances in treatment and testing had far lessened the chance of contracting the virus, and claimed HIV transmission could be "virtually eliminate[d]" in NSW by 2020.
"In NSW, gay men are the population most at risk of HIV transmission, accounting for over three-quarters of new HIV diagnoses. To reach our goal of ending HIV transmission by 2020, we still need even more gay men to get tested, treat early and stay safe," Dr Koonin said.
"We're encouraging gay men to know their HIV status by getting tested regularly, at least twice a year... We're also calling on gay men to stay safe by using condoms when they're having casual sex, as condoms are easily accessible and extremely effective at preventing HIV transmission. Finally, we're also advising HIV-positive people to consider starting treatment immediately, as modern HIV treatments have significant health benefits including reducing HIV in the blood to undetectable levels, which also drastically reduces the risk of HIV transmission."