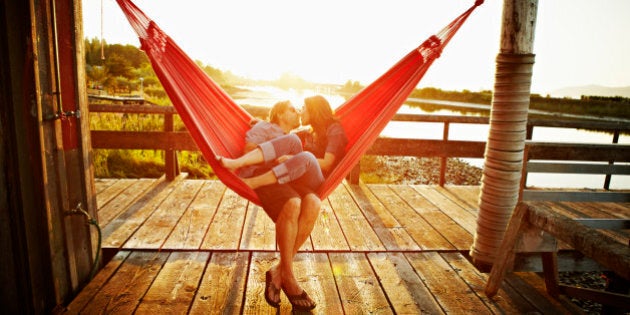 Cue the sunset frolicking and ice cream dates because summer is officially upon us, which means there is no time like the present to give your relationship the reawakening it deserves.
Yes, just as the freshly cut grass and sunscreen complements the smell of sticky, mango drenched fingers -- so too does the warmer months for your relationship.
And it's not just because you've swapped Netflix for the glorious sunshine either (OK, it may have a little to do with it) but because December yields a can-do attitude you'd be silly to ignore (and best applied to all life areas, Christmas party prep and relationship included).
"Something that can really build intimacy in a relationship is to make sure that when you are in a group environment that you check in with each other," Schilling told The Huffington Post Australia.
It might be eye contact across the room, a squeeze of the hand as you walk past or some couples even have a code word for when they want to leave the event.
"A glance across the room can do wonders, it's about making your partner feel special and letting them know you've got them," Schilling said.
"The key is to have something very private that is just between the two of you that says to each other, even though we are in a room of 50 people, you're the only one for me," Schilling said.
On the flipside, doing activities as a couple alone is just as important.
"Choose something outdoors and adventurous -- like water skiing or learning to surf -- these sorts of things will get the endorphins flowing which is really positive for the relationship," Schilling said.
Ah yes, endorphins! Those chemical sparks of goodness are magic for your relationship. Just as we give chocolate and sex our implicit trust to up our mood -- pairing a dose of vitamin D with a thrill-seeking activity will do the same.
"If you can get into a state where you are a little bit scared by doing something outside your comfort zone, it will get your adrenalin pumping which sends messages to the brain around attraction," Schilling said.
To keep with the outdoorsy theme, Schilling said disconnecting from technology can make fundamental shifts in a relationship. But before the separation anxiety kicks in, know that her suggestion is only for a few hours, once a week.
"The common trap that we all fall into in relationships is to be way too dependent on our digital life," Schilling said.
"It's definitely harder than it sounds but choose a window of time, perhaps 8-11pm once a week where all screens, including the television are switched off," Schilling said.
It doesn't have to be forever, but set yourself a challenge of one month over the Christmas period.
"Make it fun -- let's say it's a Wednesday night -- play a boardgame or head out for a night swim at the beach," Schilling said.
Schilling said using that time as an opportunity to ask one question of each other about how the other person is going in the relationship will mean you'll avoid future frustration with one another that's often a result of lack of communication.
"The whole night doesn't have to be about your relationship, but this allows for an opportunity to talk about something that might have been building up throughout the week -- vent whatever it is that's troubling you and move on with whatever fun activity you've got planned," Schilling said
Hugging, kissing and face pressing mandatory.