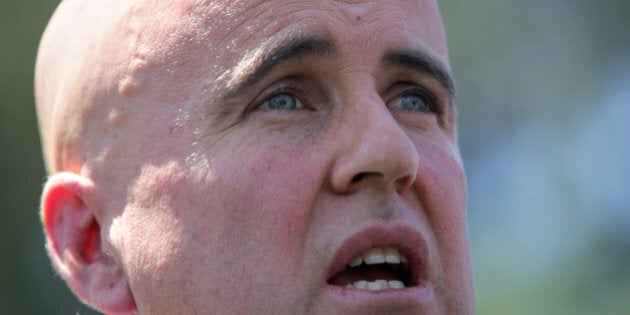 Aboriginal languages are set to become part of the HSC curriculum in 2016, in a bid to strengthen Indigenous culture in NSW.
Minister for Education Adrian Piccoli made the announcement at the Menindee Central School in the state's west on Monday.
"This new course will help maintain this critical part of Aboriginal cultures," Mr Piccoli said.
"Menindee Central School is a Connected Communities school and already teaches Paakantji. The new course enables students to continue their studies into Years 11 and 12 and I look forward to other schools joining them."
Currently, 61 NSW schools teach Aboriginal Languages in year ten.
Out of 35 Aboriginal languages in New South Wales, 19 are being taught across NSW, and more than 100 dialects.
The HSC Aboriginal Languages course will count towards the Higher School Certificate (HSC) and appears on the student's record of achievement, the government said.
However it does not contribute to a student's Australian Tertiary Admission Rank (ATAR).
A spokesman for the Department of Education told the Huffington Post Australia the course does not count towards an ATAR because it is content based, and has no exam.
There is an Aboriginal Studies course that does count towards the ATAR.
Sydney University aboriginal languages expert Professor Jakelin Troy said while it is encouraging to see increased support for the program, it doesn't go far enough and would ultimately serve as a disincentive to study.
"It's unacceptable that students who choose to study Aboriginal languages for their HSC will not be able to claim these marks towards their ATAR," Professor Troy said.
"This may serve as a further disincentive to study Aboriginal languages, not to mention the fact that not every NSW school will offer these subjects."
Professor Troy, who authored the first framework for Aboriginal languages to be released by the Australian Curriculum, Assessment and Reporting Authority (ACARA), compared Australia to New Zealand, where Maori has been an official language for decades and is protected by its own legislation -- the 1987 Maori Language Act.
"New Zealand students can even complete their PhD in Maori," she said.
"Until Aboriginal languages have official recognition, and are taught in a meaningful and systematic way, attitudes towards these languages will remain indifferent at best and ignored at worst."
Minister for Aboriginal Affairs Leslie Williams said the Government strongly believes that Aboriginal people have a right to learn their own languages.
"This course will aid Aboriginal young people to become the future custodians and caretakers of their languages and empower them to maintain a strong sense of identity," Williams said.
"For non-Aboriginal young people it will provide them with a deeper understanding of the world's oldest living culture."
The Connected Communities model is one where schools are managed by a division of the education department, and are separate to mainstream schools.
It's an approach that's been criticised following allegations of violence at the Wilcannia school, amid allegations teachers were left feeling unsupported.