Fairfax/Alex Ellinghausen
CANBERRA -- Mal Brough has apologised for "unwittingly confusing" parliament amid moves to oust him over the long-running Peter Slipper affair.
Ahead of an expected rowdy second last parliamentary question time of 2015, the Special Minister of State has attempted to correct the record on an apparent on-air admission to procuring the-then Speaker's restricted diary from a Slipper staffer.
However, Brough has not admitted to Opposition charges that he has mislead parliament.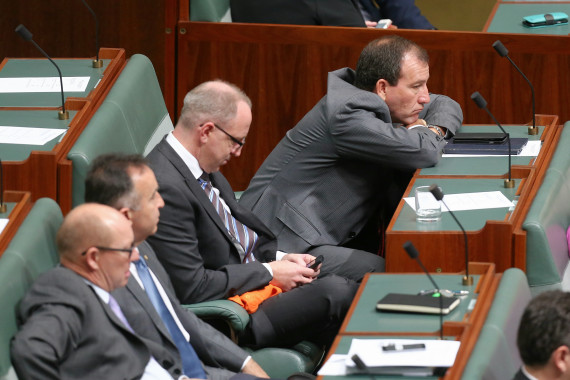 "(I) apologise to the House if my statement yesterday unwittingly added to the confusion rather than clarifying the matter," Brough told Parliament.
Earlier Wednesday, the Government used its parliamentary majority to thwart a Labor bid to move a censure motion against Brough, while calling on the Prime Minister to either sack him or stand him down.
Shadow Attorney-General, Mark Dreyfus, accused Turnbull of using "atrocious judgement" in promoting the Queensland MP and Brough of "clearly" misleading parliament yesterday when he cast doubt on a 60 Minutes interview he gave last year, saying "what was put to air was not the full question".
.@MalBrough_MP accused of misleading federal parliament over @60Mins interview. https://t.co/TNkzPZuYee #9News pic.twitter.com/Z2vgs1pBVI

— Nine News Australia (@9NewsAUS) December 1, 2015
The Channel Nine program has released the unedited version, showing only reporter stumbled were removed. Overall, the interview shows Brough stating that he asked Slipper staffer James Ashby to get Slipper's diary, an illegal act as the diary is "restricted data".
The diary was subsequently leaked to the media amid a sexual harassment case brought by Ashby.
Brough Wednesday made a statement to parliament.
"Yesterday during Question Time I said: 'In relation to the 60 Minutes interview, what was put to air was not the full question'."
"Mr Speaker, my recollection of the interview was that the question was put to me in a somewhat disjointed manner, and I answered the question without clarifying precisely what part of the question I was responding to," the Minister said.
"This is confirmed by the tape provided by 60 Minutes and that was the reason for my answer yesterday.
"Mr Speaker, I have taken the opportunity to review the tape and transcript, and apologise to the House if my statement yesterday unwittingly added to the confusion rather than clarifying the matter."
The move on the Minister, who is under an Australian Federal Police (AFP) investigation and the subject of an AFP raid on his home, comes as Prime Minister Malcolm Turnbull returned to parliament for the last two sitting days of 2015.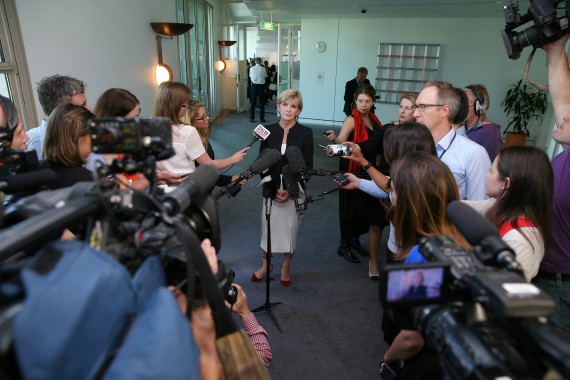 Foreign Minister Julie Bishop earlier rejected any description of Brough misleading parliament.
"No, I do not believe he did," she told reporters.
Asked why, Bishop responded, "Because I don't believe he did."
The Foreign Minister said Brough was entitled to due process.
"In my view due process in relation to this matter should be allowed to run. Therefore the matter should be part of this investigation. Due process, allow it to run, "she said.
Dreyfus insists Brough should step aside.
"The Minister clearly misled the House of Representatives during Question Time yesterday," he told parliament.
The Opposition also insists Brough should never have been appointed while he was under an AFP investigation.
The Prime Minister has previously resisted calls for Brough to stand down, declaring last week on his overseas trip, "the answer is yes, I do have confidence in Mr Brough".