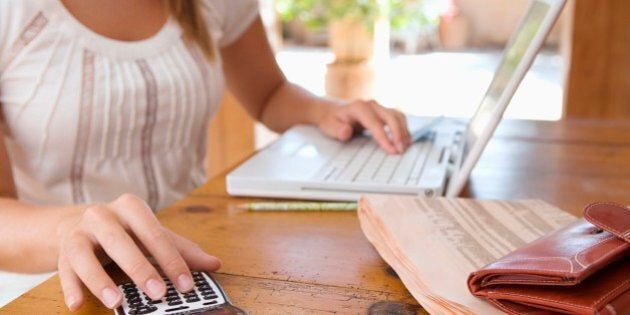 Every year most of us come up with a fabulous list of New Year's resolutions we never really intend to honour. But when it comes to our finances, perhaps it's time to get serious.
Christmas and New Year can feel like a personal pressure cooker exploding in a long to-do list that might not be achievable at all. The most successful of us focus on goals and what needs to be done to make them a reality. Good money behaviours can be part of the journey to get what you want.
Jemma Enright from MoneyBrilliant told Huffington Post Australia people need to think about what they want to achieve: being debt free, saving for a holiday, a baby, a house deposit.
"The really good thing about a New Year's Resolution is that you have a non-negotiable start date," Enright told HuffPost Australia.
"Often we decide things like this impulsively and more often than not we stick it on the credit card.
"Given the high levels of household debt we are seeing today, it's a really good idea for people to educate themselves about saving vs debt repayment and spending less to saving more."
She said the New Year was a great time to draw a line in the sand and make these commitments.
"It's also a good idea to set aside 15 minutes a week to check that you're sticking to plan and make any adjustments needed," she said.
Find a way to stay on top of your progress and keep your end game in sight. You'll have a renewed New Year determination every month of the year if you connect regularly with what you really want in life."
Another way to get out of the financial rut you might be stuck in is to talk about your financial problems and your goals.
"Often people will have a light bulb moment, and then not do anything about it.
"This can ring true in lots of ways -- health, fitness, relationships, career and money. It's finding the right person to speak with that can really help you come out of that rut. You might find somebody to encourage you, mentor you or even come on the journey with you. Having this support often comes as the result of reaching out and having the courage to discuss your feelings with somebody you know."
"Visual prompts can be very helpful too. If you have a long term goal of a house or a holiday, pictures on the fridge or in your wallet can help remind you that any little sacrifices you're making are worth it to get to that ultimate goal."
"You could also announce your goals on social media. Start your own online community with friends and/or family who also want some support. This is where you can all record your goals, your plan and update everybody at the date of each of your mini goals."
"Do whatever it takes. Because at the end of the day, if you want something badly enough, it is achievable. You just have to work out how."
Jemma Enright's top ten tips to achieving New Year's resolutions.

• Treat it as an aspiration, turn it in to a positive.

• Change your behaviour to achieve something, rather than putting the brakes on a habit.

• Understand what it is you want to achieve and write it down.

• Have an end date.

• Have a visual. Put those size 10 jeans or that holiday destination on the wall.

• Break the NY resolution in to mini deadlines and reward yourself along the way.

• Write a list of things that will help you achieve your end goal

• Work out how to stay motivated

• Tell people what you're doing and get their support

• Announce it on social media (if you think that will help)