ASSOCIATED PRESS
The married couple suspected of committing America's deadliest mass killing in years were armed with an arsenal that included 1,600 rounds of ammunition and stockpiled pipe bombs, as the FBI says its too soon to label the attack terrorism.
Suspected attackers Syed Rizwan Farook, 28, and Tashfeen Malik, 27, opened fire on a social services center in San Bernardino, California, on Wednesday, killing 14 people and leaving 21 injured; before the pair fled and were fatally shot during a police chase hours later.
The pair carried two assault rifles, two handguns and more than 1,600 rounds of ammunition, and wore masks and tactical gear and left a set of three pipe bombs attached to a remote-controlled car at the scene of the shooting, though they were never detonated.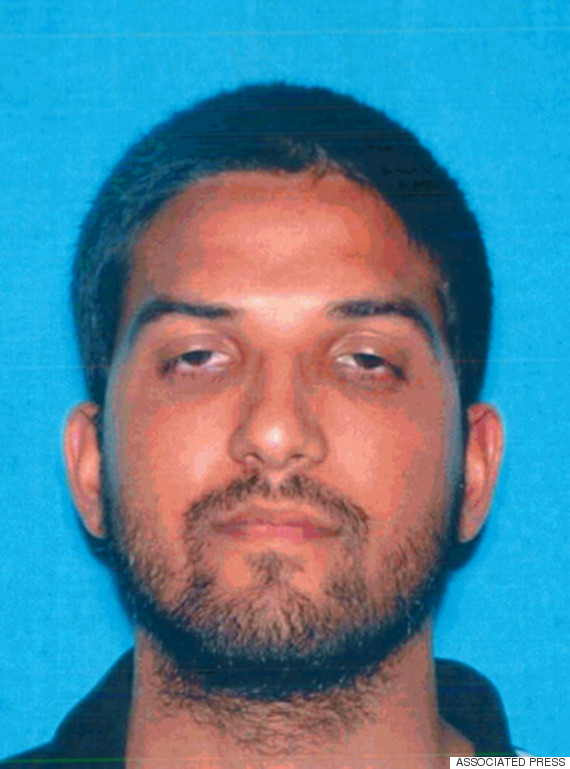 Syed Rizwan Farook who has been named as the suspect in the San Bernardino, Calif., shootings. Farook communicated with individuals who were under FBI scrutiny in connection with a terrorism investigation.
Police have said all four guns were purchased legally.
More than 4,500 rounds, 12 pipe bombs and "hundreds of tools that could be used to construct [improvised explosive devices] or pipe bombs" at a house the suspects were using in the nearby town of Redlands, Burguan said.
Police say Farook had attended a holiday party at the center earlier that day and angrily left earlier Wednesday at the Inland Regional Center, police say.
The F.B.I. is treating the shooting as a potential terrorist act, as they investigate the pair's recent middle east travel and alleged contact with people with Islamist extremist views.
"Clearly they were equipped and they could have done another attack," San Bernardino police chief Jarrod Burguan said.
"We intercepted them before that happened, obviously."
However authorities have said they were not ready to call it terrorism.
"There was obviously a mission here. We know that. We do not know why," FBI assistant director for Los Angeles David Bowdich said.
"It would be irresponsible of me to call this terrorism. The FBI defines terrorism very specifically."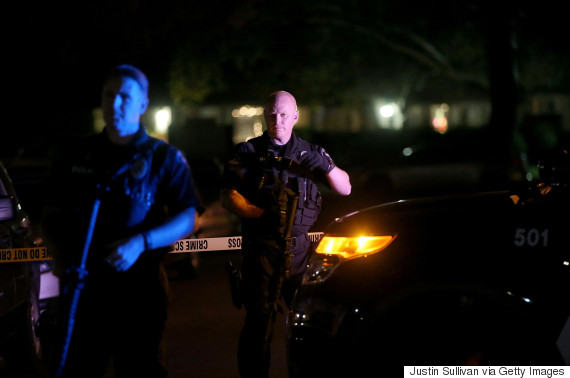 Police continue to investigate a mass shooting at the Inland Regional Center in San Bernardino that left at least 14 people dead
The Associated Press reported a U.S. official as saying Farook communicated with individuals who were under FBI scrutiny in connection with a terrorism investigation.
But the official said the contact was with "people who weren't significant players on our radar," dated back some time, and there was no immediate indication of any "surge" in communication ahead of the shooting.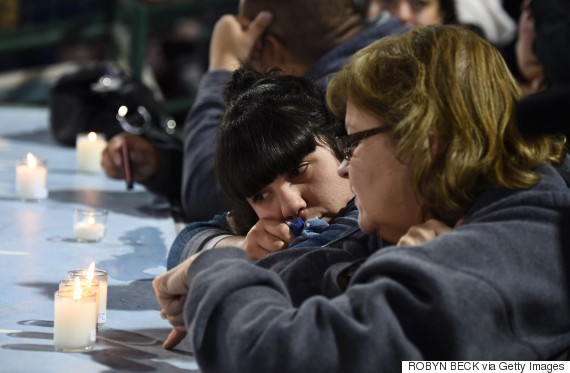 Katherine Vittorio (R) and her niece Sara Stringer (L) mourn the victims of a shooting rampage, at a candlelight vigil at the San Manuel Stadium in San Bernardino, California
On Thursday evening, the San Bernardino County Coroner's office released the names of the 14 dead.
Victims include fellow health inspectors who were at the holiday party and a coffee shop owner who worked at the Inland Regional Center when the shooting took place.
Friends and families of the victims expressed their grief on Thursday.
Environmental health specialist Sierra Clayborn, 27, was among those killed.
Like many people, Clayborn added the French flag to her Facebook profile soon after the terrorist attack in Paris on Nov. 13.