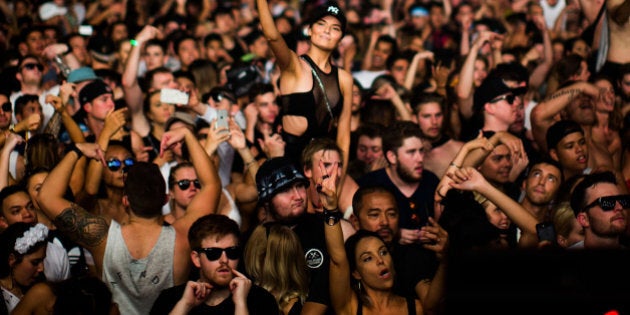 The federal government has refused to be drawn on whether it would consider drug-testing kits at music festivals following a spate of fatal overdoses and as a grass roots campaign in favour of "pill testing" gains traction online.
In the latest death linked to drugs and music festivals, a 19-year-old man suffered a suspected overdose at the Stereosonic event in Adelaide on Saturday, while two others who also attended the event remain in a critical condition in hospital.
On the same day in Melbourne, six people overdosed on drugs at that city's Stereosonic festival, including a teenager who is fighting for life in hospital.
Meanwhile in NSW, 5 people have died after attending music festivals across the state this year, including the high profile case of Sylvia Choi who died last month from a suspected overdose at Stereosonic in Sydney.
Choi's death has led to calls for the government to adopt pill testing technology at music festivals in a bid to minimise harm from bad batches of drugs.
On Sunday, Justice Minister Michael Keenan downplayed the possibility of considering the controversial kits, which can be used to test the quality of blackmarket pills.
Asked whether the government would consider on-site drug testing at festivals, Keenan said the issue came down to "personal responsibility".
"My heart goes out to the family and that particular individual who has seen the worst possible consequences for taking an illicit drug," he said, flanked by Prime Minister Malcolm Turnbull.
"It's a reminder to us about how dangerous these substances are, you don't know what's in them and if you're taking it you have no idea what you're putting in your body and what the consequences can be.
"I would urge everybody to be exceptionally cautious."
In the latest fatal incident, paramedics rushed the 19-year-old from Adelaide's Bonython Park to Royal Adelaide Hospital where he died.
An initial police investigation found he had consumed an illicit drug and was also in possession of a number of pills.
South Australia Police superintendent John De Candia said if people wanted to be 100 percent safe, they should stay away from illegal drugs.
"Prior to the police South Australia police were specifically targeting persons that we believe may have been linked to the manufacture and distribution of illicit drugs," he added.
Independent senator Nick Xenophon on Sunday called for a coronial inquest into the teenager's death, labeling the use of drugs at music festivals as "Russian roulette".
'F*** this. Heavier policing will not prevent deaths. Australia, it's time to start testing'
The latest death came the day before the Prime Minister launched a $300 million response to Australia's ice "epidemic".
Turnbull said on Sunday that a key plank in the government's response to the crisis would be seeking to reduce demand for the drug, saying that Australians proportionately used more ice than most other countries.