Hero Images via Getty Images
When it comes to working from home, people generally fall into two camps -- either they jump at the opportunity, or, they admit that while the ability to catch up on washing between emails is great -- the productivity level is actually pretty low.
This can be due to a couple of things (still wearing pyjamas at 2pm is probably a contributing factor) but the most important thing to ensure maximum productivity, is to set up a space that allows you to focus and well, get things done.
"The first mistake people make is having an office nook in the bedroom," Jen Bishop, founder and publisher of Interiors Addict told The Huffington Post Australia.
Sure, time (and comfort) wise reaching for your laptop on the bedside table seems convenient -- but once you're doing anything more than online shopping -- it's far from efficient.
"Your bedroom is a space for rest and relaxation where screens should be used at a minimum," Bishop said.
So, if you have the luxury, it is preferable to have your office in a separate room.
"That way you are able to shut the door on work, physically and psychologically at the end of the day," Bishop said.
Of course, if you only have a small space to work with, Bishop said it is worth thinking about how you live in your home in order to work out what type of space will work for you.
"Desk nooks in the kitchen work well and allow you to supervise kids while they are doing homework," Bishop said.
Another common mistake people make when creating a home office is trying to make it too corporate.
"The joy of a home office is that it is in your home and you have control over its look and feel," Bishop said.
"Corporate doesn't equal professional and productive -- it just spells dull," Bishop said.
You want to feel inspired, after all.
"Surround yourself with beautiful items that make you feel good, like art, photos of loved ones and a few gorgeous decor pieces," Bishop said.
Start with a great desk and a task lamp that is adjustable.
"If you are working with minimal space, remember a desk doesn't have to be as big as you think -- many larger desks are full of dead space," Bishop said.
Also, keep in mind while a designer chair may look good, it may not be very functional.
"You really want something adjustable and possibly swivelling and on wheels, so you don't end up with a bad back," Bishop said.
Next, consider storage.
"For a pen pot, choose something unique like a mason jar as opposed to the generic ones in the stationary store, or use a small vase or a great mug," Bishop said.
A waste paper bin and an in-and-out tray is also a good idea.
"Without it, your space will appear messy and disorganised," Bishop said.
"If you're doing a lot of work from home, you may also need a small filing cabinet or a smaller, desktop filing system," Bishop said.
"If your desk doesn't have drawers, choose some great boxes with lids, baskets or bowls for chucking things like post-it notes and receipts in," Bishop said.
If you're wanting to paint your space, Bishop recommends cool, calm and muted tones to keep you focused.
"Indoor plants are also a nice way to give your space some life and if music keeps you focused, get yourself a radio or neat wireless speaker," Bishop said.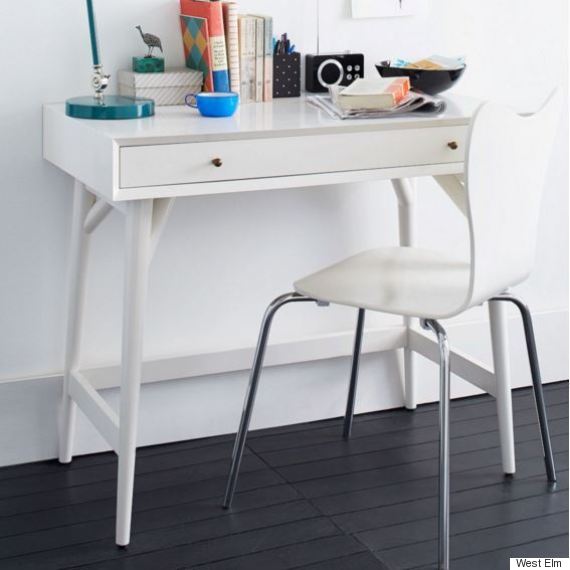 Mid-Century Mini Desk - White, $599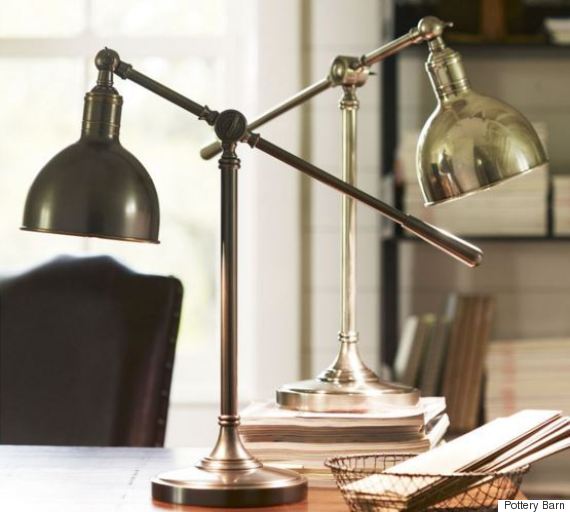 Cole Task Table Lamp, $194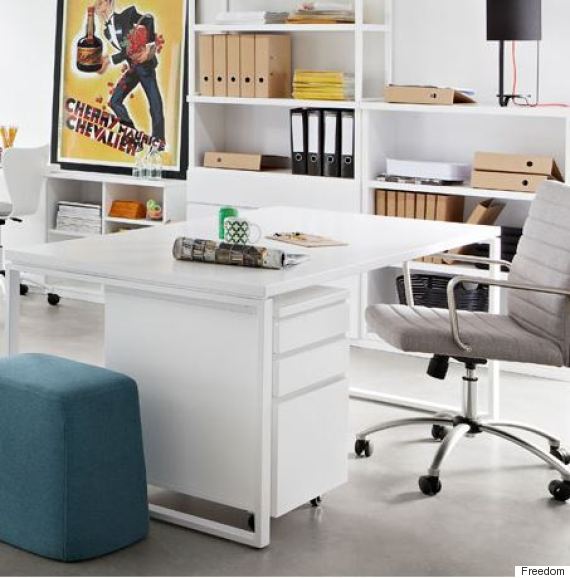 Astor Office Chair in Arena Cement, $399