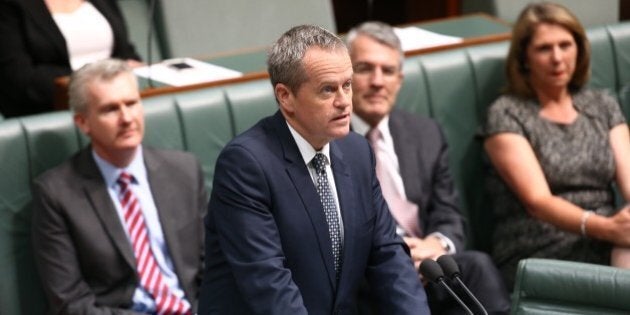 CANBERRA -- Federal Labor will introduce tougher penalties for corrupt union officials if elected, in a move that will potentially protect it from what is expected to be a damning final report by the Royal Commission into Trade Union Corruption.
The announcement comes as the Commission's work led to two of the most significant arrests so far following two years of hearings and as the final report is due to be handed to government by December 31.
The pair are facing hefty fines and jail terms after being charged by Taskforce Heracles detectives with blackmailing concrete company, Boral.
Sekta and Reardon will be pleading not guilty.
Labor Leader Bill Shorten reiterated Sunday the Opposition's view that "the Trade Union Royal Commission was set up with politics in mind," but the former national secretary of the Australian Workers Union is Monday vowing to do crackdown on "utterly unacceptable" recent examples of union corruption.
Shorten has pledged to double the maximum penalties for corrupt union conduct and would introduce penalties of up to $216,000 for paid officials for the most egregious conduct.
He has also moved to make the corporate regulator, the Australian Securities and Investments Commission (ASIC), the regulator of the most serious contraventions of the Registered Organisations Act.
Under Labor, the Fair Work Commission will continue its current role as investigator and regulator and receive an additional $4.5 million for increased monitoring.
"Labor's proposed governance changes are measured yet tough and will support unions in their transition to a modern movement, which continues to advocate for nation changing reforms," Shorten said in a statement.
"Labor has identified a problem and we're separating it from the politics, unlike the Abbott-Turnbull Government."
Union elections would also be subject to all electoral funding laws including those relating to donations and expenditure and Labor is again declaring it would reduce the disclosure threshold for political donations from $13,000 to $1,000.
Under the policy , costed by the Parliamentary Budget Office at $4.5 million over four years, the protections for whistle-blowers that exist in the public sector to the private sector, registered organisations and the not for profit sector.
As a former union leader, Shorten has been called before the Royal Commission, but was cleared last month of any wrongdoing.