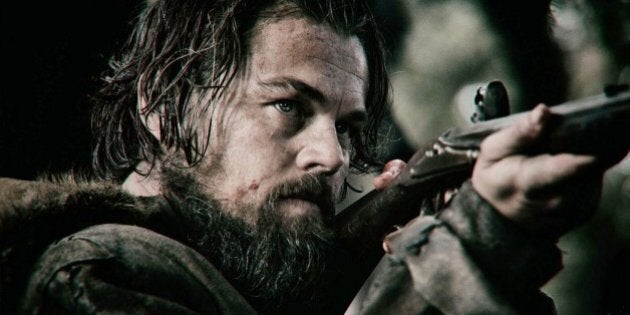 Whether you're a fan or not of the old novel-turned-movie (haven't we all uttered the words, "yeahhhhh, it was good, but the book was better"?) there's no denying Hollywood loves the promise -- and pre-existing fan base -- a good book can bring.
Sometimes it works -- just take a look at the 'Harry Potter' or 'The Hunger Games' franchises -- and sometimes it doesn't (let's just say not every Nicholas Sparks novel turns into 'The Notebook').
Regardless, Hollywood's love of the adapted screenplay is not dimming anytime soon, with a string of book-turned-movies due to be released early next year.
So before you grab your popcorn and fork out $20 for the cinema experience, why not find out what got movie-makers so excited in the first place?
Check out five upcoming adaptions, worthy of any summer reading list, below. And if the movie doesn't turn out to be as good as the book... blame Hollywood, not us.
There has been a lot of hype surrounding Alejandro G. Iñárritu's adaptation of 'The Revenant,' -- partially due to a widely-held view its star, Leonardo DiCaprio, is well overdue for an Academy Award, and partially because of the extraordinary lengths both cast and crew went to in order to shoot it. (DiCaprio is said to have slept inside animal carcasses and eat raw bison liver for the part.)
But before 'The Revenant' became a potential vehicle for 'The Wolf of Wall Street' star to finally nab that elusive Oscar, it was a 2002 novel by Michael Punke, titled The Revenant: A Novel of Revenge.
Set in 1823, the story follows explorer and fur trapper Hugh Glass (obviously DiCaprio in the film) who is mauled by a bear on a hunting mission. Left for dead by members of his company, Glass amazingly manages to survive and sets out to seek his revenge.
'The Revenant' is due to hit Australian cinemas on January 7, 2016.
We're going to call it right here, right now. Sony has its fingers crossed Rick Yancey's young adult science fiction novel will, in movie form, turn into the next 'The Hunger Games' or 'Divergent' franchises.
The first instalment in a trilogy, The 5th Wave , follows 16-year-old Cassie, (played by Chloë Grace Moretz in the film) one of Earth's few survivors after an alien invasion decimates the human population.
After being separated from her little brother Sammy, Cassie sets out to find him before the "fifth wave" of alien attacks hits. (And, surprise surprise, she just might encounter a love interest on the way.)
Keen to read the book? You can get it here. Otherwise stay tuned for the movie release on January 14, 2016.
Not that we need any reminding of how brilliant Cate Blanchett is, but both the Aussie actress and her co-star Rooney Mara are generating some serious awards buzz for their work in Todd Hayne's film adaptation.
Based Patricia Highsmith's 1952 novel of the same name (though originally titled The Price of Salt), 'Carol' centers around the romantic relationship between Therese Belivet (Rooney) and older divorcee, Carol Aird (Blanchett) during the 1950s.
'Carol' will be released in Australian cinemas on January 14, 2016. You can buy the book here.
Adapted from The Danish Girl: A Novel by David Ebershoff, Hooper's film sees Redmayne star as gender-conflicted artist/early transgender pioneer Lili Elbe.
Born a man, Lili (then Einar) marries fellow artist Gerda Wegener (Alicia Vikander) and, at her request, one day poses in semi-drag after a model fails to show. This simple favour sets in motion a series of events neither husband or wife could anticipate.
Keen to find out how the story ends? Buy the book here or catch the film in cinemas from 21 January 2016.
Based on the 2010 Man Booker Prize-shortlisted novel by Emma Donahue, 'Room' tracks the plight of five-year-old Jack (Jacob Tremblay) and his Ma (Brie Larson) who are being kept captive by a sexual predator in a sealed, sound-proof garden shed. The twist? Jack, who was born inside "room" -- as the pair refer to it -- has no idea about the world outside.
When Ma sees their chance to escape, it is Jack who she has to send outside to find help. But the real journey starts after that, as Jack learns to adjust to a life in the world he never knew existed.
Directed by Lenny Abrahamson, 'Room' hits Australian cinemas on January 28. Before you go and see it, this reporter highly recommends you read the book, which you can purchase here.