Johann Wanner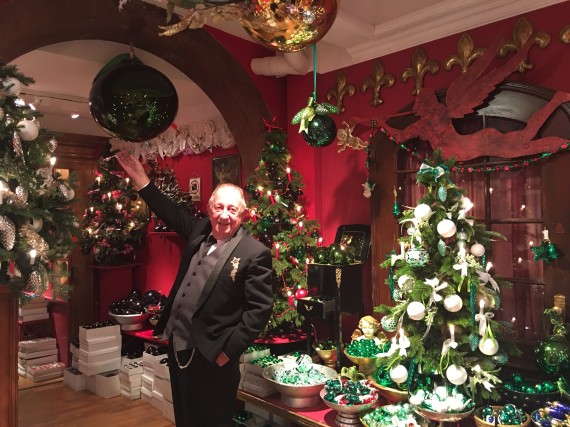 Delicate spheres of paper-thin glass glisten and twinkle on perfectly formed tree displays. Bowls of baubles overflow from every corner and cranny, ornaments drip from every available surface, and glitter adorns miniature figurines -- all while gold-gilded cherubs watch over the festive flourish that is Johann Wanner's Christmas decoration store.
And if anyone knows decorations its Johann Wanner.
Swiss born, Wanner is the world's leading expert for Christmas ornaments. Residing in Basel where he has both a huge store and an elaborate tea house, Wanner first began producing ornaments in January of 1969 because he could no longer find them made the traditional way.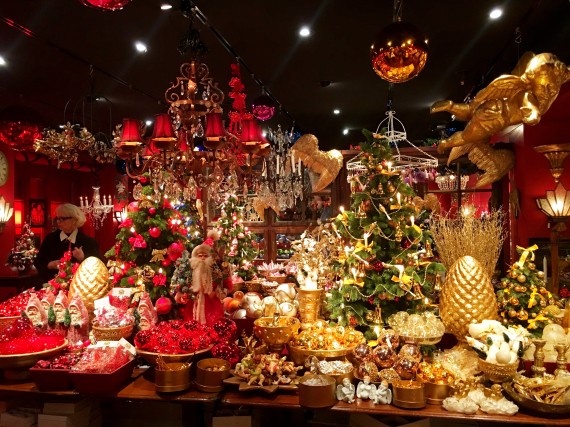 Johann Wanner's Basel store.
"The tradition of honouring a tree is older than Christianity," Wanner told The Huffington Post Australia over a hot chocolate.
"Before, people honoured the green and had a festival for seven days. They honoured the green trees because they didn't lose their colours in winter, and it dates back to before Christ. Christianity then claimed it, which is okay."
Essentially creating a homemade industry, Wanner purchased moulds that were 200 years old and began producing glass ornaments which are mouth blown, silver lined then painted with translucent paint to retain sparkle.
His company also produces ornaments made from porcelain, tin, paper mache and plastic for outdoor use.
Labeled the Coco Chanel of the Christmas tree world, Wanner has been producing and selling decorations for 46 years, in addition to global consulting.
"I am still doing consulting for companies, like the one who make Christmas Island in Korea, and Disneyland, so a part of my career is to advise on the decorations all around the world," Wanner said.
Keeping mum on his celebrity clients, Wanner was Princess Diana's personal decoration consultant and was also responsible for the festive displays at Michael Jackson's Neverland, though he won't tell you about it.
"I have a client who will fly by private jet to shop privately -- we pick them up in a car from the airport. They select their decoration and we ship them to them, and they fly back in time to be by their husband's side before he wakes from his afternoon sleep."
On this year's 'it' Christmas colour, Wanner revealed that it was all about shades of green.
"Green is the colour predicted this year, but nobody wants green on a green tree. Yet, I do some.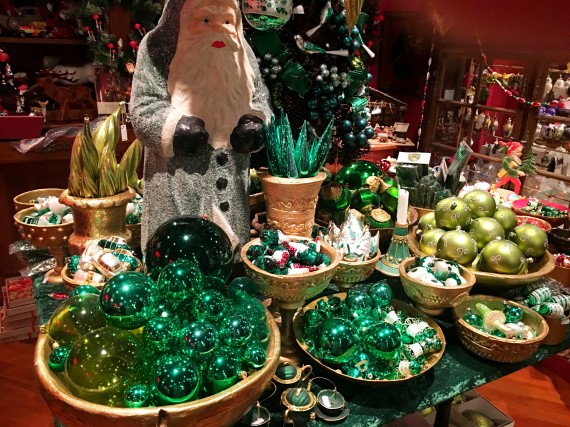 Johann Wanner said green was the 'it' colour this year.
"Tree fashion spans every 10 years or so. I can tell from a photograph what fashion it was and from which era. I do a lot of consulting for movies to ensure their scenes look authentic."
"Traditionally Christmas colours are red and green, then a bit of white. The French like gold, Swiss like red, but personally, family reasons should count more than the country traditions," said Wanner.
Speaking of family, Wanner's personal approach to Christmas ornaments is not season specific.
"Year round I have a Christmas tree. I have many. My personal trees I do myself, I close the door and I am alone with the tree."
Sitting with Wanner and his wife in his tea room, amusingly he mused on how he selected his trees.
"I always look for the worst tree in the woods as it is a challenge to decorate. When I was a young boy I was always looking for the girl who hadn't had the chance the others had. I look for the same in Christmas tree, to make it happy.
"I have many, many boxes of Christmas decorations. They tell me a story about my life, what I was doing when I was a boy.
"Decorations are not a thing of quantity, it's a thing of quality. A single burning quality candle gives me more joy than cheap candles," said Wanner.
Asked if he thought a tree should all match he said: "It's up to you. It's your tree, do what you like. If you miss its presence when it is taken down, it's your tree. Make it personal."
In terms of the language used around Christmas baubles, Wanner advises not to use the term 'hang' when referring to putting a decoration on the tree. Instead, use the term 'put' on, or decorate.
Throughout his stores you'll occasionally spot an odd looking character -- a decoration that looks somewhat sinister and out of place.
"Every tree I put a small devil head. Because the devil is there in life for people who don't believe -- and you must look him in the eye, otherwise he will get you from behind. So I have him on the tree to acknowledge him. You must face the devil."
With a charming thoughtfulness about him, Wanner meditates on his career with a philosophical approach.
"If you put your head into the tree you do not know what you are doing, you must take three steps away to look at it. It is the same in life and with travel. You must go away to be able to see your life.
"Time, time, time. Give time to yourself, to you. If you don't give time to you, how can you give it to others? It's not about money, time is the most precious thing.
"My father taught me something when I was young that I will never forget. He said 'You can do anything you want, but you must be responsible for it','".
Asked about his feelings toward copy cats, Wanner's opinion was light hearted and humourous.
"Many men come into my shop dressed in all black, they are young and fashionable. They all say the same thing -- 'this would be good for my aunt'. They must all have the same aunt! They are there to copy. I don't have copyright, I just make new things."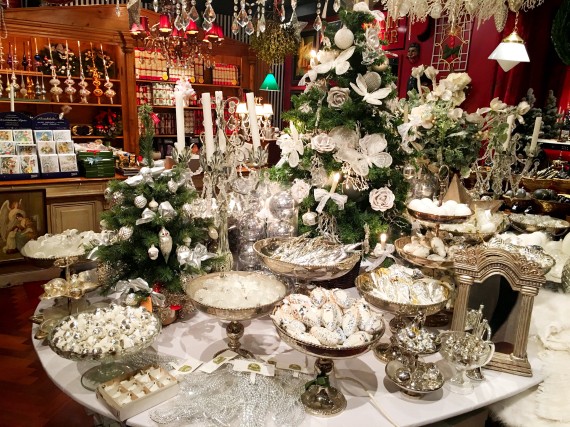 Johann Wanner's Basel store.
With no plans to retire, Wanner said he had other hobbies besides Christmas, though ornaments were definitely his lifelong passion.
"I love ice dancing. I used to do it professionally. So I do that, and golf and skiing. I have other interests -- motorcycles, my wife, but it's always Christmas in my world.
"I still live in this children's island today, like Peter Pan."