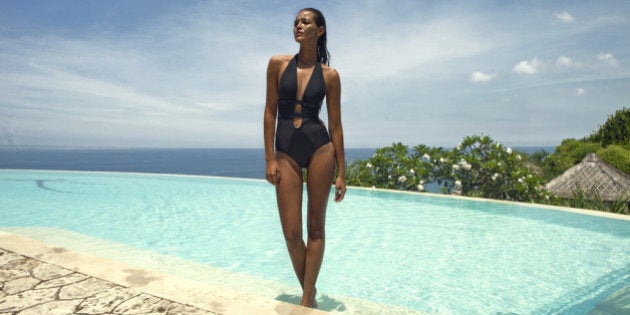 We are a nation of females obsessed with small pieces of Lycra and neoprene, and owning swimsuits in the hundreds is every Aussie woman's rite of passage.
While the downside of global warming is global warming itself, the arguable upside is a hot, relentless summer. Here is a selection of new swimwear brands making waves this summer.
Only a few seasons old and and already booming, Fella is the fashion girl's swimwear. Luxe Italian threads cut and sewn into well-constructed statement bikinis and one-pieces that resonate with the Australian love of frisky fitness.
"We felt the swimwear market lacked a label that was simplistic but sophisticated. We do not like frills or padding. We are about high quality fabrications and well tailored patterns. We have designed swimsuits that create support from their construction and are functional from day to night," Designers Rosie Iffla and Christine Tang said.
FELLA swimwear is a fusion between luxury lingerie and activewear, made to order out of high quality Italian fabrics. Uniquely refined Australian design, with rebellious sensibility and unassuming sensuality, their website states.
Born in 2013, the brand is pronounced 'al-oh-we'. Cleverly designed, brazilian-inspired reversible suits mean you get more bang for your buck (not that the prices are outrageous). We predict big things from this NSW Northern Beaches start-up.
If you don't know who Natasha Oakley is, please refer to the below picture. Now you've seen the bod, don't be fooled -- there are brains, too.
The Aussie is killing it on Instagram (through her @ABikiniADay venture with business partner Devin Brugman), and Oakley not only models swimwear from all over the world; the duo also launched their own collection feating bold lines and classic colours.
Well known for their sexy evening and party dresses, Designer Nikita Sernack over at Nookie recently decided to try her hand at swimwear, and we can be thankful they did. Think structural, fun cuts, and flattering (but not boring) silhouettes. Their high-waisted pants are a flattering way to try this season '50s trend.
Black and white graphic pieces are fast becoming Palm's signature, and Cara Delevingne has been papped frolicking in some of their swimwear more than once. Not bad for a new Australian brand from Perth. "We are dedicated to the basics -- clean lines, simple palettes and classic styles. Our swimwear is carefully tailored to provide comfort and ensure wearability," founder Kat Furey said.
The brand boasts that it was created to be 'the subtle swimsuit.' Lines are incredibly basic, with only seven seamless styles available in either black, navy or khaki. Designed between Sydney and New York and made in Australia, Matteau is the normcore of cossies.
Can't find your dream swimsuit? Design it. The ethos behind the brand is that their suits are for women, not models, so you're able to select from a huge range of styles and fabrics to essentially create a bespoke one or two piece thats perfect for your shape. "By focusing on what makes the perfect piece of swimwear (comfort, style, flattery and functionality), we have been able to give our customers exactly what their heart desires in just a few clicks. It's time to say goodbye to those fruitless swimwear shopping trips, and say hello to the convenience of creating your perfect bikini online," founders Em and Elle said.
The Australian rash vest and swimwear brand offers a refreshing and fashionable take on the traditional wet coverup. Perfect for the modest or extra sunsafe, the brand's array of bright designs and more classic styles means there is something for everyone. They also ship Australia wide for free.
This Queensland brand -- born out of North Stradbroke island -- prides itself on not taking cues from fashion trends, instead preferring to offer something timeless. "Classic, effortless bikinis that last seasons, not just summers -- and in a day and age where more is more, we have gone back to basics without compromising luxury and quality," said Designer and Owner Ashton Smith.
The affordable on-trend fashion brand recently added swim to their repertoire. Think block coloured one pieces, striped sets and leopard print styles. The prices are awesome, too.