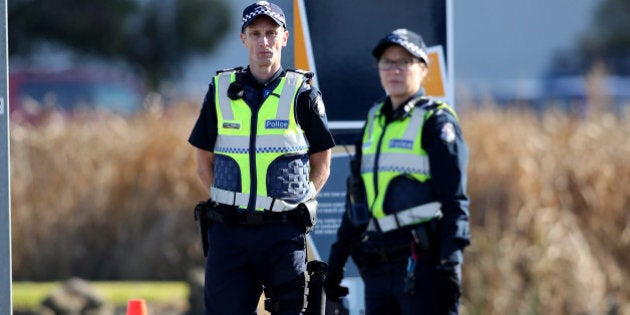 Victoria's police chief has apologised after a damning report found almost half of women on the force said they had been sexually harassed.
Commissioner Graham Ashton apologised to staff on Wednesday over the damning findings in the Victorian Equal Opportunity and Human Rights Commission (VEOHRC) report, which found sexual harassment, and tolerance of it, was widely entrenched in the force.
It also found "substantial evidence in Victoria Police of an everyday sexist climate".
With more than 5000 participants, the review was the largest study of workplace harassment conducted in the world, outside of US military settings, said one of the expert panelists on the review, professor Paula McDonald, from Queensland University of Technology.
"Forty per cent of female and 7 percent of male respondents answered yes to the question 'have you ever personally experienced sexual harassment,' Professor McDonald wrote in a piece for The Conversation.
A former senior constable in Victoria Police came forward on Tuesday night -- just ahead of the report's release -- homophobic bullying and threats to taser her drove her out of the force, and raised allegations of male police blackmailing female drivers for sex.
Commissioner Ashton on Wedesday apologised to officers following the release of the review, and said there was need for broad cultural change.
"There were some ugly stories in those reports. Some of our people told us some terrible experiences," he told the ABC.
"This is our people telling us things aren't right."
He said all 20 recommendations would be implemented.
Police Minister Wade Noonan said he was saddened by the report.
"I think the report will change Victoria Police forever and there'll certainly be no turning back from this point," he said.
Professor McDonald said sexual harassment was an "entrenched feature" of certain organisational settings and the "challenging" nature of policing meant police were expected to be "strong, resilient and unemotional in dangerous situations".
"The review heard from participants that police should not need to seek support or assistance, even in the face of tragic or frightening incidents," she said.
"These relationships and identities have direct implications for sexual harassment and other forms of gender-based hostility. Although many employees had experienced collegiality and support in Victoria Police, participants also reported that being a victim of sexual harassment, predatory behavior or sex discrimination was inconsistent with an identity of being a strong and resilient police officer."
The review found there was chronic under-reporting of sex discrimination, that those who did report were often targeted by colleagues. There was also overwhelming evidence of serious and chronic under-reporting of sex discrimination and sexual harassment.
Just 11 percent of targets made a formal complaint or reported their experience of sexual harassment, Professor McDonald said.
"Those who did report were often subjected to exclusion, ostracism, shaming, physical and emotional abuse, and negative impacts on their career and livelihood," she said.
For women, the lifetime prevalence rate in Victoria Police is higher than that found in the broader Australian community (33 percent) or in the Australian Defence Force (25 percent), Professor McDonald said.
For men, lifetime prevalence is higher than in the ADF (3 percent) and lower than in the community (9 percent).
Sixty-eight percent of female and 57 percent of male survey participants had witnessed at least one form of sexual harassment in the workplace in the past five years, Prof McDonald said.
"Other police officers also selectively bestowed loyalty upon perpetrators. Some perpetrators deliberately invoked the values of loyalty and belonging to ensure their conduct was overlooked or minimised, Professor McDonald said.
"Reporting sexual harassment – including physical and sexual assault -- by targets or witnesses was regarded as an act of disloyalty -- even treachery -- to 'the team'."
To tackle sexism and sexual harassment, Victoria Police faced a challenge to "increase gender diversity and reshape the workplace culture by establishing a more inclusive organisation".