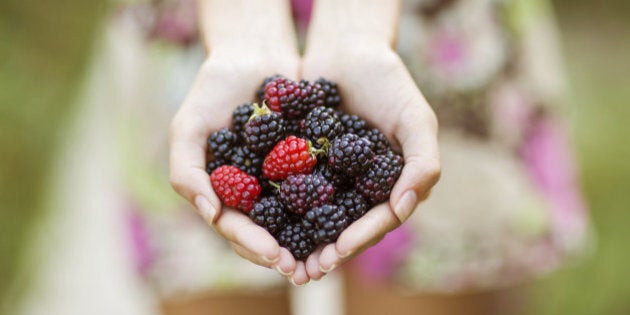 Is there anything better than plump, flawless skin?
Like teeth, it's one of the few things both men and women care about -- and put effort into taking care of.
But as well as daily cleansing and (hopefully) moisturising, having a nutrient-dense diet rich in vitamins, minerals and Omega oils is crucial for ensuring your skin reaches its (totally achievable) cherub potential.
In fact, a glowy, Miranda Kerr-like complexion starts with the food you eat.
"Vitamins and minerals play an integral role for maintaining healthy skin as they are necessary for many enzyme reactions, hormone production and collagen formation," = the International Dermal Institute and Dermalogica education manager Emma Hobson told The Huffington Post Australia.
A key player in the skincare world is Vitamin B (biotin) which is responsible for forming the basis of skin, hair and nail cells.
"Without it we'd have a variety of skin problems, including itchy skin and rashes, psoriasis, dermatitis and skin breakouts," Hobson said.
Vitamin P found in raspberries, blueberries and blackberries can help with redness and broken capillaries while chlorophyll containing foods combat premature ageing.
"Go for greens -- lettuces, spinach and cruciferous vegetables such as cabbage cauliflower, broccoli and brussel sprouts -- and make sure they are organic," Hobson said.
Foods rich in Beta carotene -- a red, orange pigment that can be converted in the body to Vitamin A -- are also an excellent antioxidant and an essential ingredient for healthy skin.
As for the foods you should avoid, unsurprisingly, sugar is at the top of the list.
"Sugar can promote acne by elevating blood sugar levels, resulting in a cascade of hormonal effects, including increased androgens (acne-causing hormones), excess oil, and increased skin cell production, all of which lead to clogged pores and breakouts," Hobson said.
Excess coffee dehydrates the skin and Hobson advises to avoid consuming processed food with artificial colourants.
"These not only increase free radical activity which contributes to premature ageing but they do not provide sufficient nutrients the skin needs to function at its optimum -- leading to increased breakouts," Hobson said.
Here, Hobson outlines the skin superfoods you should be including in your daily food intake.
Rich in Omega oils, salmon is great for soft, moisturised skin as well as nuts, seeds, hummus and avocado.
Chlorophyll containing foods
Lettuces, spinach and cruciferous vegetables such as cabbage cauliflower, broccoli and brussel sprouts.
Found in fish such as salmon, cod, snapper, tuna, oysters and prawns, it is believed to be great as a free radical protector (working to stop premature ageing in its tracks). It is also in meats such as lamb, cooked beef, turkey breast and brazil nuts and whole wheat pasta.
Foods rich in Beta carotene can be converted in the body to Vitamin A. Look for carrots, apricots, pumpkin, chilli powder capsicum, plumbs, spinach, broccoli and sweet potato.
Predominantly found in teas, honey, wines, fruits, vegetables, nuts, olive oil, cocoa, and cereals, they have excellent anti-inflammatory properties and free-radical scavenging and antioxidant capacities which improve skin tone and promote circulatory integrity, which boosts the flow of oxygen and nutrients to the skin, giving it a healthy and radiant glow.
Raspberries, blueberries and blackberries help to strengthen capillary walls which will reduce the incidence of broken capillaries and redness.