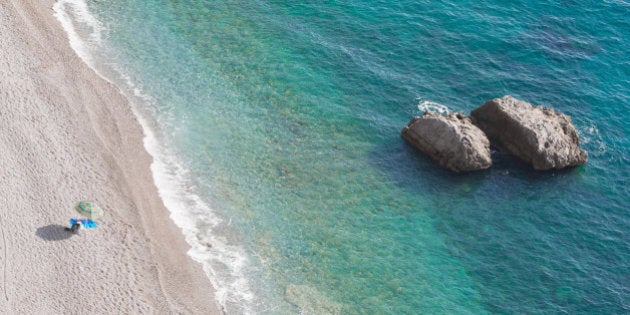 Aussie Lara Miller is going blind. Before she loses her sight completely, her and her husband have vowed to travel and see, literally, as much of the world as possible. She sat down with The Huffington Post Australia about her inspiring journey.
"I am a resilient optimist who lives my days with an appreciation for the extraordinary and simple joys," Miller said.
"When I was 18, I was told I was going blind and it altered the whole course of my life. Now in my 30s, it is a lot of work to thrive, but I am incredibly grateful for the life lessons that my challenges gift me and the support network I have around me."
"Right now, my husband and I are focused on travel and experiences. We are very realistic about the fact that my vision continues to worsen each year, so we live with that as a positive affirmation that this is the right thing for us to be doing."
Asked about how the Love Walk Eat See idea came about, Miller revealed that the journey and also the name itself is a reflection of her life priorities.
"Love -- my nearest and dearest fully, and to be loved by them. Walk -- to feel, smell and explore new and old places. Eat -- to enhance the sensory experience and support the local producers. And photography and celebration of whatever it is that I do See."
"My Instagram account was an unforeseen delight on our six month sabbatical in Europe and the UK -- from being a private space for close family and friends, I was convinced to make it public (at our very first instameet, in Rome of all places!). I nervously did so, and then this whole new world flooded in of the most incredibly talented and generous people who enriched our travels, and indeed our lives, beyond measure."
Making the account public let outsiders follow Miller's journey, virtually going with her and her husband on their global jaunts full of visual stimulation.
"We always seem to have the most incredible events occur in our roaming, and we often can't believe how lucky we are. Such as being invited into famous textile designer Susan Nevelson's Florence home. But also, some of those experiences are the striking but simple too," Miller said.
"In Switzerland we lived above the tree line for nine days in a remote agricultural valley. My daily ritual included hugging the lambs across the lane, giggling like a child at the fresh snow and pushing myself on our hikes into the hills, and on one occasion to a remote cabin and tee-pee!"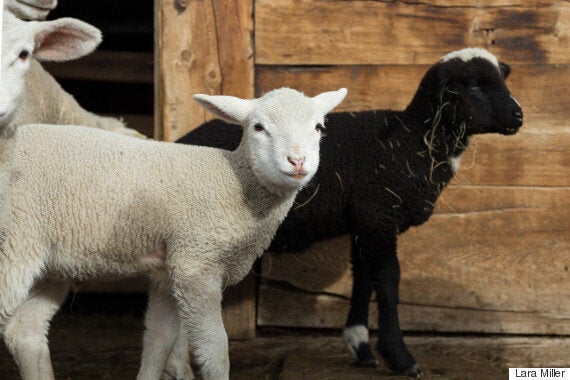 "In South West England, we met an artist who has no phone, television or any such "connective" gadget. His beard was a mass of soft, grey curls that fell over his heavy coat, and his eyes were the most startling blue I have ever seen. As we listened to his stories, a ray of light was shining on his face and I was captivated. To me, it was a National Geographic magazine moment!" Miller said.
In addition to seeing the world, part of the premise of the account -- which is now a self published book -- is to also sample the globe's cultural cuisines.
"From lengthy degustations, to finding our "local" café in each city, to cooking a basic meal in our AirBnB apartments, we relish the experience of eating locally grown or culturally significant food in order to form a meaningful experience with the land and history around us."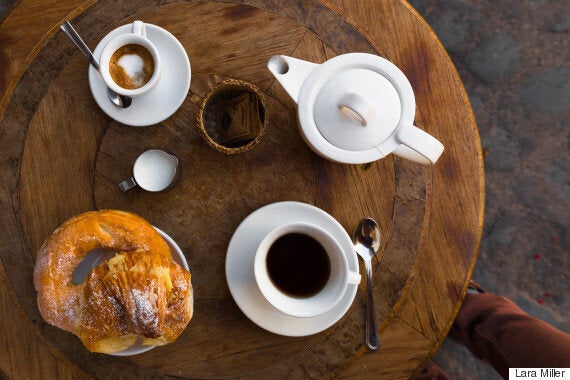 "On the Amalfi Coast we had the freshest mozzarella made in the hills we climbed each day -- it was a true eureka moment where I realised this is what it should taste like.
"In England we adored the local ingredients and revived and revitalised recipes at Pig Restaurant in New Forest. On the way back to Australia we spent two weeks in Thailand -- the queue outside the famous Tip Simai in Bangkok is worth it for a delicious pad thai," Miller said.
Asked about what the future holds, Miller is optimistic.
"I have now visited 19 countries since my diagnosis and of course I'm hooked on this full, expansive way of embracing the world."
"The plan is still for more nomadic living and traveling. Certainly it is harder work with my health, but I manage my energy consciously, and feel like I'm doing the best I can -- to sit at home and do nothing, and wait for my vision to disappear is far scarier than the hurdles to jump in order to live with our priorities and passions," Miller said.