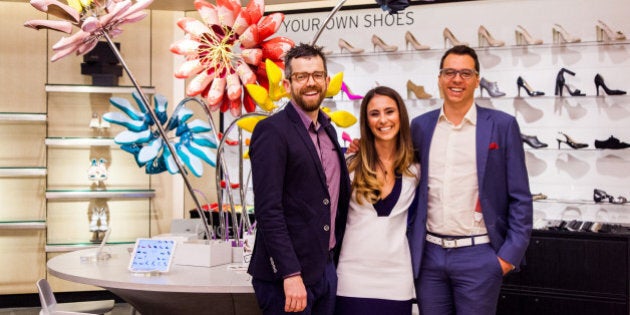 An Aussie startup that allows women to custom-design their shoes online as well as in department stores has scored a $21.4 million boost in investment.
Shoes of Prey received 'Series B' capital funding from a number of investors led by BlueSky Venture Capital which specialises in providing capital to Australian companies.
US fashion retailer Nordstrom and Greycroft are on board as new equity partners while Khosla Ventures, which led Shoes of Prey's $7.6 million 'Series A-2' round in 2014, increased its investment.
Total investment in Shoes of Prey is now worth $34 million.
The Sydney company, which relocated to LA this year to focus on its expansion into the US market, has already launched design studios in six Nordstrom department stores in the US.
Shoppers can walk in and choose from thousands of combinations of style, heel height, material, colour, size and width. Since its inception in 2009, more than 5 million pairs of shoes have been designed.
Co-founder Jodie Fox applauded Nordstrom's investment, saying it was a sign of their commitment to offer shoppers a different experience.
"We're thrilled to have forward-thinking partners who believe in our mission to empower customers to shop without compromise," she said. "Our customers know exactly what they want in shoes, regardless of whether it's in stock or in season, and we're proud to deliver a solution that caters to that otherwise unserved need."
Scott Meden, Executive Vice President and GMM Shoes at Nordstrom said the decision was almost a no-brainer as this kind of customised service is what customers are increasingly looking for.
"With personalisation becoming more important to how the customer views good service, it's important for us to find opportunities to stay increasingly relevant," he said.
"Shoes of Prey offers us a way to enhance and deliver a great customer service experience that aligns well with our strategic vision and long-term goals as a company."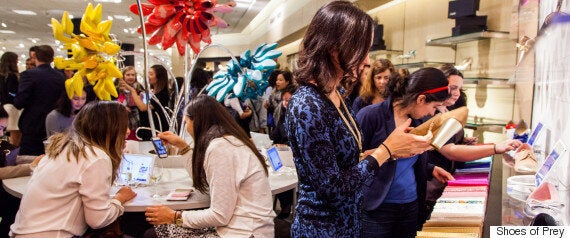 Shoppers at Nordstrom design their perfect shoe on the spot.
Benjamin Ling, Investment Partner at Khosla Ventures, echoed the sentiment by saying one shoe size won't fit all.
"The traditional mass manufacturing model is designed to cater to the masses and not to individual styles and preferences," he said.
"Shoes of Prey is redefining global retail and fashion -- by manufacturing on demand, they enable consumers to define their own style and get shoes that meet their individual tastes, which would otherwise be unavailable."
Shoes of Prey is reportedly experiencing 120 percent year-on-year growth, and will use the funding to continue growing its retail presence in the US, increase production capacity in its China factory and expand into new product lines such as women's handbags.