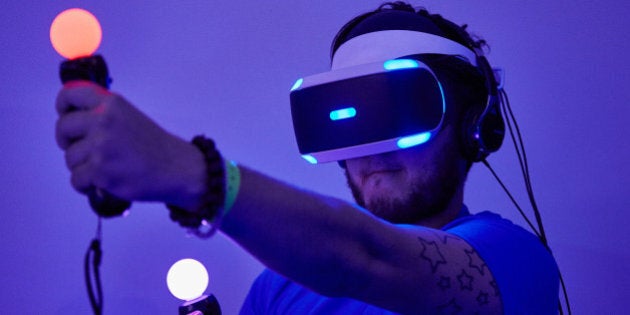 The new year could see Australians sharing and participating in each other's dreams, or dodging bullets in the comfort of their living room.
PlayStation this week marked 20 years since its flagship games console was introduced to Australia and quickly took over living rooms and televisions across the country.
But next year the Japanese owned company is hoping to launch its PlayStation VR virtual reality helmet -- previously called Project Morpheus -- a device that, well, is pretty damn awesome.
It is what it sounds like -- a headset that allows players to virtually enter the game. immersing the player into a 3-D world -- be it games or film.
"It's just another way to play games," said PlayStation managing director Michael Ephraim.
"To be honest its early days. But what we've seen already is so enticing."
The Huffington Post Australia's 10 minute turn on PSVR left its reporter trying to physically dodge virtual bullets in Battle Zone (think Tron, but you're inside a tank) a reimagining of the 1998 classic.
PSVR also includes cinema-like experiences. In 2015, the 360-degree VR 'The Walk' experience allowed viewers to literally follow in wire artist Philippe Petit's footsteps as he traversed a high-wire strung between the World Trade Center's twin towers.
Ephraim -- a dedicated Ms Pacman fan -- headed the Australian launch of Sony's first PlayStation 20 years ago, and has been involved in every console launch since.
"Gaming used to be big, now it's mainstream. My mother in law who's 74 plays Candy Crush on her phone and she would have never played before," Ephraim told the HuffPost
Ephraim said time will tell how well the VR headset does, but so far 200 game publishers working on games for the device.
Notwithstanding the device's early foray into film, Ephraim said that at the moment PlayStation will stay focused on game and gaming.
But he is sure VR will have an impact in other areas.
"Whether we branch out into other fields, at the moment that's not the strategy. The strategy is to really to deliver an amazing gaming experience," he said.
"It's so early with VR it's hard to know what it will do.
"It has definitely moved the bar on what people's perception of gaming is. It's really now up to the developers and publishers to use their innovation to deliver new experiences."
New experiences and innovation are part of Siobhan Reddy's game.
Reddy is Studio Director of games developer Media Molecule, which she co-founded. The company is responsible for the multi award-winning Little Big Planet.
At Thursday's PlayStation event she debuts for Australian media Dreams, a game which will allow players to create, play and experience the dreams of a shared online community by allowing players to create anything imaginable, be it games, films, music, or a mish-mash of all.
The whole look of the game has a Tim Burton, dark crystal vibe to it.
"It's about finding happy accidents," said Reddy.
The game, which will go beta next year, is also being developed for VR.
"We're very excited about VR," she said.
"VR is the next experiment. We haven't started it yet, but it's a no brainer."
PlayStation VR is not the games giant's first foray into virtual reality.
It first produced the Glasstron in 1997 – a headset that allowed gamers to adopt a visual perspective from inside the cockpit of, say, a giant robot.
The Huffington Post was told by one of the VR assistants the breakthrough in the technology came with the higher frame rate in the head sets screen.
Previous, lower frame rates, in much older devices could make people feel ill, he said.
Now, more than a year after Project Morpheus was announced at the 2014 Game Developers Conference, Sony confirmed aiming to release the device in the first half of 2016.
"The PlayStation 4 was built with VR in mind," said PlayStation Head of Product Services Patrick Lagana.
"Even before anyone knew about VR on PlayStation, they had an eye for the future. When we say the machine is future proof its not just a gimmick. It is future proof."