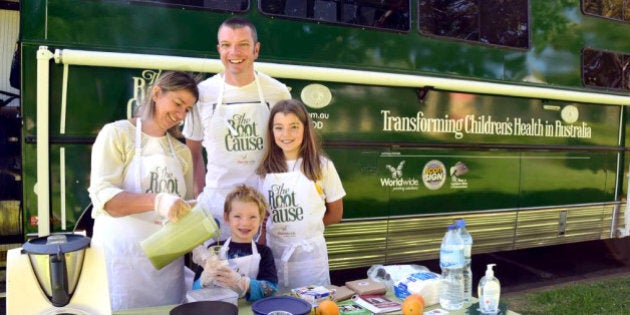 An Aussie family has put everything on the line to tackle childhood obesity with the goal of providing nutrition education to 100,000 children and parents around Australia in the next two years.
According to research from the Australian Bureau of Statistics, one in four children are overweight or obese and 95 percent of kids don't eat the five serves of vegetables a day recommended by the Australian Dietary Guidelines.
"The latest figures from the ABS are alarming, as they highlight that the majority of Australian children are failing to eat enough vegetables at this essential stage of their development process," said AUSVEG spokesperson Dimi Kyriakou in a statement.
"The statistics are particularly concerning, given that one in four children are considered overweight or obese."
For health and wellness coach Belinda and her husband Israel, it was the discovery that this generation of children have a shorter life expectancy than their parents which triggered their passion for educating kids about nutrition.
This year, they sold their apartment, re-homed their cats and piled their two kids, aged five and nine, into a purpose-built motorhome, a big green bus called Kaley.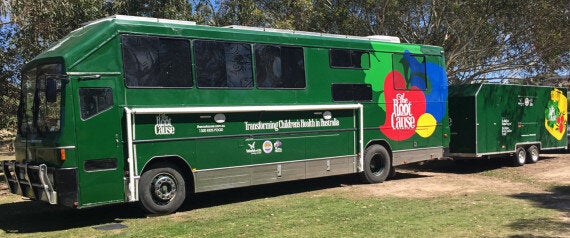 After Israel was diagnosed with post-natal depression following the birth of their son in 2010, the family shifted gear -- they made the decision to be less consumed by the stress of work and prioritise their health and wellbeing.
However, they knew they needed to do something more when their daughter came home from school and said she was being teased for being "poor" because her lunch box was filled with homemade food instead of processed treats.
"We spoke to the teacher, and they said 'Why don't you come and do a class for the kids about why the homemade stuff is better'," Israel told The Huffington Post Australia.
"Belinda turned it into the Mad Food Science Program. The results were bonkers. The kids went home and started raiding the cupboards and telling their parents that they didn't want LCM bars anymore," he said.
After that, the Smiths made the decision to pack up their lives and head off on an national tour of Aussie schools, aiming to make kids see healthy eating as the desirable option.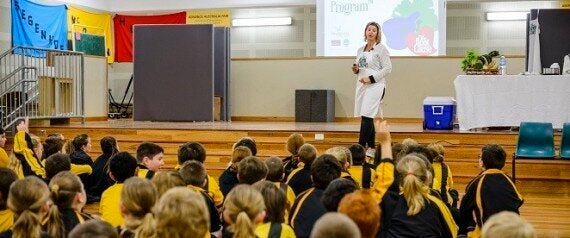 Belinda wants kids to see healthy eating as the trendy option
"My dream is that kids will see healthy food as being cool, and want to eat well all the time," Belinda said.
She said kids eat too much "pretend food" which affects their weight, but also their emotions and concentration,
"We've experienced this first-hand with our daughter's volatile moods, which dramatically improved when we changed what she was eating," she said.
The program is designed to explain the importance of healthy foods in ways primary school kids can understand.
"I think one of the things was explaining things like... think of your body like a car. If you put sand in your car it'll go crap, but if you put good petrol in your body it will work really well. It's the same with food -- eating healthy food will give you more energy, it will make you feel really good," Israel told HuffPost Australia.
Another method the program uses is to give kids a taste of a green smoothie.
"It is an experiment designed to teach kids that just because something look skanky it doesn't mean it tastes bad. So they get a taste of that and before you know it the whole class is sculling these green smoothies -- it's just changing kids perceptions of food," he said.