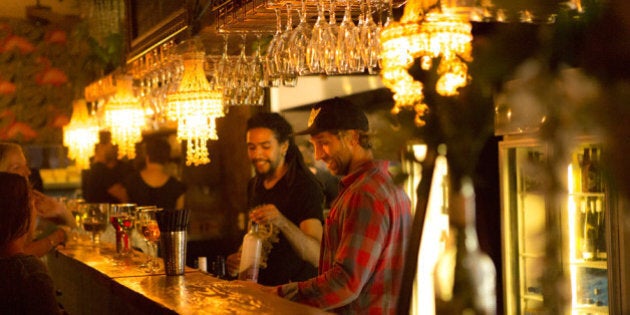 Walking past Nobbys Beach Air Conditioning in a suburban industrial estate, I don't have high hopes for a nearby dining experience.
But then the wind changes, bringing the smoky, spiced smells of grilling ribs and churros. A hip hop brass band starts up and we follow the sound to Miami Marketta – a bustling open-air food market on par with any global offering.
It's incongruous to say the least.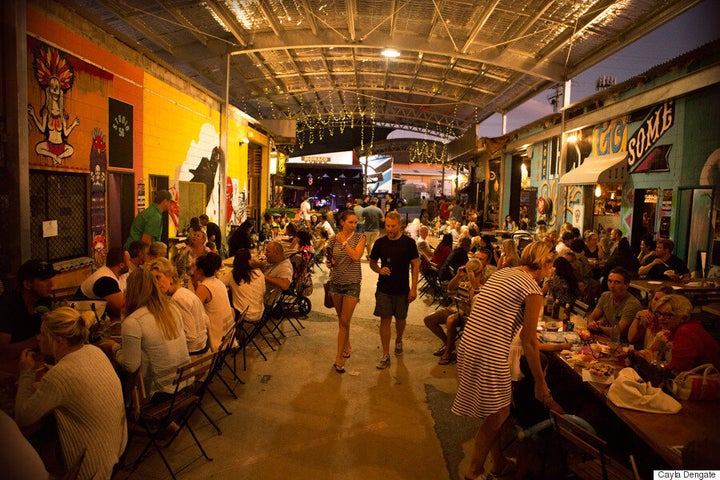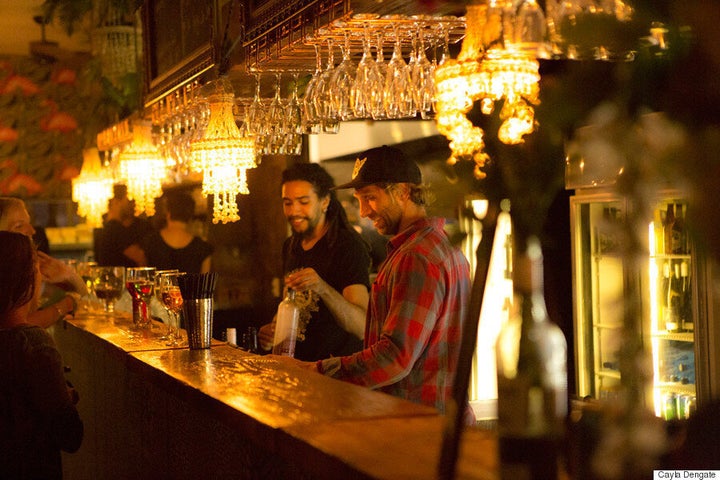 Amid the twinkling party lights, hipsters make caprioskas in front of chandelier-lit flamingo wallpaper, bohemian artists simper in their ramshackle shops and couples flit by with piled plates of Hungarian, Japanese, dumplings and sweets.
No meter maids. No drunken Schoolies and no novelty adult shops.
This is the real locals-only Gold Coast.
If you last checked in to Coolangatta when you were a Schoolie, it's time to go back, and discover these foodie markets are a must.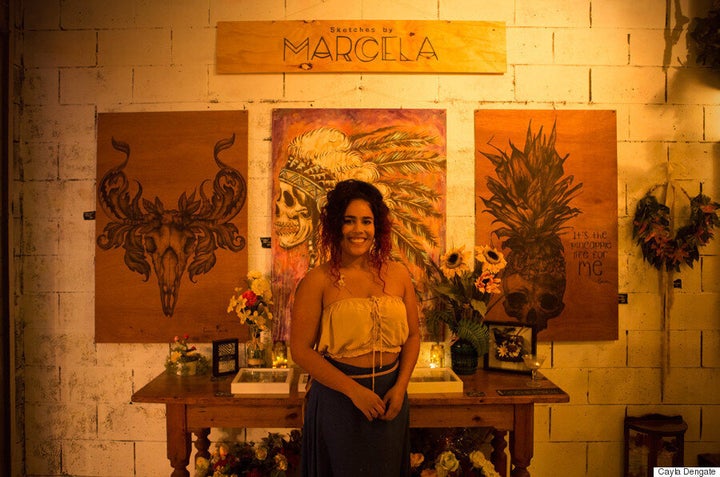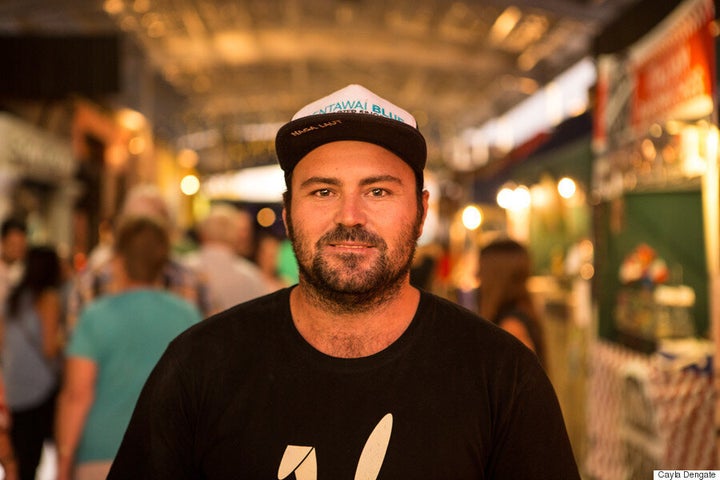 Venue manager Kurt Mellross gives us a behind-the-scenes peep at the radio studio on site as Brisbane band Bullhorn sets up before the smell of food drives us from stall to stall.
We dance, we eat dumplings, we have salted caramel lamingtons and I sleep dreaming of pink flamingos and brass bands.
23 Hillcrest Parade, Miami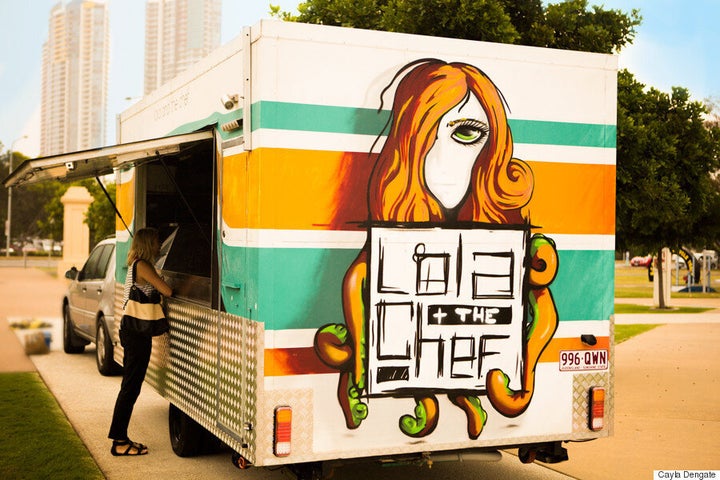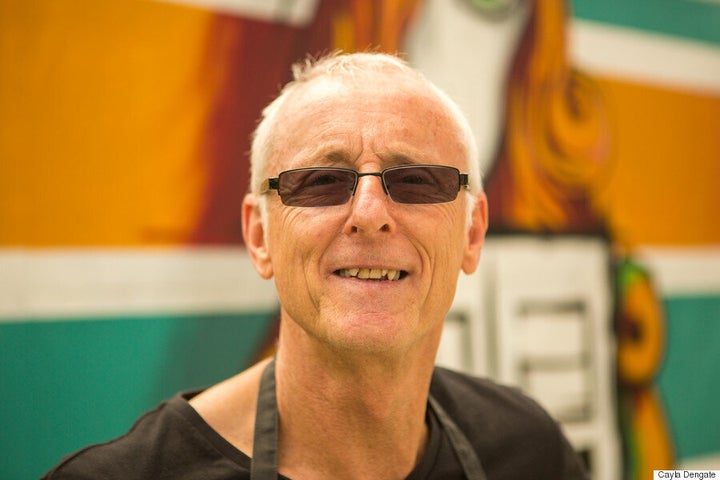 Leaning out the window of his food truck, you can see Malcolm Hope is in his element -- working for himself, using local produce and driving where he wants to go.
He's the 'chef' portion of Lola and the Chef. (Lola is a dog, and she's not allowed in the van).
"It's fine dining from a food truck -- kitsch, huh?" Hope says.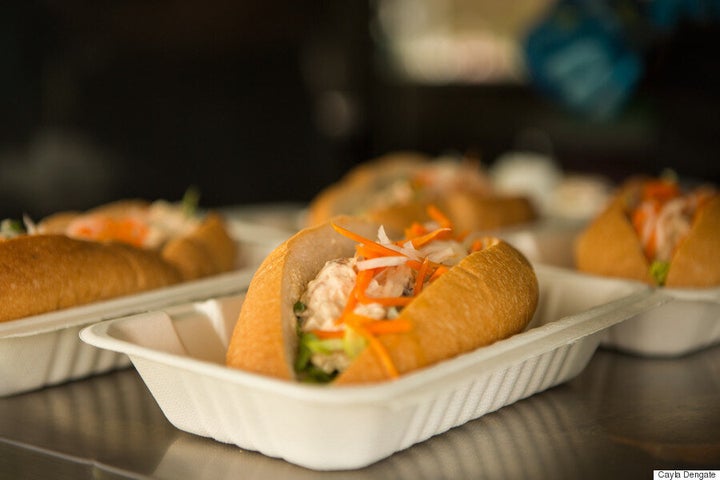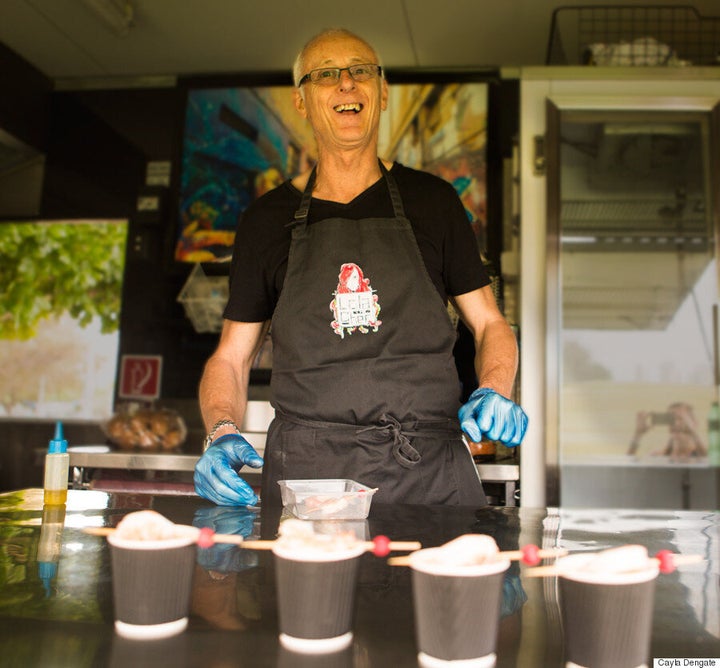 He gets his prawns from the fisherman's coop down the road and the bread fresh from Ferry Markets.
He makes us a prawn bisque starter and a lobster dog with big, mouth-filling chunks of Balmain bug meat slathered with Japanese mayo, crunchy pickled daikon and just a hint of sriracha.
You'll be lucky to find Hope, but you can head to Food Truck Fridays to score treats from his contemporaries on the pier and waterfront.
As Hope says: "I was the first food van but now there's about a dozen, I saw a new one yesterday."
There's an air of excitement in the community that has sprung up around Night Quarter. Like a circus blowing in at night, this shipping container city has appeared on a dusty patch behind a Helensvale Shopping Centre.
It's permanent, with more than 120 specialty food, design and craft vendors, but somehow it feels ephemeral and dare we say it, magical.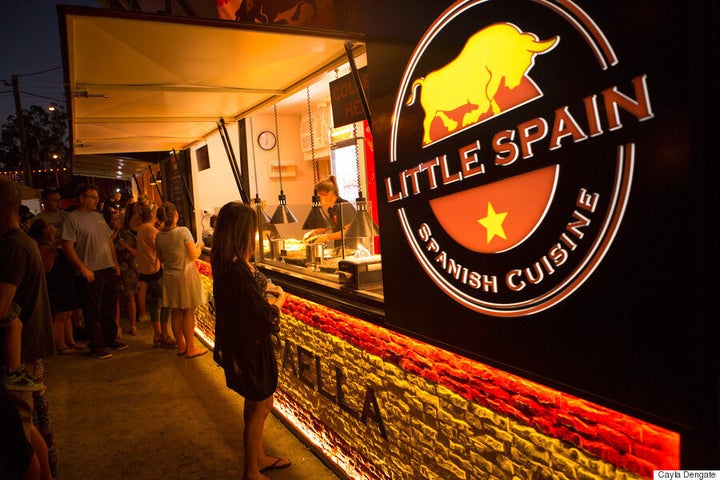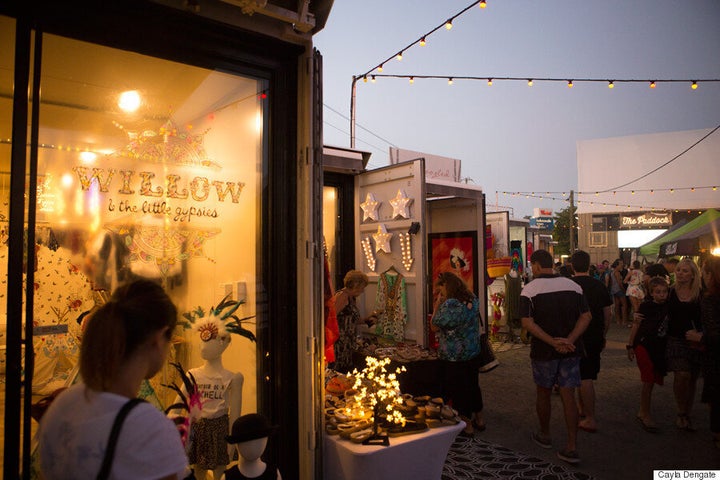 Managing director Ian Van der Woude said there was a waiting list of 300 designers and craftspeople keen to get in on the shipping container action.
"It's an incubator space," he said. "For people who aren't ready for a shop but they've got great designs and maybe a website with a loyal following, this is their incubation space."
As for the food, I go for a fresh seafood paella and a bottle of organic kombucha tea and happily share tables with a young family and a bunch of 20-somethings.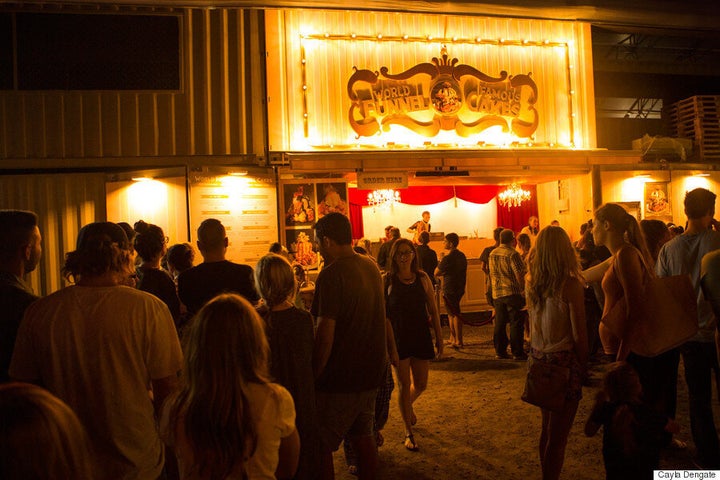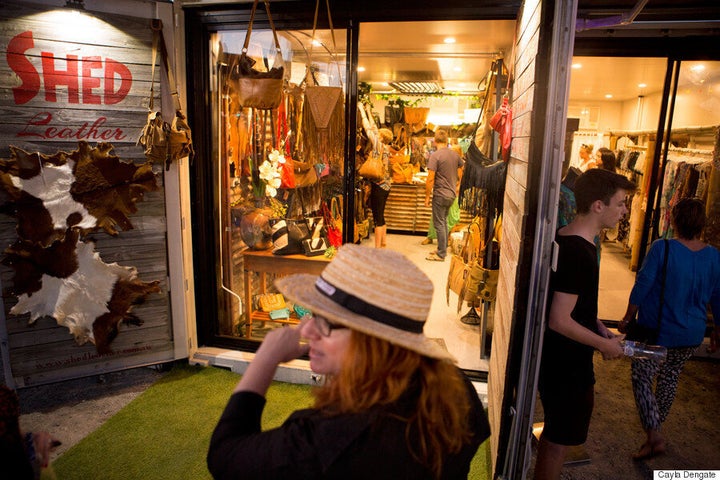 There's a lot of sticky beaking at everyone's plates -- trading tips on the best dumplings or where to find the homemade gnocci stall.
One place that you can't miss is The World Famous Funnel Cakes staffed by a crew of all-smiling, all-dancing coquettish hot young things.
The line is massive, but they keep the crowds entertained.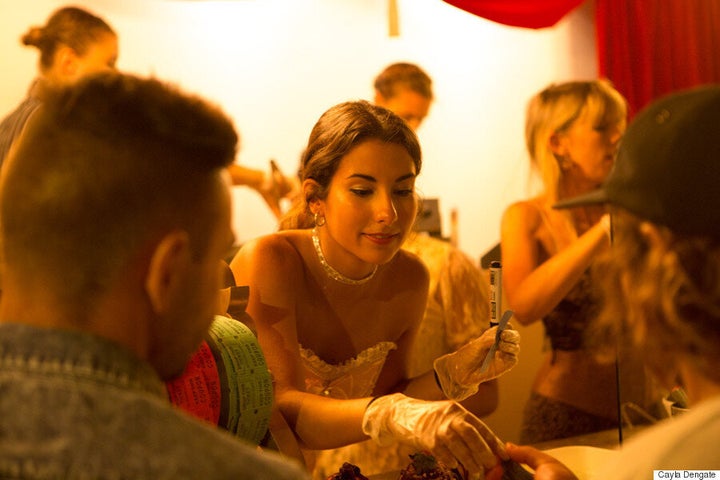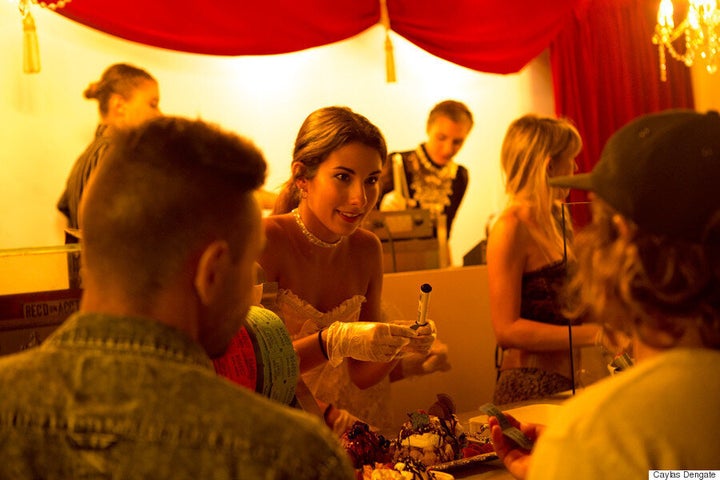 1 Town Centre Dr, Helensvale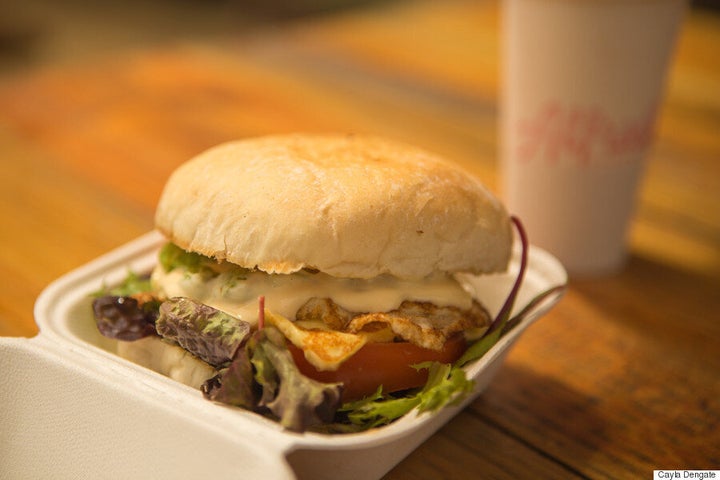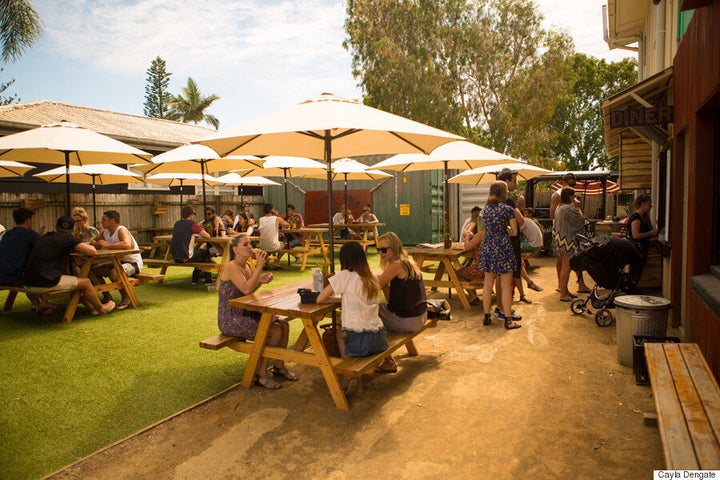 The halloumi burger at Alfred's Apartment is a whole-face experience. It's a sexy, hot mess of a burger, with dribbling sauce and flavour-bursting cheese.
So good is my burger, I barely notice the well-coiffured gents walking by. You see Alfred's is an old home converted into an outdoor diner, with an on-site barber shop and a purveyor of fine menswear.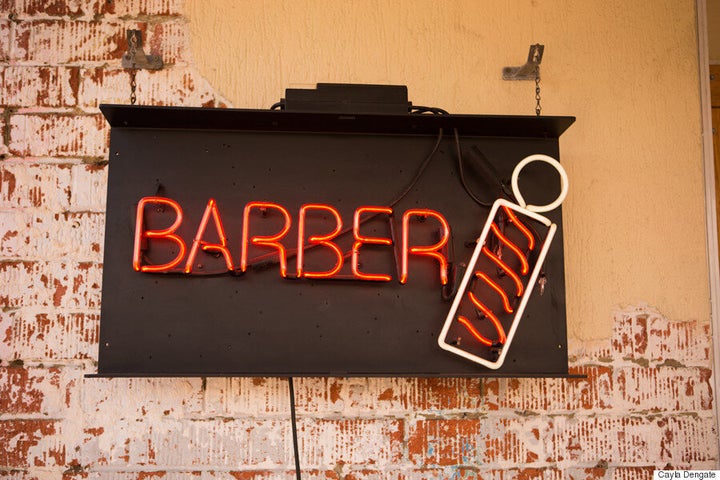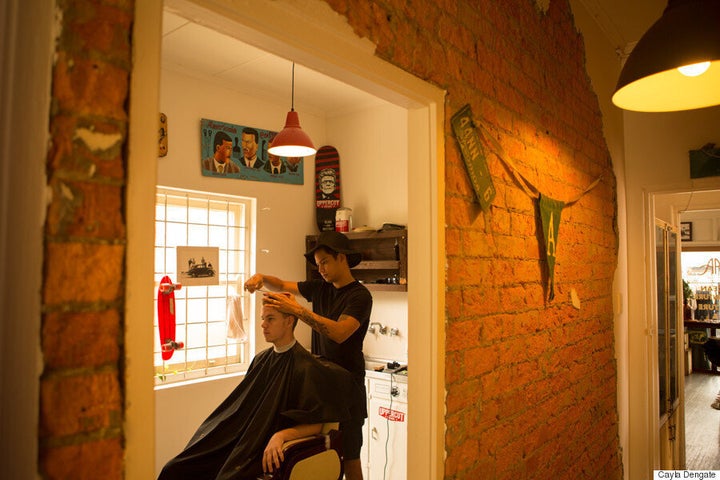 My tip? Wash your hands (and face) before checking out the store.
2389 Gold Coast Hwy, Mermaid Beach
So finally, after a brilliant whirlwind trip through market after market, I'm ready to set foot in Surfer's Paradise for good reason. I'm headed to a secret garden.
Above the glossy, pop-culture photoshoot that is the QT hotel lobby, there's a secret garden growing wild with a tangle of mint, bushes of lemongrass, plump lime trees and a work-in-progress squash court-turned-greenhouse.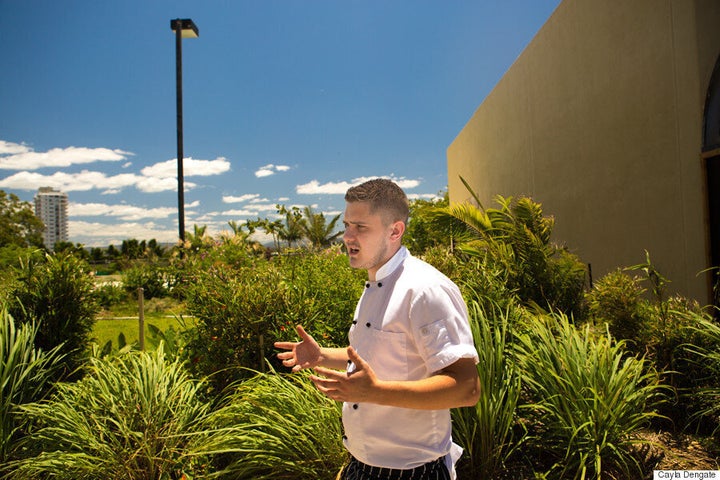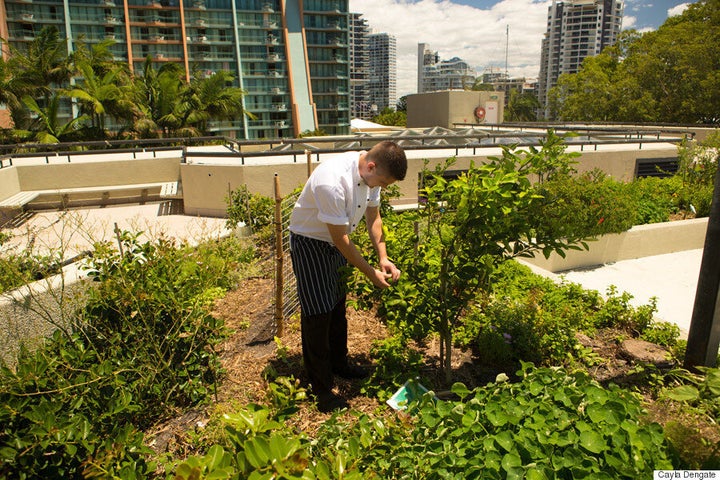 The fresh herbs, citrus and some vegetables are turned into gourmet fare in the Bazaar, which, if you don't want to be glared at, should not be called a food court. It's a culinary experience where your plate is your passport, got it?
If you want a showcase of the secret garden produce, order the Yorkshire Garden cocktail with rosemary-infused gin with thyme syrup and a garnish of lavender.
Because this is what Gold Coast food is all about -- taking fresh, vibrant food and making it glittering and desirable.
So go on, rediscover the Gold Coast's foodie treats. No one will call you a 'toolie', I promise.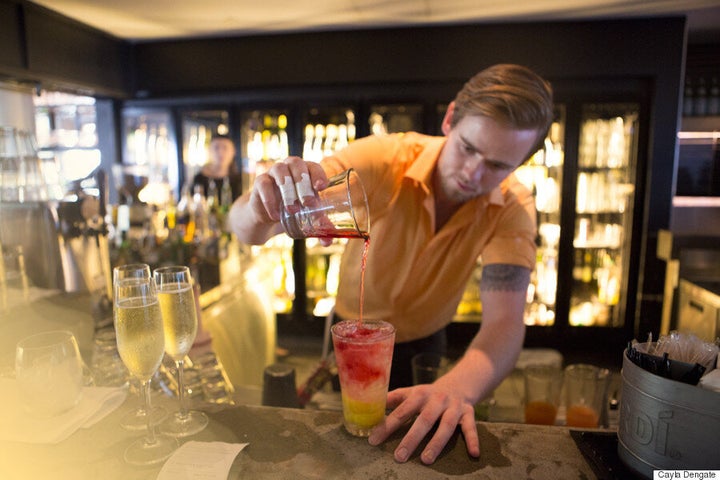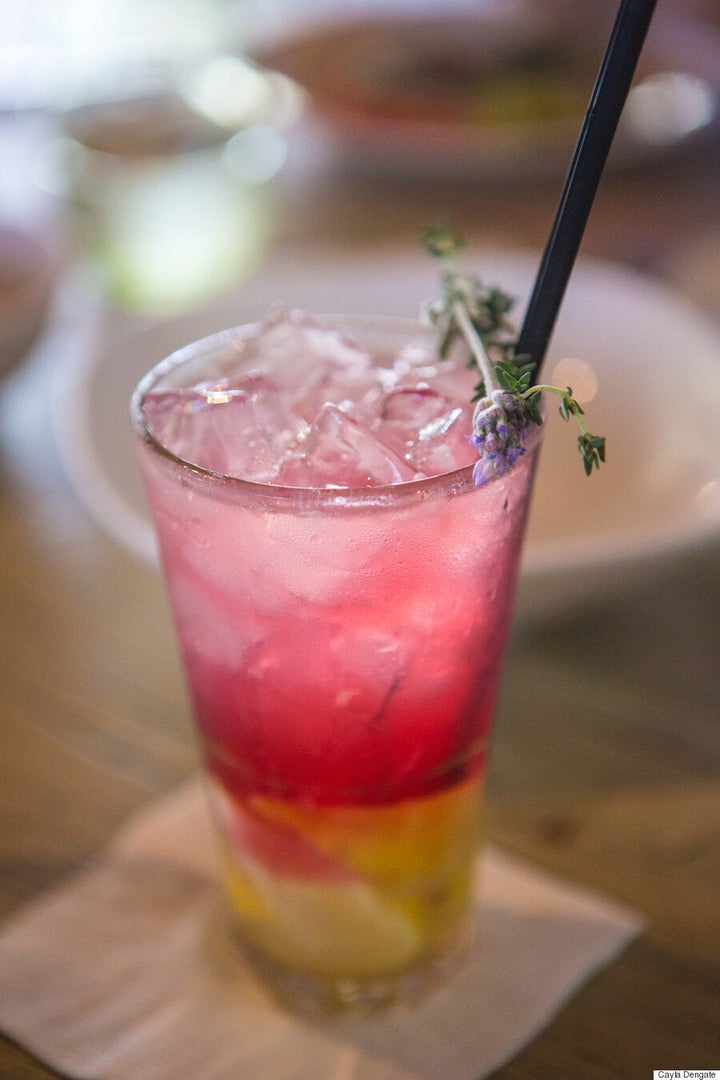 7 Staghorne Ave, Surfers Paradise
The writer was a guest of Gold Coast Tourism.