Jordan Strauss/Invision/AP
As we reported last week, Triple J's Hottest 100 voting has started, with a new rule for the 2015 voting -- "don't troll the poll" -- that might see Justin Bieber disqualified from the final list.
After the debacle of 2014's #Tay4Hottest100 campaign, which saw a write-in campaign to see Taylor Swift's 'Shake It Off' steal the poll, Triple J amended the rules a bit. Under the heading "Play Fair" on the voting rules page:
Don't troll the poll. Votes made as part of a competition that promotes a song or artist, or a campaign that undermines the Hottest 100 may be disqualified or ignored.
We want genuine votes, from genuine listeners. If we feel something's preventing that from happening, we'll look into it for you and take appropriate action.
Sounds fair, right? Rules to stop big companies from cashing in on the cool factor of the Hottest 100 and hijacking the democratic nature of the poll with their own campaign -- all good?
Not so much for Bieber, after an Australian betting company (who we won't be naming) started a #Bieber4Hottest100 campaign that has attracted the attention of Bieber himself, and his 71 million Twitter followers.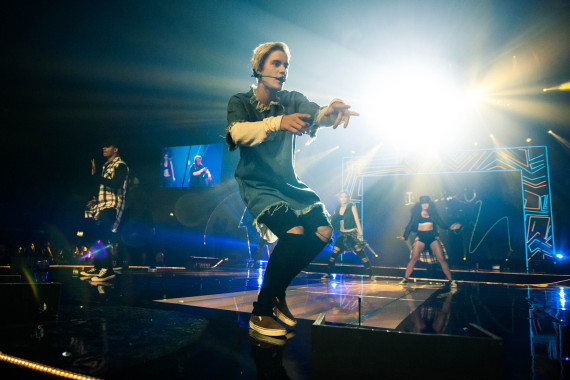 The betting company tried to kick off the Twitter hashtag campaign on December 9, with a few Tweets from their public relations guy spruiking the betting company. Later that day, however, the company itself Tweeted #Bieber4Hottest100 from its official account; that Tweet was then seen and retweeted by Bieber himself. The company's Tweet now has 15,000 retweets and 22,000 likes.
Presumably, the Tweet has caught the attention of Bieber's rabid fanbase, with it being a safe bet that many of them proceeded to vote in the Hottest 100.
None of Bieber's eligible songs from 2015 are included in the Hottest 100 shortlist, but fans are allowed to send write-in votes for any song they like. If votes are coming in from Bieber's massive international fanbase, that might violate Triple J's new "genuine votes, from genuine listeners" rule.
Triple J's acting manager Meagan Loader said the station was aware of the campaign and was closely watching it.
"We want genuine votes from genuine listeners. It isn't fair to triple j listeners or artists whose songs could be undermined when campaigns try to incentivise votes or troll the poll," she told The Huffington Post Australia in a statement.
"We'll keep an eye on it and if we feel the outcome of the Hottest 100 has been manipulated votes may be disqualified or ignored."
Bieber has three songs potentially eligible for the Hottest 100 countdown -- 'Where Are Ü Now,' his collaboration with Triple J favourites Skrillex & Diplo, is the most likely, but other songs 'What Do You Mean?' and 'Sorry' could also feature.
One of the reasons given for Taylor Swift's scratching from the poll in 2014 was that none of her songs were played on the JJJ airwaves, but at least one Bieber-featuring song WAS played in 2015, according to the @triplejplays Twitter account which logs every song played on the station.
Diplo & Skrillex pres Jack U - Where Are You Now [22:31]

— triple j Plays (@triplejplays) April 3, 2015
In the wake of Bieber's retweet, the betting agency has slashed the odds of Bieber's songs to make the Hottest 100. The agency has put 'Where Are Ü Now' into ninth place in the betting at $19 to win, with 'What Do You Mean?' at $61 and 'Sorry' at $101.
The fact a large betting company has pushed the Bieber barrow might see him ruled ineligible for the poll, if we go by the logic of T-Swift's axing last year. It certainly seems to test the rule stating that "votes made as part of a competition that promotes a song or artist, or a campaign that undermines the Hottest 100 may be disqualified or ignored".
Watch this space.