SAEED KHAN via Getty Images
The Sydney Harbour Bridge will be an even bigger star in this year's New Year's Eve celebrations as 100,000 fireworks get set to dazzle more than one million revellers in the city's annual pyrotechnic extravaganza.
The City of Sydney has revealed that for the first time both sides of the coat-hanger's pillars will be lit up, and that an extra 2400 fireworks would erupt from the iconic structure for the 31 December bash.
New effects are also set to illuminate the Sydney Opera House, helping to turn the harbour into a "kaleidoscope of colour", the City of Sydney said.
Seven tonnes of fireworks -- including 11,000 shells, 25,000 shooting comets and 100,000 individual fireworks -- would be used in the massive NYE display that has taken a year and a quarter to organise.
Harbour Bridge is the star of the show on #SydNYE w/ projections on both sides of pylons & 2K+ extra fireworks 🎉 pic.twitter.com/Fn0RjgWnZC

— City of Sydney (@cityofsydney) December 14, 2015
Sydney Lord Mayor Clover Moore promised a "vibrant, diverse and beautiful" night both for those attending in person and the more than one billion TV viewers worldwide.
"All eyes will be on the Sydney Harbour Bridge this year as it plays a bigger role than ever before as the centrepiece of our celebrations," Moore said.
"Sydney has some of the world's most recognisable architecture and a stunning natural harbour teeming with wildlife (and) it's also home to some of the world's most exciting creative talent.
"This year we've combined all three to showcase Sydney to the rest of the world."
The 9pm fireworks will feature flora- and fauna-inspired fireworks in a sparkling tribute to the 200th year of Sydney's Royal Botanic Garden and 100 years of Taronga Zoo.
As always, the midnight show is shrouded in mystery but organisers are promising a "spectacular" surprise for the 12-minute display.
Sydney Harbour Program of Events:
6pm & 8pm -- Air displays above Sydney Harbour
7.00pm -- Tug boat water display
8.30pm -- Pylon projections on both sides of the Sydney Harbour Bridge
8.40pm -- Welcome to Country Ceremony
9.00pm -- Family fireworks
9.15pm -- Harbour of Light Parade
12am -- Midnight fireworks
Artists including Rhoda Roberts, design studio Province and fashion designers Romance Was Born have been tasked with the "creative vision" for the night under the theme 'City of Colour'.
Wow! 🎆 Extra fireworks and incredible effects! A taster of what to expect on #SydNYE. More: https://t.co/tHlQVArHwgpic.twitter.com/wIswFtkmnC

— City of Sydney (@cityofsydney) December 14, 2015
There will be 17 harbourside vantage points for spectators to take in the fireworks, including a site at the recently opened Barangaroo precinct that can fit 10,000 people.
The man who has seven generations of family experience in fireworks, Fortunato Foti, will again helm the pyrotechnic fiesta.
Foti rated this year's plans for Sydney harbour as the most intricate he has ever worked on.
"It's been our most complicated brief yet to produce a fireworks display that synchronises with all these other new special effects, but I think the crowds will be impressed with the results on the night," Foti said.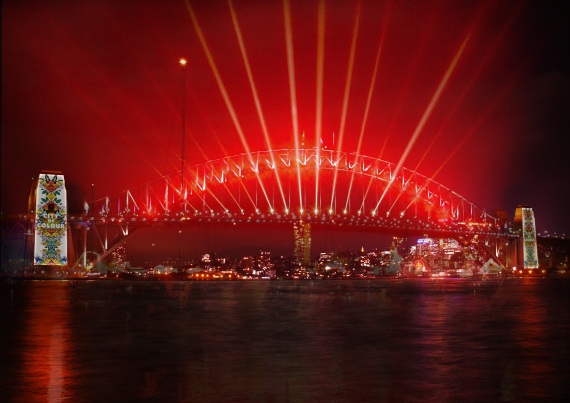 The Sydney Harbour Bridge will be the focus of NYE 2015 and feature more fireworks than ever.
"It's tough to keep making each Sydney New Year's Eve display better than the last but we've got a lot of new fireworks this year.
"With more fireworks than ever before on the bridge itself, I don't think people will walk away disappointed."
While Sydney's knees-up often hogs the limelight, it's far from the only impressive NYE show around the nation, with events scheduled in all capital cities.