From Hurricane1984 via Getty Images
Omnivores, it's time to put the meat aside and embrace your inner vegetarian. While many Aussies love nothing more than a juicy steak, it doesn't hurt anyone to go veggo one day a week. In fact, many of the world's leading health organisations say it's beneficial to cut back on our meat intake -- so why not make a day of it?
To get you inspired for your meat-free meal, The Huffington Post Australia has gathered together some droolworthy recipes (including one from Paul McCartney!) guaranteed to satisfy even the most hardcore meatlovers.
Check out the collection below.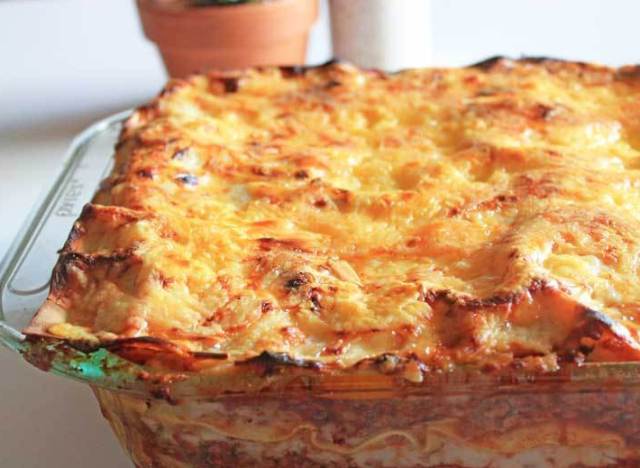 Ingredients
600g faux mince (this is usually two bags)*
1 large onion, diced
5 cloves garlic, minced
1 cube vegan beef-style stock (Massel brand recommended)
1 cube water
800g tinned tomatoes (two tins)
1/4 cup tomato paste
1/2 cup red wine (optional)
2 teaspoons dried basil
2 teaspoons dried oregano
1 pinch sugar
salt and pepper
1/4 cup butter
1/4 cup plain flour
1l plain milk
1 large bay leaf
1 packet lasagne sheets (dried)
1 cup grated cheese
*This blogger uses Quorn, a soy and meat-free mince available at Coles, Woolworths and independents but if faux mince isn't your thing, she suggests replacing it with brown or green lentils -- it's the same recipe.
Directions
In a large, heavy-bottomed saucepan, heat a good amount of olive oil over a medium-low heat.
Saute the onion and the garlic gently, until translucent.
Add the mince (frozen is fine, straight in!) with the stock cube dissolved in the 1 cup water. Turn up the heat to medium, and let the onion and garlic and stock do it's thing for a few minutes.
Add the tomatoes, the wine, the tomato paste, the herbs, and salt and pepper. Leave to simmer for as long as you like - a couple of hours if you like it rich and thick, full of flavour. If you're in a hurry, 20-30 mins should do it.
While that's bubbling away, make your bechamel (and preheat your oven to 200C). In a medium pot, heat the butter over medium heat. Add the flour and stir for one minute.
Add the milk and bay leaf and stir regularly until sauce boils and thickens. This can take a while, so be careful you don't walk away and leave it.
In the biggest baking dish you have, spoon a little of the "meat" sauce over the bottom. Put one layer of lasagne sheets, half the meat sauce, and a third of the bechamel. Repeat the meat sauce/bechamel/pasta layer, then cover the pasta with bechamel.
Sprinkle cheese over and place in medium-hot oven to do its thang for at least 30 minutes. Turn it down if you think it's getting too hot in therre, but basically as soon as the top layer is brown and your pasta layer is soft (check it with a knife), you're good to go.
"Meaty" lasagne recipe courtesy of Stacey Roberts of Veggiemama.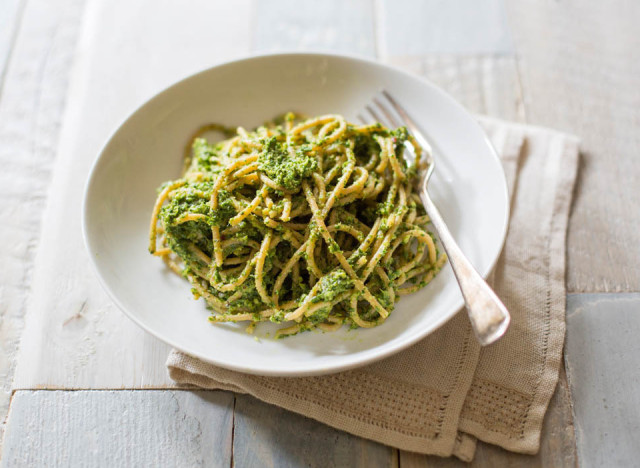 Ingredients
6 large Kale leaves with the stalks removed
1 large bunch of fresh coriander
1/4 cup almond meal
1/4 cup nutritional yeast
3 tablespoons extra virgin olive oil
1 crushed clove of garlic
pinch dried chili flakes
salt and pepper
Instructions
Using your food processor combine all the ingredients until a paste is formed.
Add a very small amount of water if the consistency is too thick.
Serve mixed through freshly cooked pasta, on top of a salad or in a sandwich.
"Kale Pesto Pasta" recipe courtesy of Megan Young of Veggies & Me.
Paul McCartney's Super Vegetable Salad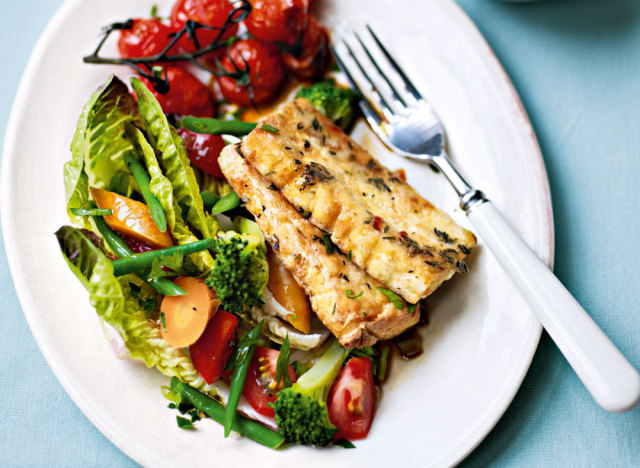 This is a fantastic salad that can accompany whatever you fancy -- here it's served with tofu, but you could just as easily serve it with veggie burger or vegetarian sausages, as well as chips and new or mashed potatoes. You can also vary the steamed vegetables according to what's in season.
Ingredients
For the salad:
28 cherry tomatoes
3 florets of broccoli
12 green beans, cut into 2cm lengths
2 carrots, peeled and siced into 2cm pieces
1 lettuce -- I like Romaine
3 spring onions, finely chopped
100g polenta
a handful of chopped herbs of your choice
250g tofu, cut into slices
Olive oil for frying
For the dressing:
2 tablespoons olive oil
1 tablespoon red wine vinegar
1 teaspoon Dijon mustard (optional)
1 teaspoon maple syrup (if you like a bit
of sweetness)
Directions
Preheat the oven to 200°C/gas mark 6 and roast the cherry tomatoes for 10 minutes.
Cover the bottom of a pan with cold water and place a steamer above it. Put the broccoli, green beans and carrots in the steamer, turn the heat on quite high and steam for about 15 minutes,occasionally prodding the carrots with a fork to see if they are done. Some people like them slightly crunchy, others prefer them a little softer.
While the vegetables are steaming, make a salad with the leaves and spring onions.
Combine the polenta and herbs in a bowl. Heat some olive oil in a frying pan. Dip the tofu in the polenta mixture, then fry until golden.
Whisk together the ingredients for the dressing, but only pour over at the last minute.
Assemble your meal by first putting the salad on the plate, then the warm vegetables and finally the tofu. Pour over the dressing then add a little seasoning sauce such as Braggs or a sauce of your choice.
Taken from The Meat Free Monday Cookbook. Foreword by Paul, Stella and Mary McCartney. Published by Kyle Books. Photography by Tara Fisher.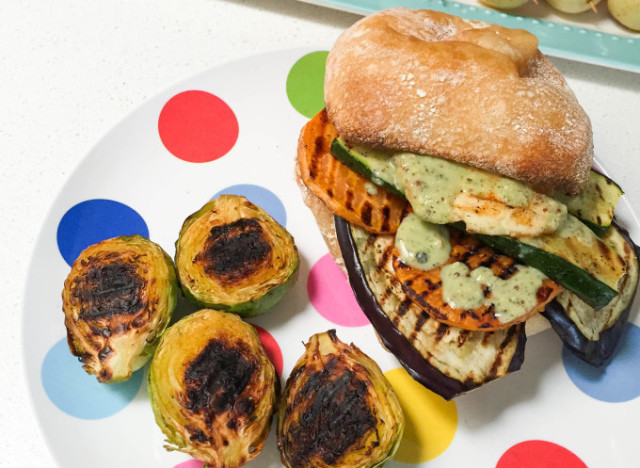 Get your grill on with this easy and healthy veg burger.
Ingredients
Char-grilled vege burger:
2 medium eggplant, cut lengthways
5 small zucchini, cut lengthways
1 medium sweet potato, sliced
250g haloumi, sliced
Garlic infused olive oil
Salt and pepper
4 Italian bread rolls, halved and toasted
Vegan mayo:
300g silken tofu
2 tbs seeded mustard
Juice of 1 large lemon
4 garlic cloves
¼ tsp salt
¼ tsp freshly ground black pepper
½ cup olive oil
Instructions:
Char-grilled vege burger:
Set the grill to medium heat. When heated, drizzle the grill with olive oil, lay the sliced veg out and season with salt and pepper and cook in batches.
Cook each side for 2-3 minutes. Time will vary depending on the thickness of your veg slices.
Lay the grilled veg on the toasted rolls, top with vegan mayo and serve immediately.
Vegan mayo:
Blitz tofu, mustard, lemon juice, garlic, salt, pepper and basil until smooth.
Slowly add the oil and blitz until combined and the sauce is creamy.
Notes:
Vegan mayo from Suzy Spoon's Vegetarian Kitchen.
"Char-grilled vege burger" recipe from Tara Mathews at vegeTARAian.