Tim Graham via Getty Images
CANBERRA – A new Treasurer is expected to today reveal a fresh fix to a continuing budget problem -- our deteriorating budget bottom line.
A further budget blow-out since May and a downgrading of economic growth forecasts have been widely predicted in the Mid-Year Economic and Fiscal Outlook (MYEFO) which is being released Tuesday by the Treasurer Scott Morrison and Finance Minister, Mathias Cormann in Perth.
Further steep falls iron ore prices, falling terms of trade, an ageing population and the continuing gridlock in the Senate are expected to again batter Australia's books, but more than $5 billion in new spending is being sought.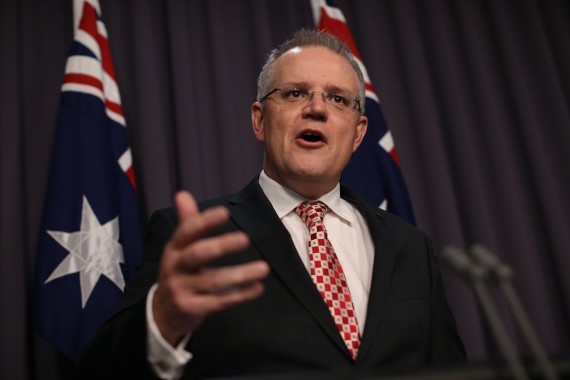 It is Morrison's first budget update since taking the Treasury portfolio over from Joe Hockey.
Budget savings have to be found for last week's $1.1 billion innovation statement as well as $700 million to pay for the settling of 12,000 Syrian refugees.
The Opposition has calculated there has been $6.5 billion in new spending since the last Budget seven months ago.
Shadow Treasurer Chris Bowen has warned Labor will not "rubber stamp" cuts to basic services that will target low and middle income earners.
Savings are understood to have been made across a range of portfolios, but the Australian Financial Review reports that bulk of the savings measures will be found in the health and welfare budgets.
In May, a $35.1 billion budget deficit was predicted for this financial year, gradually declining to $6.9 billion in 2018-19.
Deloitte Access Economics is projecting the deficit to grow to $40.3 billion in 2015-16 and by an extra $38 billion in the four years to 2018-19.
In May, an iron ore price of $US48 a tonne was assumed for the entire year. By the end of last week, the price of the key source of government tax revenue had hit $US37 a tonne.
Economists expect a further downward revision in iron ore price.