Martin Philbey via Getty Images
The annual Soundwave music festival will seemingly end in 2016, with its founder telling fans "I'm done" and "there are no further [festivals] after the next one."
The punk and metal festival, which has toured capital cities nationally since 2007, was once arguably the biggest concert of the Australian summer festival season, with headliners including Metallica, Green Day, Blink 182, Iron Maiden, Linkin Park and Slipknot. However, with fans complaining of being underwhelmed with the 2016 lineup, and questions being raised over the financial sustainability of the festival, Soundwave founder and promoter AJ Maddah told fans on Tuesday that the festival was effectively finished.
"Definitely no SW17. It's a lot of hard work, stress & risk in return for which we get hate & stupidity," Maddah told followers on Twitter.
"There are no further [festivals] after the next one."
Speculation over the fate of the 2016 festival -- which is due to kick off on January 23 in Brisbane -- has been brewing since the lineup was announced earlier this year. Despite recent years' festivals boasting upwards of 70 bands, and an experiment of a two-day festival in 2015, Soundwave 2016 announced its smallest lineup since its inaugural nationally touring year in 2007. Adelaide was also dropped off the touring schedule, after Perth was dropped in 2014, with the festival announcing an East Coast-only tour of Melbourne, Sydney and Brisbane.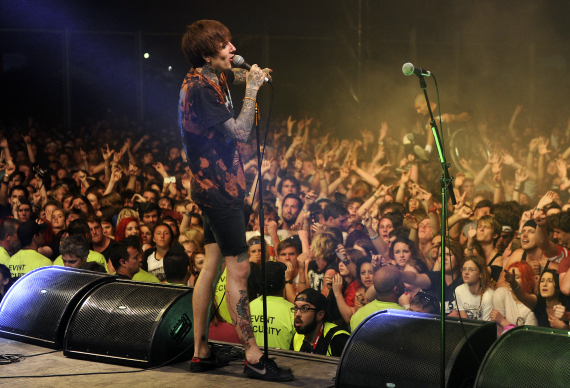 Bring Me The Horizon, one of the announced 2016 headliners, performing at Soundwave Melbourne in 2013
Bands including Disturbed, Bring Me The Horizon, The Prodigy, Deftones and NOFX were announced on the 2016 lineup, with fans complaining they were underwhelmed by the announcement. A promised supplementary announcement of bands has been repeatedly delayed, while two bands already announced have expressed their own doubts about the festival.
British band Bring Me The Horizon, despite being billed as a headliner, this week told Australian fans on Twitter that they were not completely locked-in to play the festival.
To anyone hoping to see us @soundwavefest we are awaiting some requested info & hope to 100% confirm our involvement this week. Hang tight.

— Bring Me The Horizon (@bmthofficial) December 13, 2015
While Australian punk outfit Frenzal Rhomb also posted a message on Facebook saying "If Soundwave manage to find heaps of money under their mattress and realise they can use that to pay the bands what they agreed upon, I might actually be able to play a song or two by then."
On Tuesday, Maddah addressed Bring Me The Horizon's comments but has so far not made any comment on Frenzal Rhomb's claim.
Have just spoken to BMTH agent & manager. We're working on their concerns/requests.

— AJ (@iamnotshouting) December 14, 2015
No further update has been given on Soundwave 2016 or those bands' claims, and the festival itself has not made any official comment at all. Maddah, however, told fans he was planning to escape the music business.
@steff_killjoy Sorry Steph. I'm done after SW16.

— AJ (@iamnotshouting) December 15, 2015
@the_zing not sure tbh. Hopefully a 9 to 5 gig where I can switch off after. It's been 20 yrs of stress and 110 hour work weeks.

— AJ (@iamnotshouting) December 15, 2015
@IanBiggus No. I'm done. Let some new people go for it.

— AJ (@iamnotshouting) December 15, 2015
The Huffington Post Australia has contacted Maddah for comment. Tickets for Soundwave 2016 are still on sale.