A severe storm that tore through Sydney and smashed the Sutherland Shire suburb of Kurnell brought with it unprecedented, record wind-speeds, as multiple storm cells moved across the state's coast.
The Bureau of Meteorology told The Huffington Post Australia the 213km/h winds recorded in Kurnell on Wednesday was the strongest recorded in NSW since Richmond was buffeted by 170km/h winds in 2001.
The storm wreaked havoc in Kurnell before moving north, while storm cells rained down on the Blue Mountains, Hawkesbury and Central Coast regions. Heavy rains caused a roof to collapse at Westfield Bondi Junction, forcing shoppers to evacuate.
Sydney's desalination plant at Kurnell was evacuated after workers were injured and the plant was damaged, while a hospital in Sutherland reportedly had to be evacuated.
BOM forecaster Christopher Webb told The Huffington Post Australia a storm warning for the Sydney metropolitan area had been cancelled late in the afternoon as the storm headed inland.
Police said Kurnell is currently without power and sewerage and services may not be able to be restored until Thursday.
An Evacuation Centre has been established for residents affected by the storms at Cronulla Sutherland Leagues Club, 461 Captain Cook Drive, Woolooware.
Earlier, terrifying footage emerged of airborne branches, howling winds and heavy rains during the 213 km/h tornado as it smashed Kurnell, showing the skies erupting with lightning through dense cloud as the wind whips debris.
The second wave of a severe storm cell then barreled down on Sydney and surrounding areas, after an earlier cell swept north through the city amid reports of a tornado, hail, heavy rains flash flooding.
In the footage people can be heard screaming as debris can be seen hitting a metal fence at high speed, as a group apparently stand under a shelter as the storm rages.
"(I've) never seen anything remotely like this before," Andrew McGregor, who took the video, told HuffPost Australia.
"Been sent home from work, no power and something big happening at the Kurnell oil refinery," he also wrote on Facebook.
He described his colleagues as "all good."
State Emergency Services has responded to more than 200 calls for help, mainly for roof damage and fallen trees and power lines.
The emergency department of Sutherland hospital was also evacuated amid fears of an electrical fire.
Police asked people in storm-affected areas to leave work early to avoid traffic and transport delays.
JUST IN: Bondi Junction is being evacuated due to heavy rainfall and storms. #9News pic.twitter.com/Fj13ISzCWf

— Nine News Sydney (@9NewsSyd) December 16, 2015
Two @NSWRFS out of area strike teams (10 trucks) are assisting local @NSWSES & @FRNSW crews in Kurnell after storm pic.twitter.com/Ls7AsrXc48

— Nine News Sydney (@9NewsSyd) December 16, 2015
JUST IN: Emergency department of Sutherland hospital is being evacuated due to light smoke coming from A/C vent. #9News

— Nine News Sydney (@9NewsSyd) December 16, 2015
Destructive winds, large hailstones, heavy rainfall and flash flooding pummeled the Sydney coast around Kurnell shortly after 10am this morning.
Winds tore roofs from buildings and residents took to social media to share images of the damage.
The storm passed through the city's south at about 10am, before progressing through Hornsby, Ryde and Terrey Hills before heading out to sea.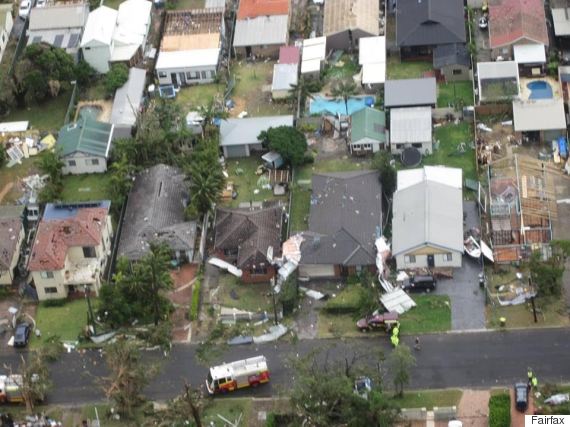 An aerial photograph of damaged homes in Kurnell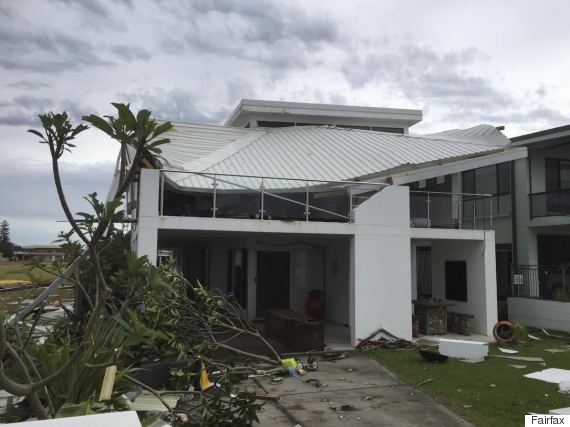 A storm damaged home in Kurnell on Wednesday
The latest on the storm:
Wind gusts up to 213km/h struck Kurnell;
30 double storey industrial units have roof damage in Kurnell;
Worker injured at the desalination plant at Kurnell, the structure itself was severely damaged;
39 people evacuated after ceiling collapsed in a chemist on Central Ave, South Nowra;
SES says most damaged suburbs are Sutherland (65) St Georges Basin (39) and Randwick (30);
Wind gusts of 142 km/h reported at Molineaux Point (Botany Bay), and 111 km/h at Little Bay;
144 mm of rainfall was recorded in one hour to 10.30am at Long Island Point (south of Nowra);
Firefighters door knock in Kurnell to ensure residents, workers' safety;
Heavy rain prompts traffic delays around Sydney Airport;
Golf ball-sized hailstones reported in Cronulla;
Anzac Bridge flooded, commuters warned to avoid or allow extra travel time;
Power restored in parts of Hunter towns of East Maitland, Morpeth after lightning hit powerlines;
These pictures just in to the newsroom of a tornado tearing through Kurnell. #9News https://t.co/GYEA99koMH

— Nine News Sydney (@9NewsSyd) December 16, 2015
Just a little bit hail @BOM_nsw #sydney #hail #sydneystorm @smh @newscomauHQ @ Cronulla Beach pic.twitter.com/7hYSmeFC1L

— Rebecca Murphy (@rebeccamurphy) December 16, 2015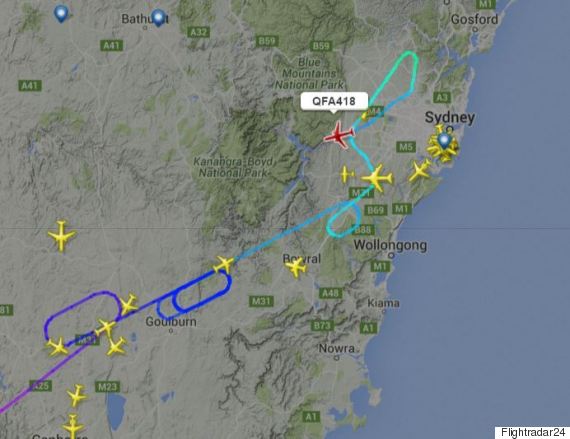 Flight radar showed Qantas flights in a holding pattern over the airport at the height of the weather event.
Look at the size of the hail falling around #Cronulla and #Kurnell. Pic: Kira Gibbs. #SydneyStorm pic.twitter.com/XKB5E74rDs

— NSW Incident Alerts (@nswincidents) December 16, 2015
Large hail stones currently hitting North Cronulla Beach right now. Photo: Luke Calo. #9News pic.twitter.com/TKKEA9r0WU

— Nine News Sydney (@9NewsSyd) December 15, 2015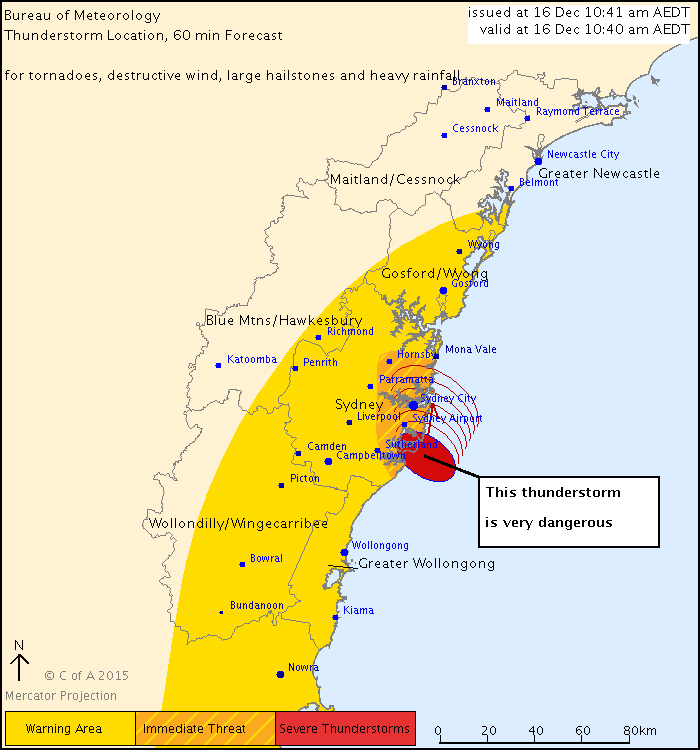 The Bureau of Meteorology released this forecast with a frank caption.
Hailing in Sydney #Sydneystorm some small some huge #Botany pic.twitter.com/R6lztYCDoF

— Danielle McHugh (@DanielleMc8) December 16, 2015
Dangerous situation unfolding with storms heading north towards Sydney. Warning now includes tornadoes. Take care. pic.twitter.com/fHFGb4XrOZ

— BOM New South Wales (@BOM_NSW) December 15, 2015
The view from #HuntersHill as the #SydneyStorm rolls in. Incredible! pic.twitter.com/NAHYGlypdp

— Julian Ridden (@EduRidden) December 16, 2015
Golf-ball sized hail pelting down from above. Cronulla is chucking it down @smh @BreakingNews #sydneystorm pic.twitter.com/Xfy1Bs8hQH

— Carla Grossetti (@carlagrossetti) December 15, 2015
Photo just taken from Marney's balcony in Zetland!

Looking south toward #Botany and #SydneyAirport - Marney Hamilton pic.twitter.com/Y421j1luyh

— NSW SES (@NSWSES) December 16, 2015
Looking south from #Sydney CBD about 15 minutes ago #SydneyStorm pic.twitter.com/waeadP2Ejn

— HRH mªdcªtj0 von 2.0 (@madcatjo2point0) December 15, 2015
SES tips for what to do during a storm:
Never enter or travel through floodwater
Stay indoors, clear of windows
Stay clear of creeks, drains, causeways, gutters, streams, fallen trees, power lines and damaged buildings
If driving, put your hazard lights on and pull over to the side of the road keeping clear of drains, causeways, streams, creeks, trees and power lines
If outdoors, seek secure shelter away from drains, causeways, streams, creeks, trees and power lines
Listen to your local radio station and other media for information, updates and advice
For emergency assistance in floods and storms, call the NSW SES on 132 500

(Source: stormsafe.com.au)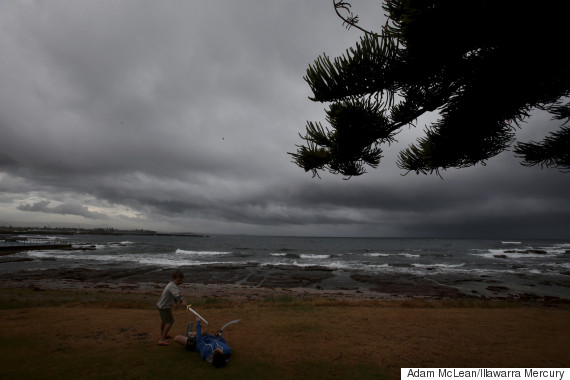 Jack Martin, 11, and Ryan Donaldson, 5, play sword fighting at the Shellharbour Beachside Tourist Park as a strong storm hit the Illawarra this morning.