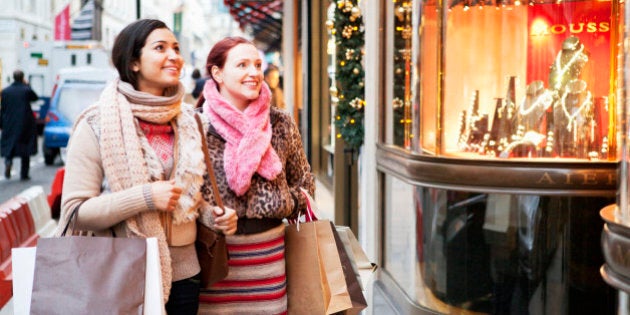 With Christmas just days away, it's no secret many of us have delayed the often-arduous trial of gift shopping. Perhaps you belong to the peculiar gang of folks who have not have even started shopping for presents yet. If you're a member of this exclusive group, your major excuse might be, "I was waiting for payday".
The Australian Retailers Association president Russell Zimmerman told The Huffington Post Australia the last minute shopping blitz is also partly due to the building industry shutting up shop on the weekend.
"The majority of the building industry stopped working for the Christmas break, so that's a huge amount of people finding free time to shop. Lawyers and accountants will stop working shortly too and we'll see hoards of them starting their Christmas shopping at the close of business," Zimmerman said.
"Then there's the other group of procrastinators who insist on leaving shopping until the last minute. Some will be waiting for their money to come in, but others have been putting it in the 'too hard basket' and now it'd dawned on them that Christmas is on Friday and they'd better do something about it."
"Just yesterday I picked up a report from Melbourne that around the CBD pedestrian traffic has picked up: there's 8 percent more traffic around Burke Street, 21 percent more at Emporium and 11 percent at the Strand. It's not unusual to see a big rush in the last few days."
As for fruit and vegetables, it's wise to leave shopping until the last minute, especially with high temperatures. Clearly there's no point buying fruit that will go ripe in the fruit bowl before the extended family arrives for lunch.
"When you do go shopping, whether it's for food or presents, keep it civil and be courteous. Retailers can only put on so much staff and everyone is expecting heavy traffic in the next few days. The major department stores will have extended hours. If you want to shop at 3am, you can."
"Many of us procrastinate because we are all so busy and we get preoccupied, so we tend to put things off. This is mostly the case with working Australians, or those with kids and large families because they're so busy doing everything else. Then, suddenly, before you know it -- it's Christmas," Brown said.
"The bad news is that when you leave shopping until the last minute, you don't get time to shop around and compare prices. So you often end up spending more than you wish to. It can be very frustrating with just hours away until Christmas to hit the shops. With this final phase of shopping, any plans you had go out the window and you shop in a frenzy and end up regretting going over your budget."
Brown told HuffPost Australia there are some very simple ways to manage the last-minute shopping blitz.
"At least an hour before you hit the shops, write a list of all the things you want to buy for each person in your life. Then work out a simple budget. All that involves is working out exactly what to buy and what your budget is. If you are really tight with money, make sure you leave your credit card at home. Only take cash with you, otherwise you will spend more than you mean to."
A handful of Westfield department stores will be trading non-stop from 8am Wednesday until 6pm Thursday.
Sydney: Westfield Parramatta
Melbourne: Westfield Fountain Gate
Brisbane: Westfield Garden City and Chermside
Adelaide: Westfield Marion
Department stores around the nation with extended (but not continuous) opening hours:
Perth: Westfield Whitford City, Carousel and Innaloo will open from 8am-9pm on Wednesday and until 5:30pm on Christmas Eve.
Sydney: Most suburban Westfields are open 9:30am-10pm Wednesday, 9:30am-6pm Thursday. (including Bondi Junction, Chatswood and Hornsby.)
ACT: Westfield Belconnon and Woden – Wednesday 9am-9pm, Thursday 9am-9:30pm.
Darwin: Casurina Square, Wednesday & Thursday 9am-5:30pm.
Hobart: Eastlands, Centrepoint, Northgate, Wednesday & Thursday 8am-6pm.
Melbourne: Westfield Doncaster & Knox, Wednesday 8am-midnight, 9am-5:30pm.
Brisbane: Westfield Helenavale & Carindale Wednesday 9am-midnight, 8am-5:30pm.
Adelaide: Westfield West Lakes & Tea Tree Plaza, Wednesday 9am-12am, Thursday 9am-5:30pm