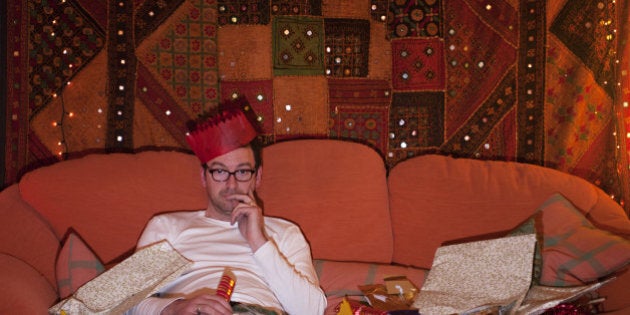 For most people, Christmas is a time for family. Whether you're catching up with your adored, long-lost cousin or deflecting annoying jokes from your uncle so inappropriate he's a stereotype, chances are you'll be tucking into a Christmas ham with your fam come December 25.
But if you're one of those people whose families might not be so close this silly season, Christmas day can be a lonely affair. For the separated, divorced or widowed, the ex-pats, students, prisoners and refugees, the travellers or the ones left at home, this time of year can be more than lonely ― it can be heartbreaking.
Luckily, there are plenty of options for the orphans of Christmas to help you feel a little more connected.
1. Host or attend an orphan Christmas
The idea of an orphan Christmas is age-old, hailing, as you can imagine, from people giving a seat at their table to orphans without a family of their own. This year, a group of Aussie women have taken it a step further ― developing Orphan Christmas, a website which helps people find others who are without family on Christmas Day.
The founders of the website, Colleen McCutcheon, Lara Ozdirik and Juliet Potter came together to develop the website which will facilitate festive meetups, complete with tips on how to host an orphan Christmas if you're without a venue, family or cash.
"It's like Tinder for Christmas," Potter told HuffPost Australia. "Chrinder!"
"I connect very much to elderly people whose children are overseas. We're very lucky when we're young we can pick up the phone, use social media… but often they don't know how to connect," she said.
"I am an orphan myself this Christmas, and I only had one friend call me and invite me over for lunch. For elderly people they might not have that opportunity. Everybody has a spare seat at their Christmas table."
Ozdirik told HuffPost Australia it is also important to remember Christmas can be a hard time not just for lonely people but for lonely families.
"Imparting some of the Aussie Christmas and love, welcoming some of our refugee friends and playing a part in creating an environment full of love," she said.
Their organisation also aims to raise money for Wesley Mission and the Touch of Goodness Foundation.
2. Do something for others (just don't volunteer)
While volunteering at the local soup kitchen on Christmas Day is a nice idea in theory, there are more practical ways to support others this Christmas.
Graeme Cole, Public Affairs Manager at Wesley Mission, told HuffPost Australia volunteering positions for major charities are filled three or four months prior to Christmas.
"Because there's been a lot of TV coverage, a lot of airtime, there is lots of focus around Christmas lunch and homeless people at Christmas. But volunteers are oversubscribed," he said.
"One of the best things to do is to visit a lonely person in your street or invite someone over for lunch."
This is also a good way to remember that, while you might be lonely, you're not alone.
3. Turn off the tech and reconnect with reality
Step away from the iPhones people. Logging on during Christmas-time is a sure-fire way to get festive FOMO ― and it's worse if you're alone.
Pete Shmigel, CEO of Lifeline Australia told HuffPost Australia we need to "digitally disconnect in order to emotionally re-connect".
"One of the challenging things for people who are lonely is getting onto Facebook and thinking 'everyone is happy but me'," he said.
"It may sound a little counter-intuitive, but we're of the view that it's better not to be exposed to all that stuff. Pull the plug on the internet and pause, do the nice slow things that we don't get to do in the work year ― maybe taking a walk, volunteering, connecting with folks who might also be lonely.
"It always takes somebody to make the first phone call," Shmigel said.