Aaah summer, when the sharks are jumping and the bush is burning -- or flooding.
Yep, the Australian summer has its quirks. This year, we've only had a handful of summer days and already, there's been Aurora lights, a bona fide tornado, raging bushfires, floods, jellyfish swarms and reports of a shark jumping on a surfboard at Bondi.
To celebrate the summer holiday season, here are all the bizarre natural phenomena going on in Australia right now.
Jumping the shark
Surfer Dean Norburn was about to catch a wave in Bondi this morning when a shark launched out of the air and landed on his board.
Don't worry though, the lifeguards say it was a "small shark" so for most Aussies, it's no reason to stay out of the water.
\
Tiny jellyfish aren't cute
A beach in Broome is closed today because a woman was stung by a potentially deadly irukandji jellyfish.
Earlier this month, a woman was stung by a suspected irukandji jellyfish in Bundaberg, Queensland.
Meanwhile, at the popular Christmas destination Fraser Island, authorities are warning of an entire swarm of jellyfish -- some irukandji.
The tiny, extremely venomous box jellyfish group can cause vomiting, nausea and in extreme, untreated cases, death. The only way to avoid them is to swim in a full-body stinger suit.
Now you see snakes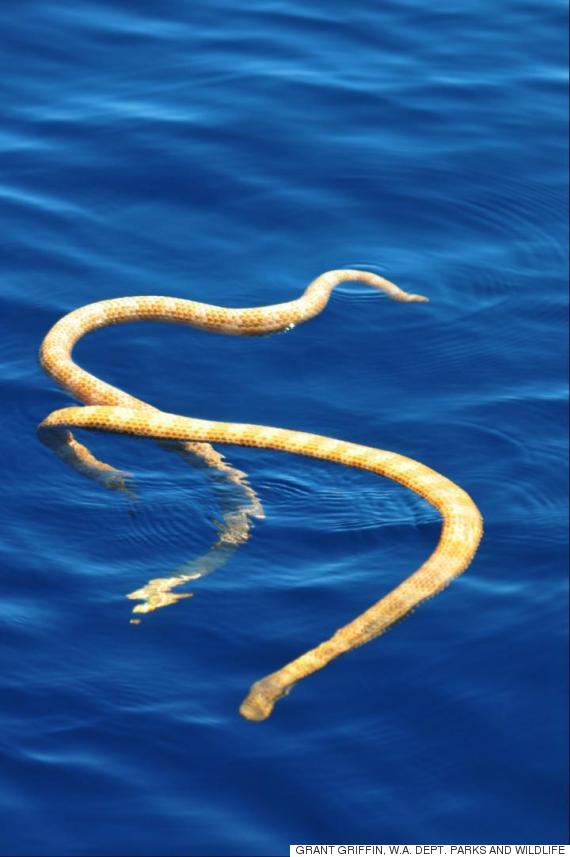 Someone call Noah and his arc because a breeding pair of thought-to-be extinct sea snakes have appeared off the coast of WA.
Scientists from James Cook University yesterday announced they had spotted the courting pair of Western Australian short nosed sea snakes, which were last seen alive 15 years ago.
The same researchers also found a "significant population" of the rare leaf scaled sea snakes -- which were also thought to be extinct.
Heatwaves
This koala in Hope Valley, Adelaide, was looking for respite from record-breaking heat on Sunday morning.
Adelaide recorded its hottest ever run of December days, with the mercury hitting 40 degrees Celsius on Saturday for the fourth day in a row. The previous record was three days.
Flood and tornado
When it's not a heatwave, it's the opposite, with summer storms ripping through Sydney and parts of South Australia.
Last week, wind gusts reached 213km/h as a storm turned tornado ripped through the Sydney suburb of Kurnell, leaving storm damage and debris.
Aurora down south
No need to string up the Christmas lights in Tasmania, nature's got you covered with beautiful Aurora Australis displays.
Huge Aurora with naked eye visible beams.This was taken from Glenorchy - through light pollution.Find somewhere, preferably dark, and look South.This was taken at 10.46 pm, Sunday 20th December

Posted by Eric Graudins on Sunday, December 20, 2015
#AuroraAustralis over #Tasmania last night #beams and #colour in the night sky #discovertasmania#abcmyphotopic.twitter.com/sfKLl3FApL

— Theresa Ockenden (@lifecatchme) December 21, 2015
We've got plenty more days of summer to come. Let's see what nature throws at us.