Darrian Traynor
As the dreaded Australian bushfire season kicked off in full force, bringing devastating blazes across Victoria and the ACT, harsh conditions are set to continue throughout the Christmas break.
Victoria's north-east remains on high fire alert, although conditions have eased. In Scotsburn, fire has destroyed 5,400 hectares and six houses, with two other homes damaged. Emergency warnings are still in place for Leneva and Leneva West, as well as for Yackandandah, Wooragee and Indigo Upper.
Elsewhere in Victoria, 12 houses near Ballarat were destroyed at the weekend and 60 people near Wodonga were forced to evacuate on Sunday night as an uncontrolled grass fire threatened homes.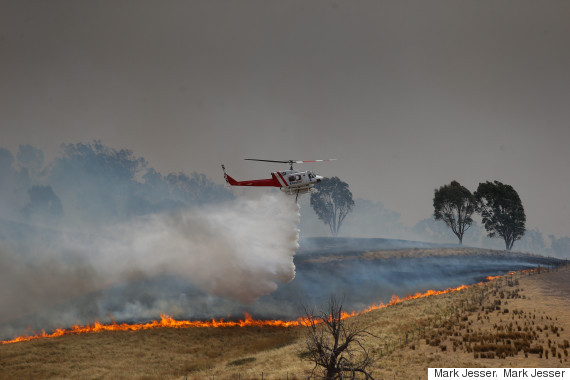 A helicopter drops water on fire in the Indigo Valley, Victoria. Picture supplied
But cool weather and rain brought some relief to the state's north-east as the Country Fire Association downgraded all emergency warnings in the Indigo Valley and surrounding areas.
On Sunday afternoon, firefighters battled a 42 hectare blaze in mountainous bushland at Mount Clear at the far south of the Namadgi National Park in the ACT, as well as a grassfire at Mount Taylor -- both are now under control.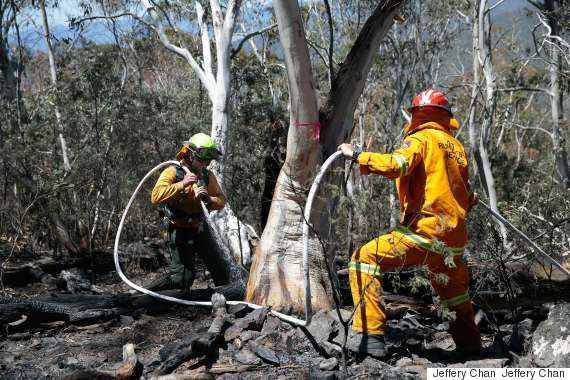 Firefighters check for spot fires at the Mt Clear bushfire in the Namadgi National Park, ACT. Picture supplied
South Australia endured a six-day record breaking heatwave, including four days above 40 degrees -- peaking on Saturday at 43 in Adelaide and 47 in Port Augusta. Christmas Day is forecast to be a slightly cooler 37 degrees.
With this summer predicted to be a scorcher for most of the nation, the time is ripe to remind ourselves of the practical things we should do if we find ourselves threatened by bushfires.
The NSW Rural Fire Service strongly recommends early preparation. You're less likely to lose your home if you follow this set of guidelines.
1. Trim overhanging trees and shrubs.
2. Mow your lawn – have a cleared area around your house.
3. Move anything that can burn around your house, ie a doormat.
4. Clear your gutters. Burning embers can set your house alight.
5. Make sure you have hoses that are able to stretch around your house, plus an ample water supply.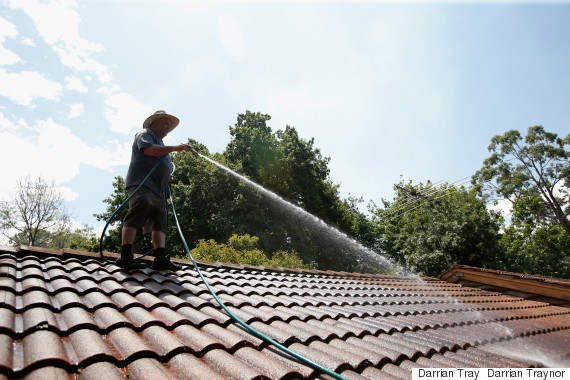 Resident Mark Austin hoses down his friend's roof to prevent ember attacks in Melbourne. Picture supplied
If your home is threatened and you decide to stay, make sure you have all the right equipment:
1. Hoses that can reach around your house.
2. A water supply of at least 10,000 litres (dam, pool or water tan.)
3. Petrol/diesel water pump and fuel in a safe place.
4. A ladder to access your roof.
5. Buckets and mops.
6. Shovels and metal rakes.
7. Protective clothing: a wide-brimmed hat, eye protection goggles, gloves, loose cotton shirt, long cotton pants and sturdy shoes or boots.
Permanent Protection for your Home:
1. Block up any place where embers can enter your house.
2. Install metal flyscreens on all windows and vents.
3. Move garden beds away from house.
4. Put any gas cylinders at the side of the house.
5. Use stones instead of mulch.
6. Replace wooden fences with metal fences.
There are three bushfire alert levels everybody should recognise, so if there is a fire in your area, you'll need to know what each level means:
Advice -- this means there is a fire in your area but there is no immediate risk. However you need to stay up-to-date in case conditions change.
Watch and Act -- this is a heightened level of threat. You'll need to take action to protect yourself.
Emergency Warning -- you might be in danger. Anything you do now could be a life-or death situation.
The CFS warns people living on the suburban fringe or regional areas should not be complacent: 'Bushfires do not recognise postcodes.'
Most people who die during bushfires are fleeing their homes, which means it's important to have a plan in place in case of emergency. Make sure all family members known what their 'jobs' are in case the home is threatened by fire and everyone knows where each person is at all times. The CFS recommends crucial steps leading up to bush fire season: making a choice when the bushfire threatens is already too late.