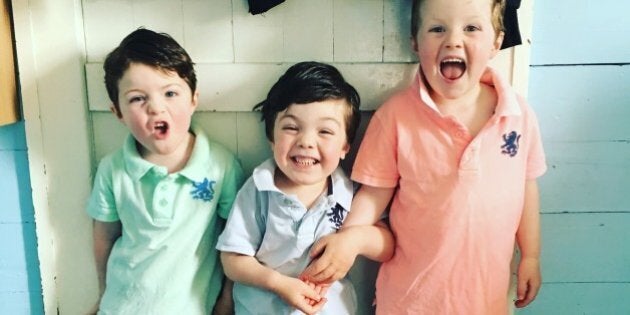 With a bucking bronc rider for a dad and two big little brothers who love to rumble, it's no wonder little Beau Cosgrove is brave.
The five year old was born with an incredibly rare degenerative illness called Morquio A, which affects every part of his body except his brain, so he's no taller than a three year old, has had five surgeries this year alone and simple acts like walking can be very painful.
About 14 to 20 people in Australia have it.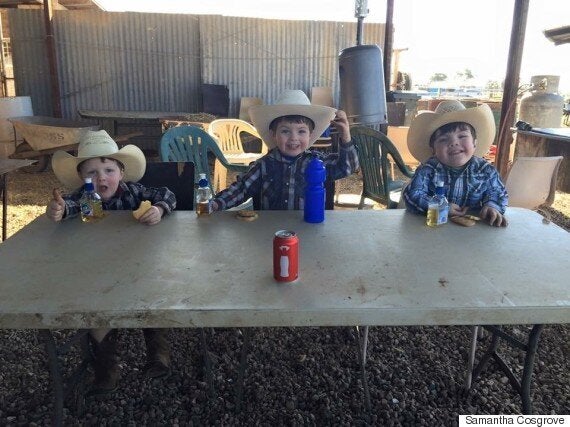 A new experimental enzyme replacement therapy trial, however, is giving him hope, and the energy to walk and run and play with his twin brothers Ty and Zac -- he just has to travel 240km from his country home in Taralga to Sydney once a week for the treatment.
Mum Samantha Cosgrove told The Huffington Post Australia she knew something was not right when she was pregnant with Beau, but he wasn't diagnosed until he was one.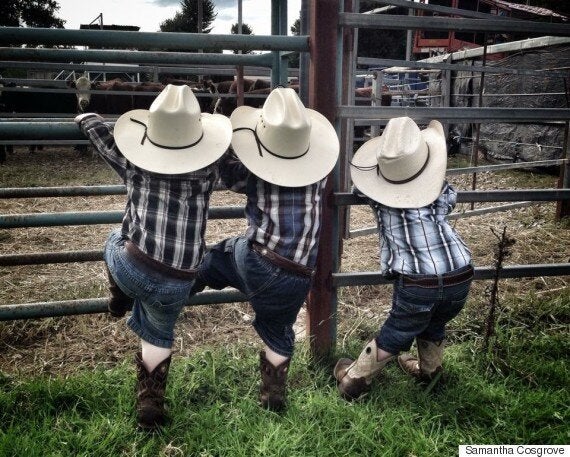 "I was a first-time mum so I researched everything -- you know, Dr Google, and I knew right away something was wrong," Cosgrove told HuffPost Australia.
"Beau was growing too fast. I'd tell doctors and they'd say it was fine, he was just a big baby."
The birth was difficult, and when he was born, he grew at an incredible rate.
"I went to three or four local GPs in about a 100km radius and everyone told me it was normal, he was fine and then finally, there was a peadiatrition who came from Sydney once a month to Goulburn, and I took Beau to him, and he was the first GP who actually touched my baby."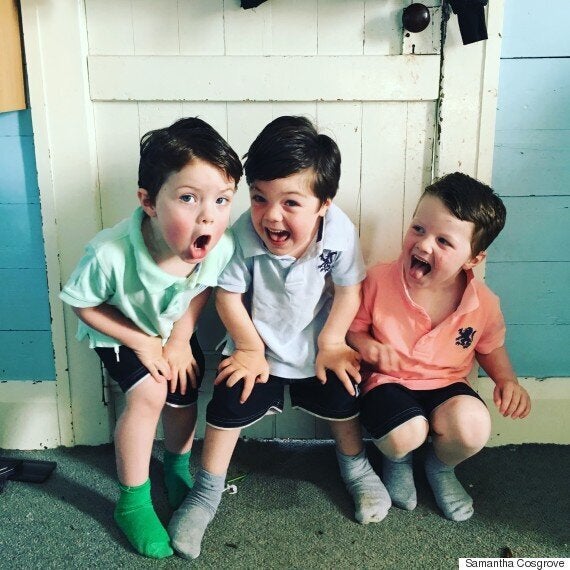 It would still be several months before Beau would be diagnosed with the rare and life-limiting disease. At the time, Cosgrove had fallen pregnant with twins and said the news was devastating.
"We thought he was going to be diagnosed with some sort of giantism that he'd grow out of -- that we'd have a 7ft (2.1m) son -- but when I heard the word 'degenerative' I knew what it meant," Cosgrove said.
"You mourn for your little boy because right there you know he won't be able to play sports, and get a job and get married and all those things you hope for. I broke down but then I thought 'right, we'll do everything we can for him'."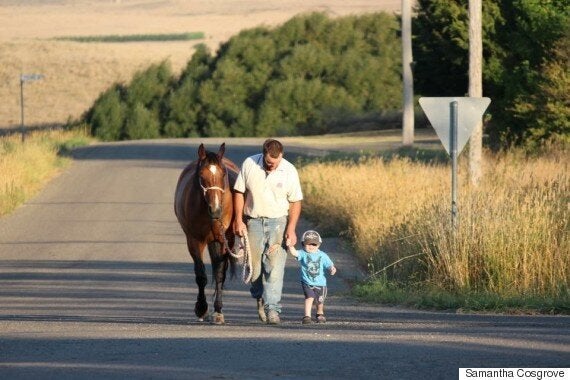 At the time, a U.S. trial was underway for enzyme replacement therapy, with promising results and the Cosgroves told their doctors to sign Beau up if it ever came to Australia.
There was one false start before a trial got underway.
"We were all ready for a trial, and one family had moved from Queensland to Sydney for the drug but then something went awry at the last minute," Cosgrove said.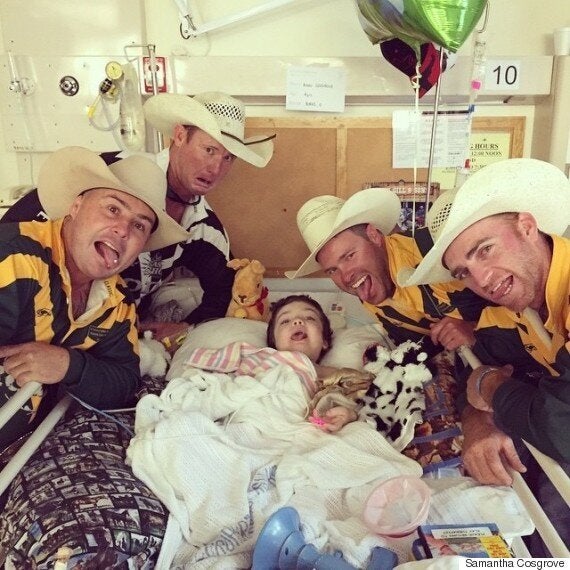 Finally on his third birthday, the family got the news Beau would be part of a new trial and Cosgrove said she was flooded with emotion.
"I broke down. I cried whole day, didn't realise how much I needed it. His doctors Penny Owens and Kaustuv Bhattacharya arranged everything and I could not be more thankful."
On the therapy, Beau thrived. He grew an extra few centimetres, he had more energy, and upcoming surgeries were delayed because his body was coping better than expected.
"I know it's not a cure," Cosgrove said. "But it means he could live to 20 or 30 now -- that he could go to school and get a job and live his life.
"We saw the change in him right away."
Each Monday, Cosgrove and Beau drive three hours to Sydney, and stay at the Mercure in Parramatta -- where they're given a special rate. The next day, they spend about eight hours in hospital before driving home again.
"We've missed weddings and funerals and sports games because of it but when you see the change in him, you know it's absolutely worth it," Cosgrove said.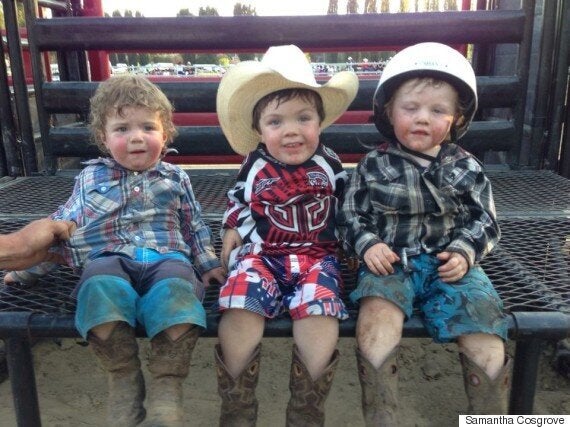 Cosgrove was aware, however that there were some families in Australia who weren't so lucky and who had not been accepted on the trial.
"It's so hard for them to see Beau getting better all the time while their child's condition deteriorates," Cosgrove said.
She intimately understood the feeling when she fell pregnant again, this time with a little girl.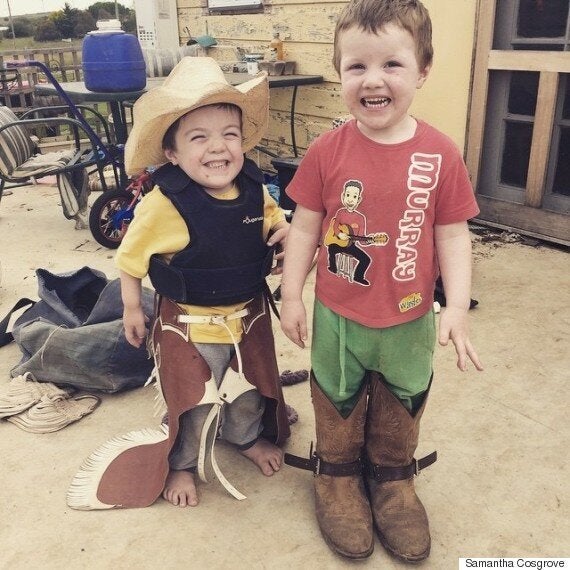 "I knew something was wrong right away again," Cosgrove said. "We had to wait until 12 weeks before we could test for the condition and then we didn't get the results until 16 weeks and the whole time I was trying to get her on the drug trial.
"The news came back that she couldn't be part of the trial and in my heart I knew we had to terminate.
"It was the most devastating thing but it seemed so cruel, to have one sibling on the drug while another wasn't.
It was something I didn't think we could do, but we knew we had to."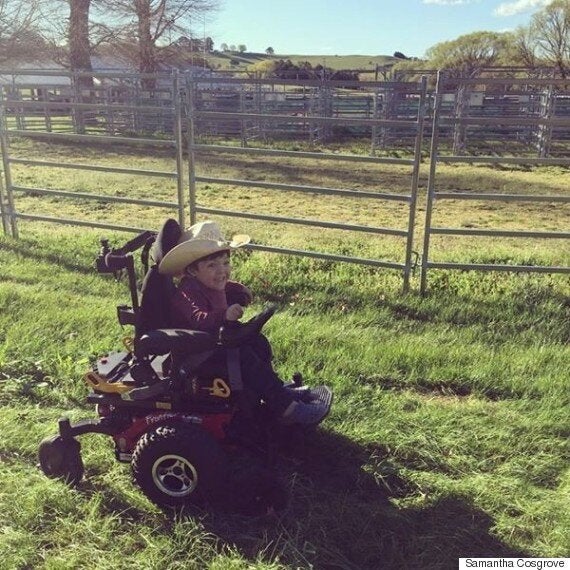 Now Cosgrove is hoping the treatment will become available to all children with the condition.
The therapy is currently not on the Pharmaceutical Benefits Scheme but the Pharmaceutical Benefits Advisory Committee will consider it for funding at the Committee's March 2016 meeting.
In the meantime, Cosgrove said she was happy just spending time with her boys.
"I lost my job when we were going back and forth to the hospital but the good thing to come out of this is that I get to spend so much time with the boys.
"Our house is falling down. We have holes and bits that need fixing but we've both just realised the most important thing is to spend time with the boys.
"I'd rather go to the zoo with Beau and the twins than save for the house, because you don't know how much time you've got.
"You've just got to enjoy time with the family."