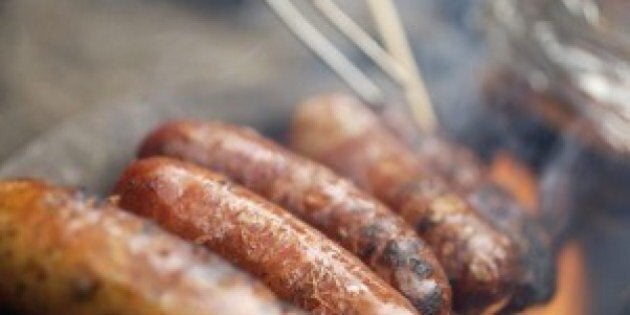 South Australian residents are likely to face bans and fines up to $5000 for using certain types of barbecues on Christmas Day, with an expected total fire ban across the state.
The state's Country Fire Service (CFS) is expecting the fire danger rating to be 'severe' which will mean at least ten fire bans will be in force across the state.
Solid fuel cookers -- including those powered by coals, briquettes or wood -- would be banned, unless you have a local council permit. And, if you don't, it's too late to get a permit now as applications require an inspection of your premises.
The only barbecues that will be allowed on a total fire ban day are gas and electric cookers, but only at homes or coastal foreshores.
The barbecue must also be within 15m of a residence, with a four-metre buffer zone around and above the fire.
The CFS said a "responsible person" must be in attendance at all times with water or an extinguisher at hand.
The areas most likely to be affected will be the east Eyre Peninsula, lower Eyre Peninsula mid north and the Mount Lofty Ranges. But the CFS has warned that even if there is not a total fire ban, people must be extremely vigilant.
Leigh Miller, the State Coordinator of the CFS said it's highly likely there will be total fire bans for Christmas Eve, Christmas Day and Boxing Day.
"This year, forecasts are predicting hot and potentially very windy conditions, which means there is a strong likelihood of Total Fire Bans being declared. It might be a good option to go for a cold lunch instead. I'm really hoping our CFS volunteers will be able to stay at home with their families this Christmas."
There have been more than 1000 call outs to cooking related fires across South Australia in the last three years.
Use of barbecues and camp fires during a Total Fire Ban:
All solid fuel (wood, charcoal etc) BBQs are banned on Total Fire Ban days.
All camp fires are banned on Total Fire Ban days.
Gas or electric barbecues may be used, provided that:
they are within 15 metres of a domestic premises; or,
on a coastal shore.
and:
you have a four metre cleared area around and above the barbecue; and,
a responsible person is in attendance at all times with water or an extinguisher at hand.
Fire bans and fire danger ratings are announced (after 4pm) for the following day on the CFS website, its phone app and social media.
The Queensland Fire and Emergency Services (QFES) is also urging people to keep safe this festive season. Acting Commissioner Mark Roche said people must stay alert when it comes to fire hazards.
"Take particular care if you are drinking alcohol. If you've had a few drinks, you may not be as alert to potential risks. Hold off on the alcohol if you're using the stove or the barbecue. Don't let festivities end in a tragic accident," Roche said.
"Do not leave fairy and Christmas tree lights on unattended for hours. Turn off lights before going to bed and do not overload powerboards. If your electrical Christmas decorations show any signs of wear and tear, throw them out," he said.
"If a house fire does occur, leave immediately and call Triple Zero (000) from a safe place."