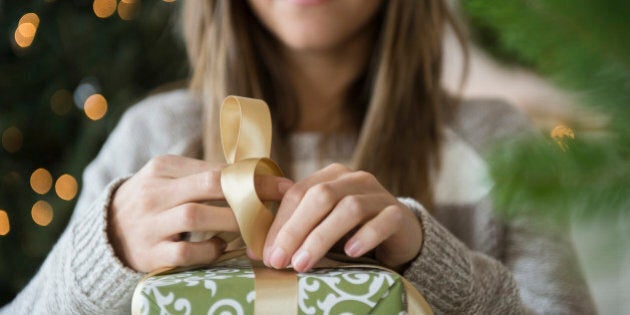 When your Christmas budget is embarrassing low but you still want to blow friends and family away with your generosity and good taste, there are some sneaky ways to succeed.
Few of us don't like giving a gift that looks impressive, even though we'd never admit it cost below $20 or -- ahem -- $10. (Generic cookbooks from Bargain Book Warehouse anyone?) Note: It's amazing what wonders you can achieve with fancy packaging.
Clayton Howes, CEO of digital consumer finance firm MoneyMe has shared some money-hacks for how to give amazing gifts on a budget.
BNWT:Brand New With Tags is the secret code to getting brand new, branded products at a fraction of their original retail price. They're often unwanted gifts or clothing that someone bought in the wrong size.
Cocosa/OzSale and BrandsExclusive run daily sales for different Australian and international brands, sometimes at huge discounts. Some of them even often premium membership, where for a fee you'll get 'early access' to the hottest sales. If you log-on at dawn and all the best stuff is gone, it's because VIP members bought it the previous evening. Premium brands such as Nike and Le Creuset even pop up on more mainstream sites like CatchOfTheDay so it's worth keeping your eyes peeled. Your chance to grab these is very limited, so if you see the bargain of all bargains, you may want to consider cash loans so you can take advantage before it's too late.
Apps like ShopStyle offer great features such as filter-by-discount, so you can quickly drill down to an item worth less than 50 dollars that was originally on sale for over 300 bucks. Or try THE OUTNET for up to 75% off Chloé, Helmut Lang and other couturiers. Most of these sell homewares and other lifestyle gifts, not just fashion.
There's a huge trade in pre-loved luxury brand items, from Louis Vuitton luggage to Tiffany jewellery. You will find massive discounts and there's an extra potential for antique value. Apps like Vestiaire Collective curate vintage designer items from brands such as Yves St Laurent, Gucci, Chanel and Dior -- which you can get for Australian high street prices.
"If you use fancy wrapping it shows that you've really put in some effort, and even though the present might not be that new TV you've had your eye on, knowing that they've gone the extra mine can make any present feel special," Howes said.
"What I love about Christmas is that it brings everyone together. It's not just about your family and friends but also about the less fortunate, the charities and donating to a good cause or volunteering."
Howes' top three cheap gift tips
1.Something handmade or DIY – getting a beautiful photo frame and filling it with happy snaps
2. Get a number of smaller presents to make it look like you've given a lot! Think small cosmetics, hand-made chocolates or books
3.Gift packs always look impressive and can be really reasonably priced