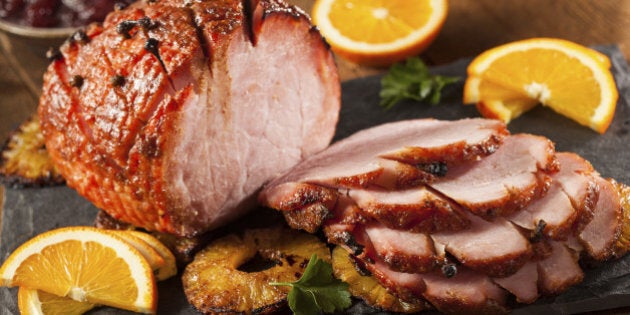 You know what's even better than Christmas lunch? Waking up on Boxing Day and knowing you have the leftovers waiting in the fridge. And the hero of these leftovers is unarguably the Christmas ham.
If you play your cards right, your ham can last a couple of days after the Christmas celebrations (the same cannot be said of your seafood) but there are a couple of different schools of thought on how best to store it.
"If you've cooked the ham from scratch it's best to reserve the skin to store the ham in," celebrity chef Matt Moran told The Huffington Post Australia.
"Otherwise a ham bag is best. If you don't have a ham bag wrap the ham in a clean damp pillowcase and store it in the coldest part of the fridge."
Executive Chef at The Morrison Bar & Oyster Room, Sean Connolly, also recommends investing in a ham bag (you can grab these at your local butcher). Alternatively, you can make your own.
"I like to lightly soak a tea towel in white vinegar and wrap my ham in the damp towel," Connolly told HuffPost Australia. "This will give the ham extra life in the fridge."
Which brings us to the all-important discussion of what to do with your delicious leftovers.
"I like to take a thick slice of the ham on Boxing Day morning and fry it along side a couple of free range eggs," Connolly said.
"Then it's time for my other annual treat, which is a large round slice of Scottish black pudding from my local butcher and my Bloody Mary ketchup."
"I've gotten much better at planning over the years, to avoid any food wastage," Moran said. "But with what is left over, it definitely makes a great next day meal. You can pretty much turn any leftover into a dish. I would advise to not over think it. In my household we have a big fry-up the next morning with fried eggs, leftover ham and crusty sourdough. Then it's turkey sandwiches for lunch.
"However, with seafood, I buy enough for the day we are using it only. It is all about good planning to avoid wastage."
If you want to get a little fancier with your fare (though, to be honest, not much beats a good ham and egg fry-up) Connolly suggests looking at making some kind of chilli with your leftover meats.
"I was lucky enough to have a culinary tour of Austin, Texas for my new TV show coming out next year. On the tour I met a really interesting chef called Hoover from Hoovers Diner -- he is a local hero.
"He made his famous 'Texas Red' chilli where he creates a fabulous chilli from his left over smoked meats and sausages which was to die for.
"I was hoping to give it a go this year with my turkey, ham and chipolatas."
How is your family celebrating the holidays? Share with us on WhatsApp!
To send us images and stories:
1. Download WhatsApp on your phone.
2. Save this number, +1 646 522 3114, in your phone's contacts.
3. Send us photos of your celebrations with a short description via WhatsApp.
This story was originally published on 23/12/2015