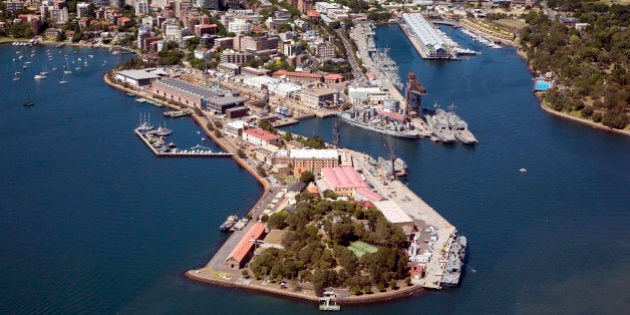 Two men have been arrested on suspicion of planning a terror attack on Sydney landmarks as part of an ongoing counter-terror operation in western Sydney.
A 24-year-old man was arrested at Merrylands, and a 20-year-old man was arrested at Bankstown on Wednesday morning.
NSW Police Deputy Commissioner Catherine Burn said the 24-year-old will be charged with making a document likely to facilitate a terror attack, while the 20-year-old is anticipated to be charged with conspiracy to do an act in preparation to commit a terrorist act, which carries a maximum penalty of life imprisonment.
Burn said the arrests relate to an alleged plan from 2014, stressing the arrests were not related to a current or pending threat. The Sydney Morning Herald reports the arrests were in relation to an alleged plot to place explosives at Sydney's Garden Island.
Burn would not said "there is absolutely nothing specific" in the alleged plans, but said some targets were allegedly discussed.
"We are aware and we will allege that the Woolloomooloo, the Navy base was one of those locations," she said.
Burn emphasised repeatedly the arrests were not in relation to any current threat and that police had no knowledge of any current specific threats to Australia. She encouraged citizens to not fear for their safety over the holiday period.
"The important message to get across is Appleby has had a lot of success in preventing any activity or act impacting on the safety of our community," she said.
"This activity today relates to events of last year... there is no current threat, there is no pending threat."
"Be vigilant but get out and about... we don't have any information there is any specific threat... this is not a new threat we're dealing with."
Wednesday's arrests bring to 13 the number of people charged under Appleby investigations.
In further terror-related news on Wednesday, the Herald Sun reports a French extremist was detained upon trying to enter Australia with chemicals two days after the Paris terror attacks.
The man was said to have flown from Abu Dhabi to Melbourne, being detained by the Australian Border Force upon arrival on November 15. He was said to have had several cans of chemical mace in his possession and "extremist material" on his phone. He was kept overnight in a detention centre then deported.
"What I think this case illustrates is the care which the Australian government takes to ensure that everyone that arrives in Australia is subject to appropriate scrutiny," Attorney-General George Brandis told ABC radio on Wednesday.
The ABF confirmed to The Huffington Post Australia that in the wake of the Paris attacks, security screening of European arrivals -- especially those from France and Belgium -- had intensified.