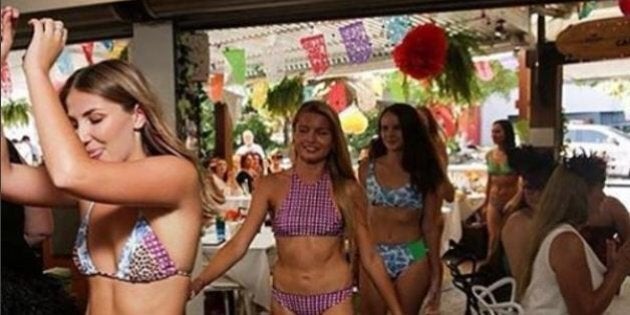 One of the biggest decisions the owner of a retail small business will make is how, and where, to sell their goods.
There are so many options -- do you build an online shop and be a virtual business? Or sell from home? Or go ahead and splurge on a retail space and hope for the best?
Sometimes the best solution doesn't mean spending thousands on your web presence or forking out to rent a shop.
The Sunshine Coast's Abby Vuister has developed her brand and made a reputable name for herself in the fashion industry by selling her bikinis and intimates at the Eumundi Markets.
Her love of the beach and sewing led her to start Abby Rose Bikinis, a diverse and popular range of handmade bikinis and intimates which she started making for herself and friends.
"I've always been interested in sewing -- I used to play around with mum's sewing machine and I loved fashion," Vuister told The Huffington Post Australia.
"After school, I did some casual work in hospitality, then I did a fashion design course at TAFE, but I didn't get into it straight away.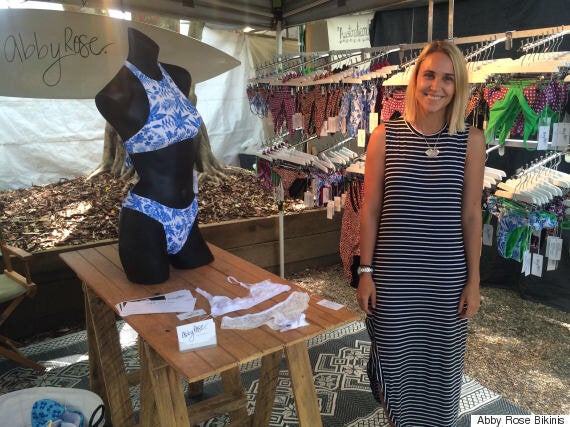 "I did some retail jobs around the Coast and then a dental assisting job for a few years. I started getting back into sewing and one day just decided to make myself some bikinis.
"A few friends then wanted some too, and it went from there -- and now that's what I do full-time."
Three years on from making bikinis for friends on the floor of her bedroom, Vuister now spends 30-40 hours a week cutting and sewing to keep up with demand, not only from the markets but also from the website she designed and built herself.
Vuister still works solo, designing two bikini collections a year. And she still handmakes every bikini and underwear sets she sells.
"I've moved on from the bedroom floor and have a studio at home now that I work from and probably make 20 to 30 bikinis and intimates a week," she said.
"I do two ranges of bikinis a year -- Autumn/Winter and Spring/Summer -- and once I have a new collection out, I start planning and designing the new collection.
"It takes me 2 to 3 months to choose my colour palette and design my prints and the new styles and then a couple of months to get all my stock made up. All at the same time as doing my old collection to meet orders and keep stock up at the market."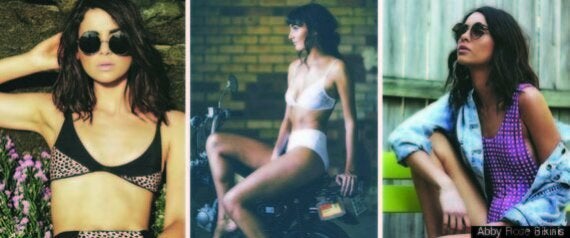 Abby Vuister handmakes a diverse range of bikinis and intimates from her Sunshine Coast home.
She said the markets provided the perfect avenue for her to sell her bikinis in the beginning due to high traffic and low overheads -- but they've become vital to the success of her business.
"In the beginning I thought the markets might be the best way to go to start off selling them," she said.
"I've been doing them now for about 2.5 years. They've been so amazing for me -- they've helped build my whole business. I wouldn't be where I am without the markets.
"They're great because you get to build up a rapport with your customers -- they get to know you and like to come back even if they don't want to buy, just for a chat.
"Word of mouth is so important -- and having a local place like that with all kinds of services and products keeps people coming back."
The markets also gave her a feel for what her target market wanted.
"I've done things a little bit differently than most other small businesses have," she said.
"From the start, I really just wanted to see where it went. I started as small as I could then followed my heart.
"It was really good starting that way because I got a really good feel for what people wanted and what sold."
Vuister said an important part of Abby Rose Bikinis was a presence on social media, particularly Instagram where she has more than 8500 followers.
"Instagram is amazing, I have probably gained 50 percent of my sales from my Instagram," she said.
"It's so visual -- that's why I like it. And I don't sell through it, I link to my store and use it to let people know I'm at the market and they come."
She said even with the rapid growth of her business she wasn't looking to find a retail space, but would focus her efforts into building up her website which now pulls in about 20 percent of her business.
"I'll keep doing the markets because they've been so amazing for me but I do want to grow my online store as well," she said.
"Because they are a market you can't always rely on them due to the weather and things like that and I don't want to have to always rely on them. Growing my online store is my focus at the moment."
Vuister said although she worked hard to build it up, she was still surprised at how well Abby Rose Bikinis was doing.
"It's so humbling because in three years I've also become a 'name' around the Sunshine Coast with the younger girls," she said.
"I hear them say 'OMG that's an Abby Rose bikini!' and it's such a great feeling. I never thought it would become this big, so quickly. I never really planned it -- and I do have the markets to thank for giving me such a great start."
This story was originally published on November 23, 2015.