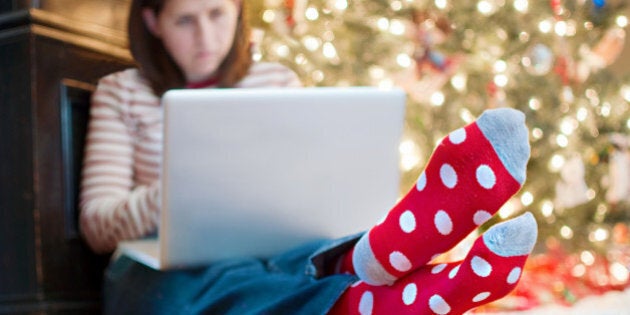 We all know that hitting the computer instead of the shops around Christmas time is going to save you time - but did you know it could also save you cash and make you this year's most thoughtful gift-giver? From great gifts to easy returns, we show how going online can make you this year's smartest shopper.
If you've got surprise visitors...
Whether it's a workmate, an old friend or a family member's new fling, there's nothing more awkward than an unexpected guest rocking up with a thoughtful batch of freshly baked cookies and having nothing for them to unwrap.
Ecoya have the most beautiful candles which will impress even the most unwelcome surprise, they offer gift wrapping and and their 30 day return policy for a change of mind means you'll have a month to return if you survive the silly season without coming unstuck in the gift department.
Another great option for those unexpected visitors is a jar of Aussie honey -- it's not pricey, lasts for years and will make anyone's Christmas a little sweeter.
If you're just not sure how big to go ...
Maybe you're in a new relationship, or are catching up with a friend you haven't seen in a while. Choosing a gift that is neither too elaborate or too small can be tricky, but there's an easy solution - simply buy two gifts and when the time is right, produce the most appropriate present.
While having a few options up your sleeve is a great remedy, the option to return is a must.
For higher end gifts that will make an impact Table Tonic and Spence & Lyda stock designer homewares, including artwork, rugs and accessories, and although sale and discounted items can't be returned, full price items can if you decide against keeping your purchase.
If you want something special...
Whether you're shopping for a fashionable friend or even looking for something special to wear to your Christmas party, there are some amazing online stores that focus as much on ease of buying and returning as they do on style.
For him or her, Aussie site The Iconic is a great option for clothing and accessories. As well as a speedy three hour delivery, making those last minute party outfits possible, they offer 100 day, free returns, meaning you can feel comfortable buying the same item in two or three sizes if you're not sure what will fit or realise you want to return.
Buying more could even get you more, with some online stores offering bonus credit if you have to return. Primarily a female clothing label, Gorman (they also sell kitchen and bedroom-related items) offer 110 per cent credit on full priced items returned within three months of purchase.
Christmas shopping tips from Australia Post
Consider having your online purchases delivered to your nearest Post Office or a 24/7 Parcel Locker.
With almost 20,000 Post Offices and street posting boxes across Australia, returning your online shopping and Christmas gifts has never been more convenient.
Find more tips and tricks for your Christmas shopping at Australia Post.